Thanks to everyone who supported this project and voted for it in the Arduino Challenge! I was awarded second prize and hope to participate in more Arduino contests in the near future. This tutorial will explain a simple way to make a password protected bluetooth door lock using your Arduino, which can be unlocked by sending a four digit pin from your Android phone!  The hardware setup is quite simple,  and ...
Read more

›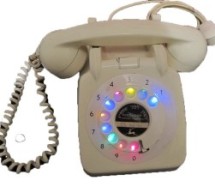 Introduction The Rotary Emotiphone is a vintage rotary phone that tweets mood emoticons. It has a predefined list of 10 emoticons, each assigned to a digit, so that when you are happy / sad / drunk / etc., you pick up the handset and dial a mood. Could've gone for more complex messages using 2-digit code convention, but eventually decided to keep it simple. The idea was conceived while I was preparing portf ...
Read more

›
Nokia manufactures a wide variety of cell phones and many of their cheaper phones contain simple LCD's which may be used in microcontroller projects.  There is one particular LCD model that is used in a wide variety of their phones and is often referred to as simply a "Nokia LCD", or "Nokia 6100 LCD".  I used to use a Nokia 2600 phone and whenever I upgraded I took the Nokia apart to remove its LCD.  This L ...
Read more

›
Remote control, it has been a very profound things in the past. When I was a child, I always imagine that I have an equipment which can control all home appliances. Now, this has become a reality, and it is quite easy. Then I will step by step to show you how to remote control your home appliances via the GPRS/GSM SMS and relays. At first, let me give a brief introduction about relay to you. Relays are used ...
Read more

›