Even as the number of visitors to the Science Centre located behind Super Market here, which also houses the Innovation Hub & Space Education Centre, has steadily increased from 6,775 in 2014 to 17,866 in the past 12 months, its shabby immediate surroundings remains a perennial eyesore. Little or nothing seems to have been done to improve the condition of the road.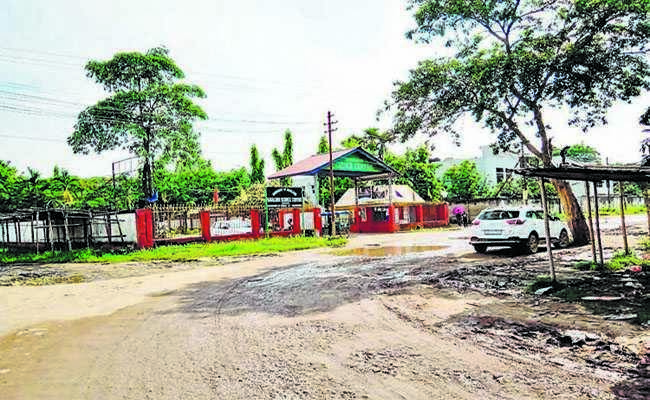 Nagaland chief minister Neiphiu Rio had inaugurated the Innovation Hub & Space Education Centre on September 28, 2018.
Rio, who had then observed the deplorable condition of the road leading to Science Centre, assured that it would be repaired soon. And eight months later, the road is still in shambles.
When Nagaland Post visited Science Centre on Thursday, it was observed that two ends of the road leading to the centre – from near Nagarjan junction and Circuit House – were slushy and filled with massive potholes. Before Rio's visit on September 28 last year, the road was filled with mud and gravel as a temporary measure. But thereafter, the condition of the road only deteriorated.
This reporter also spoke to the curator of Science Centre, Richard Rikhio, who informed that an engineer had visited the centre about a month ago to take stock of the condition of the road and took measurements.
Claiming that Science & Technology adviser Mmhonlumo Kikon had taken keen interest in repairing the road, the adviser was optimistic that repair work would commence soon.
Ever since its establishment, Innovation Hub & Space Education Centre, which is primarily meant to provide a platform to young and inquisitive minds to come up with innovative solutions to basic problems and challenges, has managed to get only 19 registered members against a target of 300 students. However, 10 of the 19 students are currently working on their own original inventions than, upon completion, will be patented.
When asked why the membership was so less, mentor Onongoto Soleho cited various reasons ranging from cumbersome school activities, to mindset of the parents, to even some students saying that the centre was far from their houses.
It may be mentioned here that the Innovation Hub & Space Education Centre is under the aegis of and monitored by National Council for Science Museum, Kolkata.
Asserting that they had reached out to around 50 schools in the past six months, Rikhio disclosed to this reporter that from October 2018 to April 2019, the centre had conducted three workshops, one workshop-cum-seminar, one demonstration and one competition.
To cater to the needs of four registered members who are currently doing research on Arduino and Lego Robotics, mentors Onongoto Soleho and Vikuovotuo Zhalie would travel to Regional Science Centre in Guwahati from June 24 to 28 to attend a workshop on robotics, he added.
In a bid to attract more students, the curator mentioned that they would continue with phase-wise visits to schools and hold regular workshops, comprising batches of 30 students each so that all students were provided hands-on experience. As mandated by the National Council for Science Museum, he said monthly core activities would be held.
Rikhio assured interested students that timings of the centre were flexible as per their convenience and that they would be provided with the required resources. He said the membership of Rs 1,000 mandated by National Council for Science Museum had been waived to encourage students to take advantage of the facilities at the centre.
He added that the next activity mulled by the Innovation Hub & Space Education Centre was an "Idea Competition" that would be notified soon.
Source: The 'tough road' to Nagaland Science Centre, Dimapur