A do-it-yourself Delta Robot kit that's fun to build, sharp to look at, and a great point of departure for your own project!
Want to make your own delta robot? Do you support the global onslaught of adorable little yellow machines? If you answered yes to either of these questions… then we have the best product to offer you!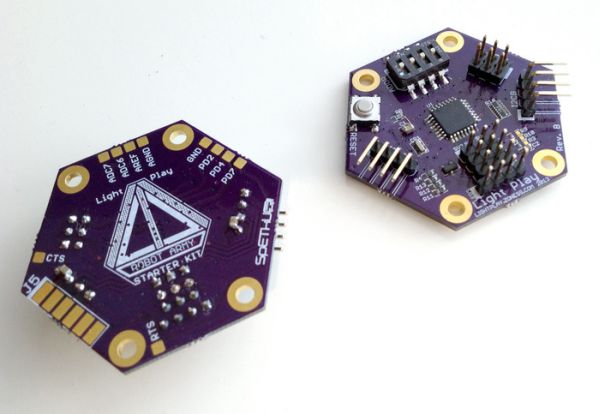 The kit includes all of the delta's mechanical pieces in grey and neon yellow plastic (the yellow fluoresces under black light!), all of the spacers, brackets, ball bearings, and hardware required to assemble them, and the electronic components, PCB and wire harness needed to wire it up and give the delta power.
1 brain board PCB
6 arms
3 servo paddles
3 servo brackets
1 end effector
6 base spacers
4 PCB spacers
12 steel balls
3 Power HD servo motors
2 acrylic mounting plates
1 RGB LED with wire harness
1 dome light defuser
hardware needed for assembly (M3 socket head cap screws)
1 AA battery holder with switch
The Brain
Each kit will come with one assembled 'Hex Brain' PCB, which drives all the servo motors and the colored LED. The board is equipped with the ATMega 328, and will be broken out so that all pins are accessible for personal use. The brain will include programming headers so that you can reflash the chip's memory with ease.
The Code
The PCB will come loaded with example code that implements the inverse kinematic math needed to drive a delta robot. There will be several routines to choose from that will make your delta move on it's own, but you can use this skeleton code and build upon it for your own projects.
Techie Noob?
If this is your first robotic minion, fear not!
The robot's U-joints snap together with ease onto steel balls, limiting the need for excessive hardware and allowing for a more sleek appearance.
The robot's joints are designed to pop apart under strain before any damage is done to the motors driving them.
The delta robot's brain PCB is also compatible with the Arduino's user friendly programming platform.
For more detail: Robot Army Starter Kit