Description
N-channel enhancement mode Field-Effect Transistor (FET) in a leadless medium power DFN2020MD-6 (SOT1220) Surface-Mounted Device (SMD) plastic package using Trench MOSFET technology.
Features and benefits
Trench MOSFET technology
Very fast switching
Small and leadless ultra thin SMD plastic package: 2 x 2 x 0.65 mm
Exposed drain pad for excellent thermal conduction
Tin-plated 100 % solderable side pads for optical solder inspection
Applications
Charging switch for portable devices
DC-to-DC converters
Power management in battery-driven portables
Hard disk and computing power management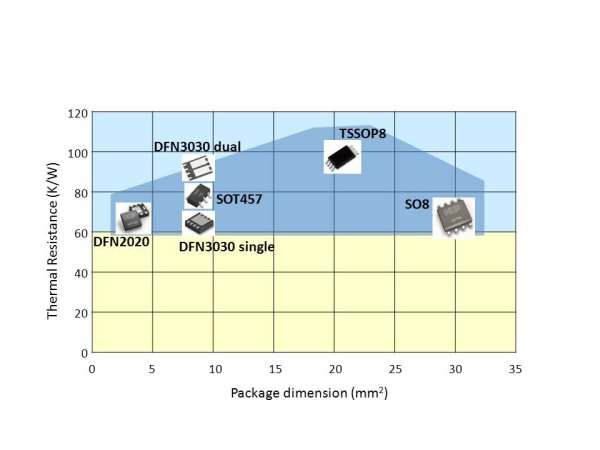 NXP Semiconductors has introduced its first mosfet in a 2mm x 2mm low-profile DFN (discrete flat no-leads) package.
The package has tin-plated, solderable side pads which will offer the advantage of optical soldering inspection.
According to the supplier, the pads also improve solder connection compared to conventional leadless packages.
The PMPB11EN and PMPB20EN 30V N-channel mosfets are the first of more than 20 devices housed in the DFN2020MD-6 (SOT1220) package.
Both mosfets have a maximum drain current (ID) of greater than 10A, and Rds(on) values of 12mOhm typ and 16.5mOhm typ at 10V.
Package height is 0.6mm.
The DFN2020 package is eight times smaller than standard SO8 packages.
For more read: NXP introduces tiny mosfet in leadless package