Emmo is a ludic and interactive artifact for visually impaired children (age 4-6 y.) based on RFID technology. It is meant to motivate spatial exploration and helping children to develop the capability of creating mental topological maps.
The toy includes lighting and sounding elements for a treasure hunt, a space-related memory game. This activity is improving attention and acoustic capabilities.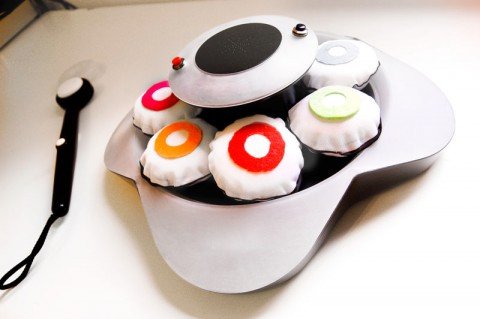 The goal of the game is detecting each of the seven lighting elements according to the sound. The player is helped by this "magic wand"  (finder),
Emmo's main colours are black and white (high chromatic contrast is important to let the childern discrminate colours); lights & sound are further aid, marking different phases of the game.
The command interface is pretty simple and visible. Buttons can be distinguished by colour and shape.
The toy elements are designed in order meet childern needs and  technology requirements.
For more detail: [Interview] Dorotea Panzarella (Emmo)