Features
Very High Toggle Rate: 280MHz
Low Propagation Delay: 2.9ns
Rail-to-Rail Inputs Extend Beyond Both Rails
Output Current Capability: ±22mA
Low Quiescent Current: 4.5mA
Features within the LTC6752 Family:
2.45V to 5.25V Input Supply and 1.71V to 3.5V Output Supply (Separate Supply Option)
2.45V to 3.5V Supply (Single Supply Option)
Shutdown Pin for Reduced Power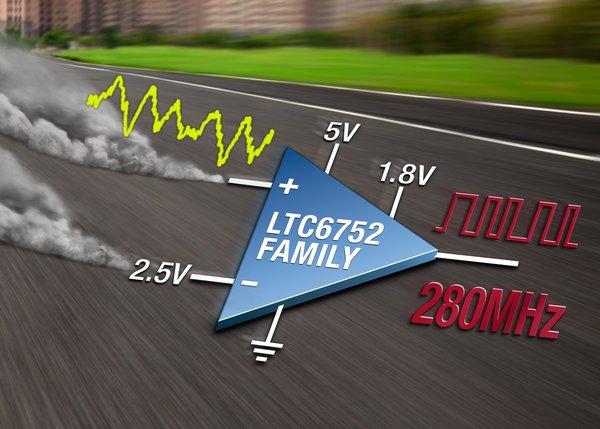 Output Latch and Adjustable Hysteresis
Complementary Outputs
Packages: TSOT-23, SC70, MSOP, 3mm × 3mm QFN
Direct Replacement for ADCMP60X Family
Operating Temperature Range: –40°C to 125°C
Description
The LTC®6752 is a family of very high speed comparators capable of supporting toggle rates up to 280MHz. These comparators exhibit low propagation delays of 2.9ns, and fast rise/fall times of 1.2ns. There are a total of 5 members in the LTC6752 family, with different options for separate input and output supplies, shutdown, output latch, adjustable hysteresis, complementary outputs, and package.
The LTC6752 comparators have rail-to-rail inputs that operate from 2.45V, up to 3.5V or 5.25V, depending on the option. The outputs are CMOS and the separate supply options can operate down to 1.71V, allowing for directly interfacing to 1.8V logic devices.
The low propagation delay of only 2.9ns combined with low dispersion of only 1.8ns (10mV to 125mV overdrive variation) makes these comparators an excellent choice for critical timing applications. Similarly, the fast toggle rate and the low jitter of 4.5ps RMS (100mVP-P, 100MHz input) make the LTC6752 family ideally suited for high frequency line driver and clock recovery circuits.
Applications
Clock and Data Recovery
Level Shifting
High Speed Data Acquisition Systems
Window Comparators
High Speed Line Receivers
Fast Crystal Oscillators
Time of Flight Measurements
Time Domain Reflectometry
READ
TS-7553-V2 – IoT-Ready SBC with Reliable Storage, Cell Modem, XBee, PoE
For more detail: High-speed comparator cuts delays to 2.9 ns