Following the general success of the first version of the Gameduino, an Arduino Shield which allowed users to connect devices like VGA monitors and speakers to the Arduino, to create high-quality sprite/tile-based video games,  James Bowman's excamera released improved versions of the device with built-in screens and graphics processors which were widely accepted within the open-source gaming communities.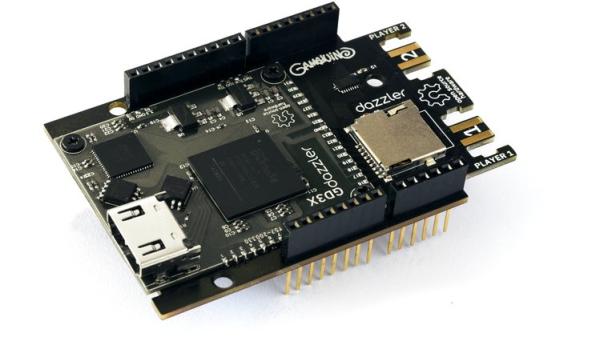 Spurred by these successes and the desire to provide users with a shield that reflects current technology realities, excamera recently announced the launch of a new version of the shield; the Gameduino 3x Dazzler.
A totally open-source, and hackable audiovisual platform, the Dazzler shield comprises of a BT815 GPU, a Xilinx Spartan-6 FPGA, an HDMI port, and two Wii Classic ports that give users the experience of a plug-and-play game console.
The combination of the BT815 GPU and the Xilinx Spartan-6 FPGA provided all that was needed to achieve the 1280×720 (full 720p) video (and sound) output over HDMI. In addition to this, the shield features a memory card slot which could house memory card on which game assets like sounds, images and sprites could be stored.
Some highlight features of the dazzler include:
GPU: BT815
FPGA: Xilinx Spartan-6
Video output: 24-bit HDMI at 1280×720 (720p) with audio
Storage: microSD slot
Extra input: two Wii Classic controller ports
Programming: Arduino and CircuitPython, with lots of samples
Read more: GAMEDUINO 3X DAZZLER IS AN ARDUINO SHIELD WITH A GPU, FPGA AND AN HDMI PORT ONBOARD.