The skee ball machine is a wonderful thing. The simple experience of rolling a ball into a target is so freakishly satisfying that I used to play as much as I could as a kid at the local amusement park/mini-golf course. The sound of the rolling ball on the ramp, the pop as it launched in the air, and the bouncing as you hoped it would hit the 50 or even the 100.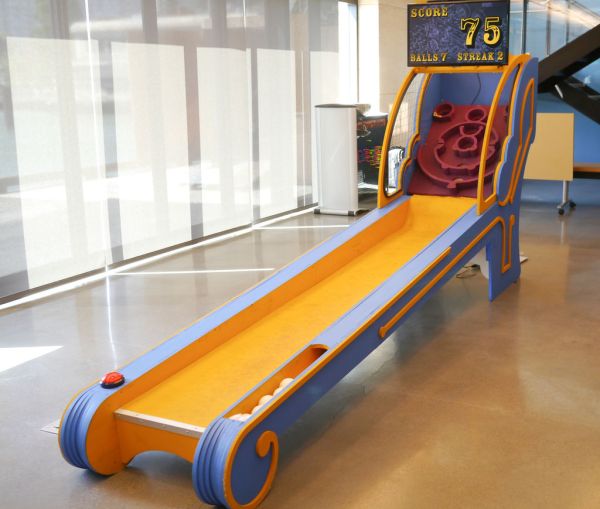 So when the idea for doing a bigger project came up, I jumped at the chance to make a DIY version. I was amazingly lucky to get a lot of help from the folks at Because We Can who did the design and fabrication of the machine on a Shopbot.
Note: this version was made for Maker Faire and as such has a few loose ends. It survived Maker Faire (mostly), but needs some more work to be bullet-proof.
Step 1: Get Stuff
[box color="#985D00″ bg="#FFF8CB" font="verdana" fontsize="14 " radius="20 " border="#985D12″ float="right" head="Major Components in Project" headbg="#FFEB70″ headcolor="#985D00″]
Electronics
Arduino Uno
breadboard
laptop
100mm arcade button
wires
stereo
Software
Arduino
Processing
Illustrator (or other vector graphics program)
Display
Cabinet
7 sheets of 3/4″ plywood
gorilla tape
netting
wood screws
paint
Tools
Other
Balls. These are balls from the ice ball game and were bought on eBay (search for "ice balls skee") for $10 each[/box]
Step 2: The four main pieces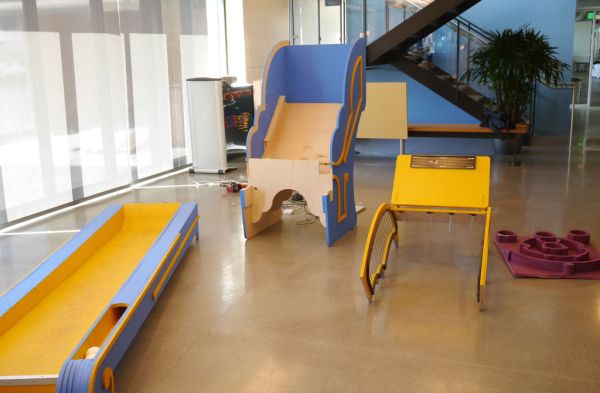 These are the four main pieces of the skee ball machine. These can be easily taken apart so that the whole thing can be moved in a 10′ U-Haul truck. The ramp slots onto the cabinet and doesn't use any fasteners to be attached.
The Revit files for the skee ball machine are attached. With this design, the pieces were cut out of 3/4″ ply on a ShopBot. The assembly is straightfoward as it's a tab-and-slot design.
Step 3: The playfield
The pieces for the playfield are straightforward. Most of the pieces fit together as in the picture above. The kicker at the end of the playfield is made up of several s-shaped pieces of cut plywood all glued together.
The ramp itself is covered with cork and the front end of the ramp has a metal bracket to protect against wayward throws.
For more detail: DIY Skee Ball Machine