ARBOR Technology, a leading provider of embedded computing solutions, which featured this year on concluded Embedded World 2019 Exhibition that took place in Nuremberg, Germany has launched the EmQ-RK390 Qseven module which is based on the RK3399-based SoC. The Qseven concept is an off-the-shelf, multi-vendor, Computer-On-Module that integrates all the core components of a standard PC and is mounted onto an application specific carrier board.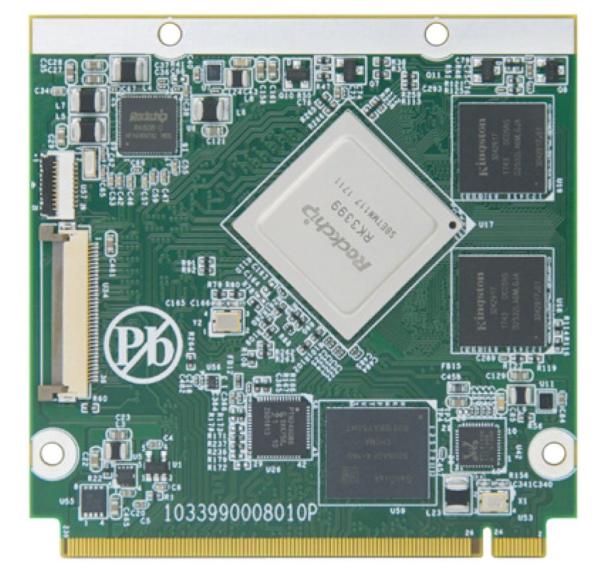 The EmQ-RK390 Qseven module was announced during the event and even displayed at their booth. The launch of the EmQ-Rk390 will be a new direction from Arbor due to the presence of the RK3399 SoC as compared to the previous Intel Apollo Lake-based modules. The RK3399 SoC has dominated the single board computers market for a while with several boards released.
Arbor's EmQ-RK390 Qseven module runs Linux-Ubuntu, Builtroot and Android 8.1 on an onboard Rockchip RK3399 Dual-core Cortex-A72 clocked up to 2.0GHz. It also comes with an additional Quad-core Cortex-A53 processor running up to 1.42GHz. The board comes with an inbuilt 2GB LPDDR3 SDRAM and support for an optional 4GB with soldered 16GB eMMC memory. Just like most other RK3399 based boards, this board also features a high-end, quad-core Mali-T864 GPU.
The board dimensions is in line with Qseven standardized form factor of 70mm x 70mm. At -20 to 70°C temperature, the EmQ-RK390 module is tailored to work in the most demanding industrial environment. Although it doesn't come with an onboard wireless card, it comes with a USB-based RTL8153B GbE controller and a PCIe x4 interface for connecting to the internet or some other network system.
Read more: ARBOR'S "EMQ-RK390" QSEVEN MODULE RUNS LINUX OR ANDROID ON A ROCKCHIP RK3399