A pocket watch, tucked into a waistcoat pocket and trailing a long chain, is a retro-hip accessory. A pocket watch gutted of its mechanical innards and updated as a smart appliance might be a horological abomination, but would still be a cool hack. A pocket watch converted to a digital Enigma machine is in a class all by itself.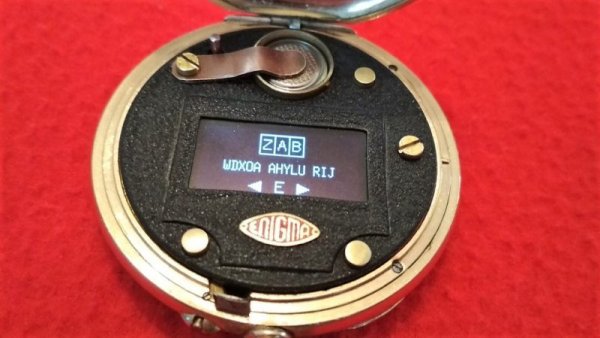 [Simon] admits that he has a thing for pocket timepieces, having a sizable collection of old and not-so-old watches, some that even serve for everyday carry. Trouble is, they eventually break, and qualified watchmakers are getting hard to come by. So refitting defunct watches has become a hobby for him, and this example is a doozy. It uses an Enigma emulator running on an Arduino, similar to one that he stuffed into a somewhat oversized wristwatch a few years ago. Fitting it into a pocket watch case required a bit of finagling, including a 0.5-mm thick main PCB that flexes a bit to fit the contours of the case. A small OLED screen peeks through the front bezel, which is done up in an attractive black crinkle finish with brass buttons for a nice retro look. There's even an acid-etched brass badge on the front cover with his special logo, complete with a profile of the original Enigma rotors.
Very impressive workmanship, and we don't even care that it doesn't tell time. Need a little background on the original Enigma? [Steve Dufresne] did a great job going through the basics a while back.