A 100% Arduino IDE compatible, 32KB USB development board small enough to fit on your fingertips and cheap enough to leave in any project.
NOTE: In case you have forgotten to add shipping charges while pledging. Please make another contribution equaling the shipping charges (using the same e-mail ID previously used), and DO NOT select any perk. Sorry for any confusion.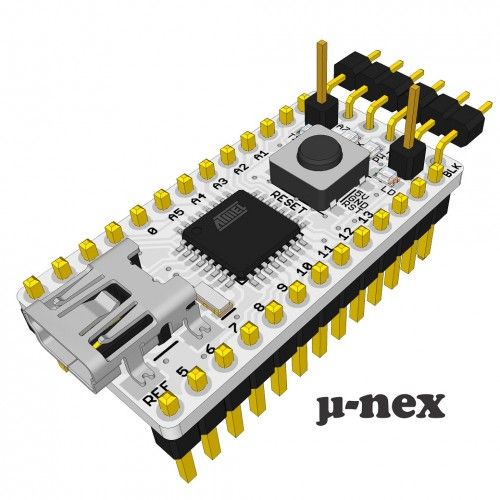 Story so far: u-nex? What? Why?
Having used several development boards over the years we soon realized that most of them are designed to be used for a single purpose. Having hacked some to increase functionality, we reasoned that not all boards would easily allow this and soon realized the need for boards which are feature rich, cost effective, yet easy to use and deploy in numerous applications. We set out to design such boards and this is where it has led us, our first pit-stop: The µ-nex.
The u-nex is a very compact Arduino compatible board designed around the Atmega328p micro-controller. It features 32KB of flash memory with ALL the micro-controller pins being brought out to enable you to build just about anything you would want to build with an 8-bit micro-controller from autonomous flying vehicles to LED cubes. Designed from the ground up to give you maximum possible versatility.
It can be used as an Arduino development board, AVR development board, FTDI breakout board or even an AVR programmer. With on-board USB, it's a breeze to design, test and deploy your projects.
And that's not all. At the heart of this campaign and as well as our goals, we aim to give you a high quality product at a low cost so that you don't have to think twice about leaving this board in your projects.
We have two variants, one targeted for development, the other is a lite version for deployment. Though the specifications are the same, the lite version excludes on-board USB and is priced at a lower cost making it perfect for all those applications which need a low cost set-up.
How so cheap?
We are a team of independent designers and our products are either sold directly by us or our direct distributors. This enables us to pass on the savings to you as we do not have to pay royalty to any third party to host/market the products on our behalf.

We have also carefully selected our manufacturers and vendors who are willing to provide their services at minimal margins keeping in mind the production volumes we need.
Features and Specifications:
Small size at just 17.78mm x 35.00mm
8-bit Atmega328p Micro-controller
Industry standard USB to serial converter with drivers for Windows/Mac/Linux
Clock speed 16MHz
Hardware SPI & I2C
External power or USB power
Input voltage range 7-12V
Breadboard compatible
On board 5V,1A regulator, with supply to breadboard
14 Digital I/O Pins (of which 6 provide PWM output)
8 Analog Input Pins
External ADC reference pin
Power LED, serial LEDs, user configurable LED
Compatible with Arduino IDE for Windows/Mac/Linux
32KB of programmable flash memory (30KB program code space if using Arduino boot-loader)
SRAM 2KB
EEPROM 1KB
For more detail: U-nex – a Arduino compatible, 32KB USB development board for $9, on Indiegogo