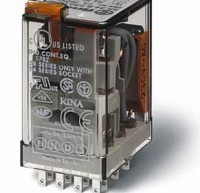 As we know, a relay is a very versatile component, able to realize also various "sequential" circuits, when for example by switching one relay we´ll switch on a target device and at the same time we´ll enable (or disable) switching of another relay. In these case, it´s an often demand for a relay to have a sufficient number of poles. Majority of such "logic" circuits can be realized even with a common 1-2 p ...
Read more

›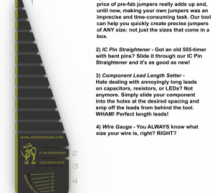 OUR MISSION: Our mission is to bring electronics curriculum to at-risk, Bay-Area middle and high school students who have little to no access to electronics or tech curriculum. OUR PLAN: We have designed a multi-tool that, with our curriculum, will inspire students and ease the minds of teachers and educators. The simple tool allows for previously unseen efficiency in the learning and building process. We p ...
Read more

›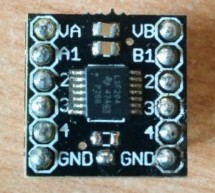 I needed a small, fast and reliable multi-voltage level translator (mainly for connecting ESP8266 boards to the Arduino, got tired of resistor networks pretty quickly) so I built a breakout board for TI's LSF0204(D). Datasheet and info here. The LSF0204 is a nice little chip. It can translate up to 4 signals to and from the following values: 1.0 V ↔ 1.8/2.5/3.3/5 V. 1.2 V ↔ 1.8/2.5/3.3/5 V. 1.8 V ↔ 2.5/3.3/ ...
Read more

›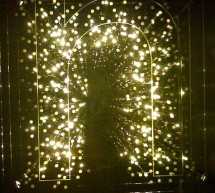 Here you can find out how to make you very own n as made for the exhibition www.laplandscape.co.uk curated by art/design group Lapland.More images can be seen at flickr This exhibition runs from Wednesday 26 November - Friday 12 December 2008 inclusive, and had a private view on Tuesday 25 November. Each participant has been asked to make a letter each of the 'laplandscape' portion of the web address. On th ...
Read more

›