PUB! is a Programmable USB Button on which you can program a sequence of keystrokes. When you press the button those keystrokes are "replayed" over a USB connection.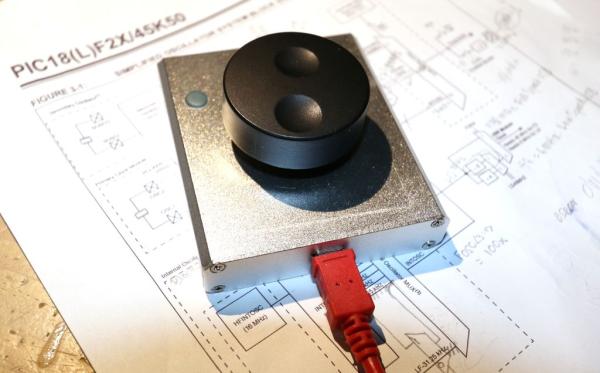 The button (which is really a rotary encoder with a built-in push button switch) is programmed using an innovative and slightly quirky interface that does not require any custom software to be installed on your computer. All you need is a text editor like Notepad (for Windows) or gedit (for Linux).
Features
One-button design (a rotary encoder with a built in switch).
Programmed by using an ordinary text editor as a display (for example, gedit on Linux, or Notepad on Windows).
Up to 127 keystrokes can be recorded and played back.
Support for conditional logic. For example, Compare to value, Jump on zero, etc.
Support for 256 x 8-bit "registers" to record state.
Support for basic arithmetic. Add, subtract, etc.
Can send USB System Control codes (Power off, sleep, wake) to your PC
Can send USB Consumer Device functions (e.g. Mute, Play, Pause, Stop, etc.)
Requires NO drivers (or custom software) for Windows/Linux etc
Futures
The possibilities are fairly broad including:
Using a Bluetooth module to detect proximity of the button owner's mobile phone so that the USB button is only enabled when its owner is near.
Addition of an external EEPROM for extra keystroke capacity.
The one-button user interface will be improved to make it easier to use.
Step 1: Parts
You will need the following parts:
Qty Value          Package       Parts         Description 
3   100nF          0805          C1, C2, C3    Ceramic capacitor SMT
1   4.7uF          SMC_A         C4            Tantalum capacitor SMT
1   470            1206          R1            Resistor SMT
1   ACTIVITY       1206          D1            LED (any color) SMT
1   EC12E_SW                     SW1           ALPS rotary Encoder EC12E series with switch 
1   MIKROPROG                    JP1           5x1 Pin header (right angle) 
1   PIC18F25K50    SOIC          IC1           PIC 18F25K50 microcontroller SMT
1   PICKIT                       JP2           6x1 Pin header (right angle) 
1   USB-MINIB-5PIN               JP3           Mini-USB Type B socket SMT
For more detail: PUB! Programmable USB Button