IBASE Technology Inc, a world-leading manufacturer of industrial motherboard boards and embedded computing solutions has revealed its latest EC-3200 AI computing platform that is based on the cutting-edge power-efficient and high-performance NVIDIA Jetson Tegra X2 (TX2) processor.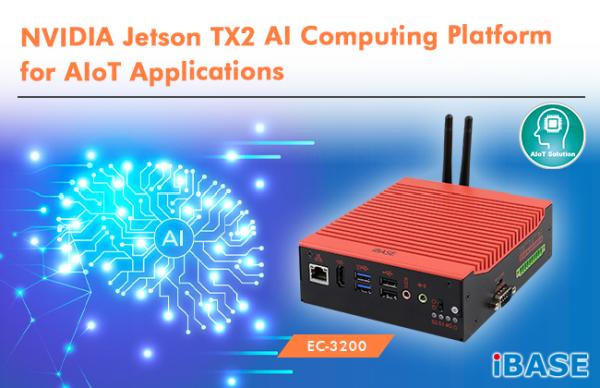 The NVIDIA Jetson TX2 pairs a dual-core Denver 2 alongside a quad-core ARM® Cortex®-A57 processor and provides 256 CUDA cores on the NVIDIA's advanced Pascalä GPU architecture with up to 1.33 TFLOPS, delivering exceptional AI performance.
Designed to operate under an extended temperature range from -20°C to +60°C, the EC-3200 leverages the integrated GPU-computing power of the Jetson TX2 platform in building edge inference servers to analyze and better manage real-time traffic flow in smart cities or to optimize the efficiency of operational processes in intelligent factories.
"Current edge and cloud-based AI products require better computational and video analytics capability to perform demanding real-time data processing and overcome latency issues," said Wilson Lin, Director of IBASE Product Planning Department. "The EC-3200 is no doubt a durable solution, especially built with a fanless design for non-stop operation, and takes advantage of the GPU-accelerated parallel processing of NVIDIA Jetson TX2 to handle data-intensive and mission-critical workloads with power efficiency and unmatched reliability."
Read more: NVIDIA JETSON TX2 AI COMPUTING PLATFORM FOR AIOT APPLICATIONS