Microsemi has announced a family of DSP chips.
Called Timberwolf, it is described as a third-generation DSP architecture designed with a proprietary 4 MAC core, dedicated hardware accelerators, and two independent 16bit DACs in 64pin QFN and 56pin 3×3 CSP packages.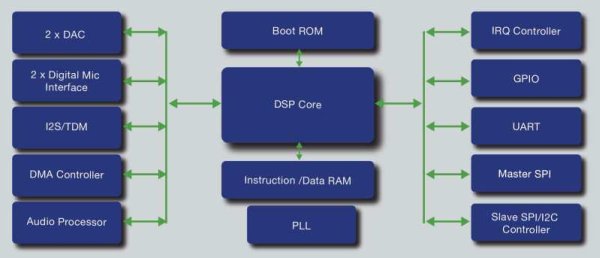 "This field upgradable DSP platform, when combined with algorithmic firmware, can enable beam forming, multi-channel acoustic echo cancellation, direction of arrival and far field microphone capabilities," said the frim. "These are the foundation for improved sound quality, automatic speech recognition, sound classification and other intelligent decision-making based on sound and processing."
Hands-free applications "that require clear speech, free of noise and echo", are the intended market.
Microsemi Timberwolf features:
300MHz proprietary DSP architecture with hardware acceleration
I2C, SPI, UART host interface
Auto-boot from flash
Two clock independent PCM or I2S ports
14 GPIOs, configurable as keypad scanner, and for built-in control features
Crystal-less operation
2 digital microphone interfaces (4 digital microphone inputs)
Dual 16bit DACs
4 single-ended or 2 differential headphone amps with 16ohms (32mW) capability
Impulse pop/click protection
Four chips: are in production.
ZL38040 wideband audio processor
ZL38050 security camera audio processor
ZL38060 connected home audio processor
ZL38080 hands-free automotive audio processor
In a car hands free kit, the ZL38080 (pictured), said Microsemi, might run: long-tail acoustic echo cancellation up to 256 ms in both narrowband (8kHz sampling) and wideband (16kHz) operation, non-linear echo cancellation (higher tolerance for speaker distortion).
For more detail: Microsemi expands audio DSPs