All-Dock: The fastest docking station in the world. Works with iPhone, iPad, Android, Apple, Samsung, Sony, HTC, Kindle, Nokia, Huawei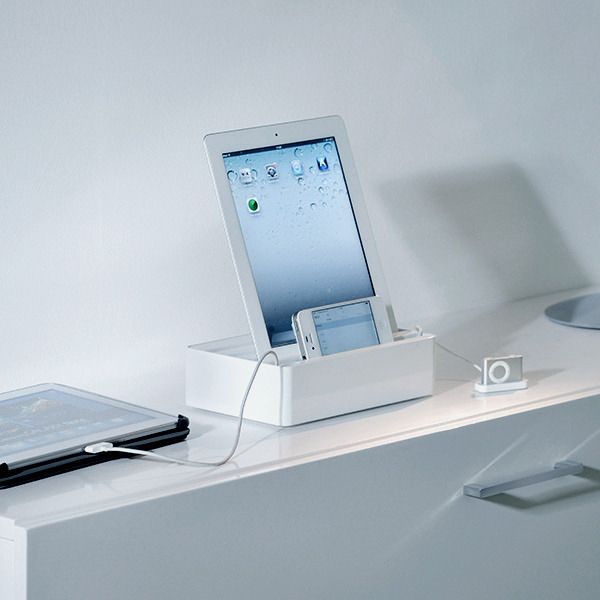 The All-Dock is the race car, the Porsche, of charging stations. It's not just functional – charging multiple devices of nearly every type available – but also incredibly fast and spectacularly beautiful. When this project is completed, the All-Dock will surpass any other charging station in the worldwide market. You can be a part of this amazing effort by supporting us, and by doing so you'll obtain a product you'll be proud to display where everyone can see it.
Our dream with the All-Dock is to create more than just a charging station. The All-Dock is envisioned as a functional piece of art. It will offer a solution for the rapid recharging of multiple devices at the same time, compatible with nearly all devices, including Apple, Samsung, Blackberry, LG, HTC, Motorola, Huawei, Microsoft, Nokia, Kindle, Sony Ericsson, Nexus, etc. The All-Dock will enable you to work with, charge, dock and store your device – all with the same station. It will provide incredible value for money.
All-Dock is the perfect mixture of streamlined sophistication and functionality for people who only want the best.
It will be blazingly fast, with 2400mA per USB exit. You'll be able to recharge your smartphone nearly 80% in less than 1 hour.
Whether you're into iOS or Android, the All-Dock has you covered and will charge up to six devices simultaneously. It is compatible with the most common standard connectors like Lightning, 30-pin, micro-USB, etc. Apple and Android owners can simply use their Lightning cables.
The All-Dock will offer what other charging stations don't. Many other docking stations have no active USB hub in the docking station. Most other models only come with an assembled USB charger.
Say goodbye to looking for your charger or losing your cables.
For more detail: All-Dock: Universal USB charger for Tablet, Smartphone, etc.