One, tiny Dart. Power for all your devices. Perfect for your mobile lifestyle. #TheDart #PerfectlyMobile
What is Dart?

The Dart is the world's smallest, lightest laptop adapter. At a powerful 65W it is a perfect complement to today's thin, lightweight, portable laptops. It fits in a pocket and is designed with a USB port and single outlet profile to make it easy for you to stay charged up when you're on the road. We hope you are as excited about the Dart as we are and looking forward to finally carrying just one, tiny Dart to charge all your electronics. Join our campaign and never be stuck powerless again!
New 4/30 – Announcing $500K Dart Stretch Goal 
If the Dart campaign reaches $500,000 every Dart will ship with a detachable cable! We believe a detachable cable makes the Dart a better product and will create additional flexibility and value for ALL our backers. It will simplify cable management, reduce the risk of damage at the cable attach point, and enable us to offer shorter, longer, or multi-USB cable options in the future. More details are available in Backer Update #5. You can help us hit our stretch goal by sharing our Kickstarter page and/or by further supporting us at www.finsix.com where Dart bundles (sets of Darts) are exclusively available.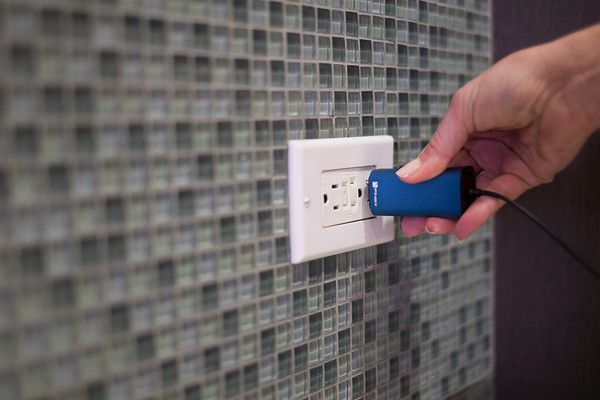 More About Dart: Product Details
Your Dart, Your Color: Blue, Magenta, Silver, Gunmetal, or Orange
AC Input: 90V – 265V, 50/60Hz
Weight: 60 grams
Size: 2.5 cubic inches
Cable Length: 6 feet
Dart is designed to work with all major laptop brands and a majority of today's laptops. To ensure your laptop will work with the Dart you can use one of two methods:
The Dart works with laptops that have a voltage of 18 – 21V* AND a power level of ≤65 watts. You can check the rating of your laptop and/or laptop adapter in the small label printed on the bottom of the unit. If the power level is not provided, multiply the voltage (V) by the current (Amps) and make sure this number is ≤65 (W). Note: Make sure to use the INPUT voltage/current on the laptop label and/or the OUTPUT voltage/current on the adapter label.
Confirm that your laptop is on the Dart Laptop Compatibility Guide. If you do not see your laptop listed here, you will likely see it listed on the Laptop Non-Compatibility Guide. If you do not see your laptop listed on either Guide, please contact us at [email protected]
*MacBook users: Please select the Dart for MacBook. The standard Dart is NOT MacBook compatible. The Dart works with all MacBooks 65W and under. There are a few MacBooks that require >65W for regular charge speeds; these laptops – namely the 15″ and 17″ MacBook Pro and the 15″ MacBook Pro with retina display – are not compatible. Also, we have added a design provision to the Dart for MacBook that enables it to connect to both MacBooks (using the Apple connector) and PC laptops (using the standard set of PC connectors). If you have already purchased an additional Dart because you weren't aware that the Dart for MacBook had this dual capability, feel free to cancel your second order.
For more detail: Dart: The World's Smallest Laptop Adapter