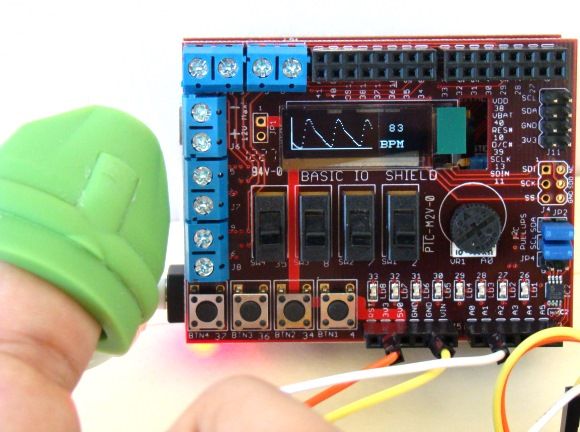 What do we need?
In order to build this project, we will need following things.
3 male/female jumper wires (20 cm long)
Power supply source (9V DC wall adapter or battery with a clip)
Besides, a USB cable (not shown in the picture above) is also required to upload the firmware from PC to the Uno32 board.
Where to Buy Easy Pulse Sensor?
International customers buy here
Wire Connections and Setup
The OLED display on the Basic I/O Shield is driven through SPI interface. This requires the JP4 jumper on chipKIT Uno32 board be placed on the RG9 position so that the SPI SS function is available on Pin 10. Read our tutorial Exploring the chipKIT Uno32 for more details on jumper functions and settings on the Uno32 board. The following picture shows the required jumper settings on Uno32 board for this project.