With the Bolymin BE635 graphic embedded module it´s possible to focus only on software development – hardware is done.
A possibility to interactively adjust various parameters and at the same time to see a "result" of our settings (for example a status of a given device) considerably increases safety and reliability in various industry sectors. That´s probably one of reasons why a graphic output becomes a standard even in devices, where they were recently used very rarely so far.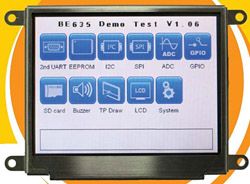 From the development point of view, one of the key deciding factors is a platform, on which a given system is built (processor, OS).
PIC32 family certainly belongs to popular microcontrollers (32 bit RISC CPU), that´s why the new graphic embedded module Bolymin BE635 addresses all, who know PIC32, or they want to become familiar with it. For everyone, who´ve ever worked with PIC32 family, a development of application will be much easier with BE635, as practically all necessary hardware is on one board and at the same time we get a support in a form of various drivers for communication as well as graphic output. For programming purposes a new Microchip PICkit3 is suitable and SW development can be done in the known environment Microchip MPLAB IDE. BE635 is designed as a universal module, where only a designer decides, how much computing power of a processor will use on which activity (displaying, data processing, external HW control, communication, …), that´s why possibilities of its usage are really very wide.
For more detail: Bolymin BE635 – for all PIC32 lovers