Microchip's TensorFlow Lite kit features the Microchip ATSAMD51 microcontroller
The ATSAMD51J19 high-performance microcontroller family from Microchip Technology was formerly targeted for general purpose applications until now.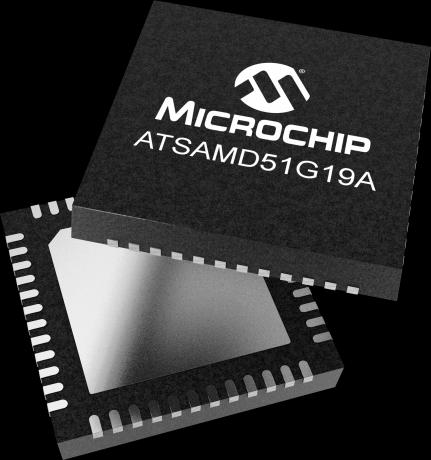 The ATSAMD51J19 can now be used for edge computing in machine learning applications using the Adafruit ByBadge and TensorFlow. ATSAMD51 microcontrollers feature a 32-bit Arm® Cortex®-M4 processor with floating point unit (FPU) running up to 120 MHz, up to 1 MB dual-panel Flash with ECC, and up to 256 KB of SRAM with ECC.
Machine learning has come to the "edge" – small microcontrollers that can run a very miniature version of TensorFlow Lite to do ML computations. Complex hardware to start developing the TensorFlow models is no longer needed. Teachable Machine is a free service for TensorFlow experimentation that takes the pain out of training models. In just a few moments users can get video data for image recognition, train a model, and export it for use with TF or TF Lite. Use a mod of tiny sorter to send a WebUSB signal to a Circuit Playground Express to light up LEDs based on which class was detected. The TensorFlow kit utilizing the Microchip ATSAMD51 Cortex-M4 processor is a cutting edge development platform for machine learning applications.
TensorFlow Kit Contents
Adafruit PyBadge with SAMD51 Cortex-M4F processor @ 120 MHz with display, speaker, and buttons
Electret microphone amplifier – MAX4466 with adjustable gain
JST PH 3-pin to female socket cable – 200 mm
Read more: ATSAMD51 MACHINE LEARNING MCUS