WiShield v2.0
WiShield v2.0 description:
Adds WiFi networking support to Arduino.
802.11b Wi-Fi certified.
1Mbps and 2 Mbps throughput speeds.
Supports both infrastructure (BSS) and ad hoc (IBSS) wireless networks.
WEP, both 64-bit and 128-bit.
WPA/WPA2 (TKIP and AES) PSK.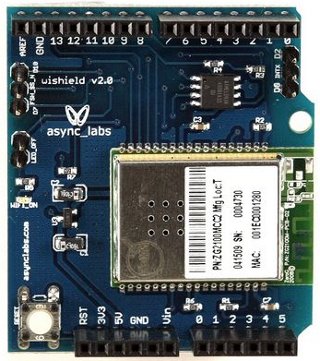 WiShield v2.0 specification:
WiShield v2.0 pinout:
Note:
Exposes two devices on the SPI bus, with slave select lines on D7 and D10. WiFi connection status LED on D9 can be disabled by removing a jumper to make that pin available for other purposes.
D2 or D8: WiFi interrupt (selectable, D2 by default)
D7: DataFlash SS
D9: WiFi connection status LED
D10: WiFi SS
D11: WiFi MOSI / DataFlash MOSI
D12: WiFi MISO / DataFlash MISO
D13: WiFi SCK / DataFlash SCK
For more detail: WiShield v2.0
Project Ratings:
Related posts