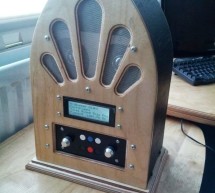 I was looking for a project to do with my Raspberry Pi and found thisInstructable and thought I would have a go at something similar which worked with Google Play Music. I had a rough idea of what I wanted the final item to end up like and was able to get my dad interested in helping me with the design and construction of the enclosure. All code and CAD drawings can be found in the GitHub repo. Before we be ...
Read more

›
Waveform generators (also called function generators) are useful for testing and debugging circuits. They can be used to test the frequency response of electronic components like op amps and sensors or to characterize and troubleshoot audio effects boxes and pedals. This waveform generator shield is powered by an Arduino. It outputs four waveforms: sine, triangle, pulse, and saw, each waveform ranges in fre ...
Read more

›
This Instructable will show you how to build your own FM radio receiver shield to be used with an Arduino board. The radio chip we are going to be using is the AR1010 on a breakoutboard found at Sparkfun or Electrokit and there will be code to get you up and running provided later on. We are going to use an laser cutter for the shield fabrication. Step 1: Eagle 1 First we build up our circuit using eagle. T ...
Read more

›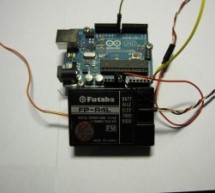 I recently dug up my old RC transmitter and receiver and thought "How can i control my arduino with this?" so i powered on my scope to see what was going on at the receiver. Sure enough, it was sending out the standard PWM signal that servos use. Now I just needed something to control. What's easy and fun to control? LED's of course. Step 1: The Receiver To begin with i had to figure out what pin on the rec ...
Read more

›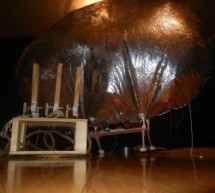 The blimp is controlled by a transmitter on the ground, operated by a human. There are three control levers-- one for each motor, and one for the servo that rotates the axis they're attached to. You push / pull to make the motors speed up or slow down; they're controlled individually, it's like driving a tank. You need two Arduinos - one for the transmitter and one on the blimp itself. I generate the hydrog ...
Read more

›