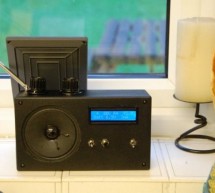 Solar charging, via the panel on the back. * 12 position switch to select channel number * Seek up / seek down controls and 'store' button * RDS display of call sign * Frequency display * Battery voltage display * Solar charging current display The software still needs a bit of attention. Its fine if the signal is good and RDS comes in quickly, but if not, then adjusting the volume or changing channel takes ...
Read more

›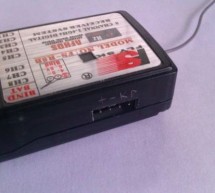 Interfacing a RC radio to a microcontroller is a bit of a pain, especially if you want a lot of channels, because you have to time each channel's output individually. An AVR only has one 16 bit timer with two compare channels, so either you can only use two channels at full resolution or you have to waste lots of cycles sampling it. The other hassle is having loads of wires running from the rx to the micro. ...
Read more

›
SOS is the commonly used description for the international Morse code distress signal (· · · — — — · · ·).  [read more on wiki] Requirements: 1) Arduino 2*) 8 Ω speaker 3*) 150 Ω or similar resistor 4) 5mm RED LED 5) Hook-up wires 6) Any breadboard * Ω = Ohms Step 1: Schematic Hook-up wires as shown (original pic here). Make sure that LED's anode and cathode correctly connected. [read more on wiki] Step 2: ...
Read more

›
I was looking for a way to handle wireless communications between two Arduino boards. Other options like Xbee or Bluetooth were going to cost $50 to over $100. Then I found a cheap RF transmitter and receiver at Sparkfun. The total cost is only $9! Here are a few limitations to RF solution: Communications is only one way. If you wanted two way communications you'd need to buy two receivers and two transmitt ...
Read more

›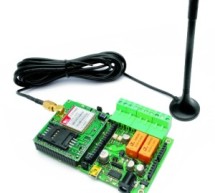 Using an ATmega 2560 and therefore the heart of Arduino, we have developed a universal remote control with GSM. This allows  to control 2IN/2OUT, DTMF key, gate control and GSM thermostat activated remotely. We have already presented several remote control with different functions. But now we want to present the best remote control ever made with Arduino. The remote control is easier, thanks to the availabi ...
Read more

›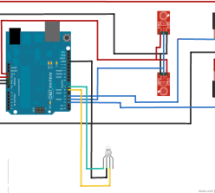 I have an Arduino Uno connected to two IR transmitters and respective receivers. Basically, when one of the receivers detects a beam break, I have a strand of LEDs display a pattern. This all works in principle, but the problem is that when the IR transmitters and receivers are connected to the Arduino, the LEDs flicker with random colors. The specific parts I'm using: Adafruit 36mm 12V LEDs (http://www.ada ...
Read more

›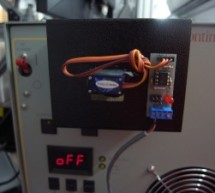 One of my colleagues, Dr. Shane Mayor, has built a very nice LIDAR system for atmospheric research. It's located at a remote site, at the end of a dirt road, and everything about the system can be controlled remotely except the main pump laser power supply. That supply has a key-switch, which has to be manually turned to activate the system. He asked me to see what I could do to make it all remote-controlle ...
Read more

›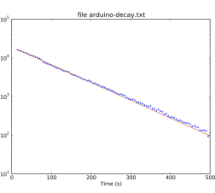 My students need to learn LabVIEW —I know, it's proprietary software, and expensive, but until a viable open-source equivalent comes along we're stuck with it— and one of the exercises I have them do is to make a program to analyze radioactive decay. This gives them experience in using counters, plotting data in real time, curve fitting, etc. The problem arises when I have a dozen students and not so many g ...
Read more

›
This project used the Si470x FM radio receiver and an ardurino to make an over the counter kitchen radio. These parts had been purchased for a different build that unfortunately met a premature end. The concept for this project is simple. Play my favorite news and music radio stations while having a form factor that does not take up space on the kitchen counter. I have a small push button that toggles betwe ...
Read more

›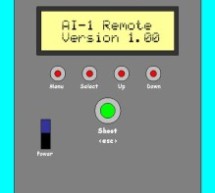 Introduction August, 2007  One of my other hobbies is photography, and, about a year ago, I purchased a new digicam - a Panasonic FZ30. I joined the Panasonic forum on the dpreview site. One of the posters, a programmer and electronic hobbyist, designed a nifty wireless remote using a very inexpensive RF transmitter/receiver combination that he found on eBay. After he'd perfected that, he began designing an ...
Read more

›
What does a smart snow globe do? It tells you if tomorrow's going to be a snow day! Is it snowing tonight? Will you have the day off from school or work tomorrow? Put this snow globe next to your bed when you go to sleep to find out. Then when you wake up in the morning (or middle of the night) you can give the snow globe a shake and it will light up in a specific color to tell you whether you can stay home ...
Read more

›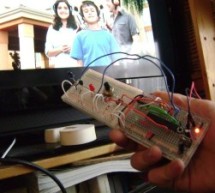 Have you ever wanted to use a good old knob to control your TV volume instead of repeated button pushing? Or make it controlled by light? Do you want your remote to be replaced by an awesome arduino and let it do the hard work of using a remote for you? Well this instructable is for you! Also if you just want to learn how to use IR to control your TV with your arduino this will help you gain some understand ...
Read more

›