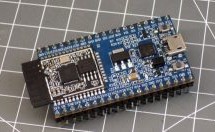 ESP32 is the hottest new wireless chip out there, offering both WiFi and Bluetooth Low Energy radios rolled up with a dual-core 32-bit processor and packed with peripherals of every kind. We got some review sample dev boards, Adafruit and Seeed Studio had them in stock for a while, and AI-Thinker — the company that makes the most popular ESP8266 modules — is starting up full-scale production on October 1st. ...
Read more

›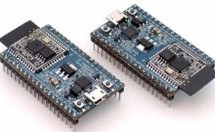 The ESP8266 has become one of those ubiquitous parts that everyone knows. However, the new ESP32 has a lot of great new features, too. If you want to take the ESP32 for a spin, you should check out [Neil Kolban's] video series about the device. When we say series, we aren't kidding. At last count, there were nineteen videos. Some are only a few minutes long, but some weigh in at nearly twenty minutes and th ...
Read more

›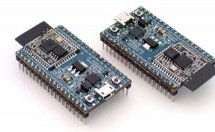 The ESP32 is looking like an amazing chip, not the least for its price point. It combines WiFi and Bluetooth wireless capabilities with two CPU cores and a decent hardware peripheral set. There were modules in the wild for just under seven US dollars before they sold out, and they're not going to get more expensive over time. Given the crazy success that Espressif had with the ESP8266, expectations are high ...
Read more

›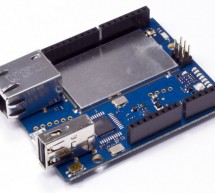 [Updated Sep 30] — Arduino announced the first open source Arduino hacker board with built-in WiFi, and also the first to run Linux. The $69 Arduino Yun integrates the functions of an Arduino Leonardo, featuring an Atmel ATmega32U4 microcontroller and 14 GPIO pins, with an Atheros AR9331 WiFi SOC running OpenWRT embedded Linux on a 400MHz MIPS processor. Arduino, the Italian-based project that designs the o ...
Read more

›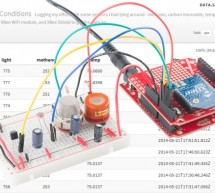 Introduction Are you looking to get your data gathering project hooked into the "Internet-of-Things"? Then check out data.sparkfun.com! It makes posting data to the web as easy as constructing a URL and POSTing it to a server. I wanted to create a quick project to test out SparkFun's data logging service. Combining an Arduino, XBee WiFi module, and a variety of gas, temperature, and light sensors I built an ...
Read more

›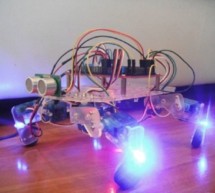 This is my first post on Instructables and I am super excited to share my knowledge! My original robot post is here: Spryo SpoonTail which is just my robot showing some tricks but with a tethered control. In this Instructable I am going to show you how to make a quadrapod of your own and using speech recognition via bluetooth to control your bot. Gotta thank Oddbot for introducing me to robotics and helping ...
Read more

›
I began this project with the objective of cheaply turning my RC helicopter into something of a UAV or at least to fit some sensors to reduce collisions and other "mis-haps." Now unfortunately at the beginning of the project i miscalculated my little helicopter's lift capabilities and so with the equipment fitted it has insufficient power to get more than a couple of inches of the ground, but all of the sys ...
Read more

›
Hey, I am a big fan of Instructables. I have consistently used it for the past 3 years and now its time for me to write one myself.Here we go. This instructable is for those who want to make some inanimate object tweet automatically. Like say for example you are building a robot and you want the robot to tweet to you or to the world. This obviously means your robot needs to have access to the internet and s ...
Read more

›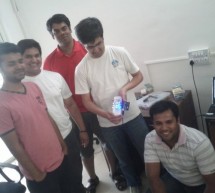 This was my first time attending the Internet of Things Pune Group. It was such a fun learning experience! At today's meetup, Dhiraj and Nishant started out by introducing the InduinoX and Arduino Uno boards along with the Processing IDE that is used to write the code. After playing around with couple of sensors on the InduinoX we thought of doing a micro project together and finally settled on doing a Tic ...
Read more

›
Architecture RaspiDuinoRover is made of three main parts: A Raspberry Pi which receives commands from a remote device through a TCP connection, and sends these commands to an Arduino Uno through an I2C connection. The same TCP channel is used to send back the remote data grabbed from the Arduino Uno about pan and tilt servo positions, camera lighting status and motors current usage. The Raspberry Pi also pr ...
Read more

›
I'm working on a prototype product(Wifi motion sensor) that will be powered from a battery source, it has a mega328(arduino bootloader, with sleep mode on and wake on interrupt,and WDT in case it hangs up), a PIR motion sensor , and a CC3000 break out board. Power saving is done in software, but what type of battery should I use? I initially used 2AA with LT1302-5 boost converter, but I think it was not abl ...
Read more

›
Nothing puts the fun back into coding like watching your very own creations come to life in the physical world. Luckily, with the current glut of high-tech toys and electronic gadgets on the market, it's never been easier to experience the thrill of designing your own hardware by modifying what's already available. A great way to get into the hobby is to wander the isles of your local toy store or browse th ...
Read more

›