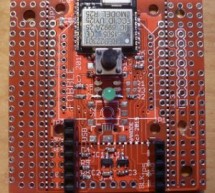 This week I have been working on another of my standard footprint 50mm x 50mm boards - it is a general purpose wireless module carrier board:-  Fobble.  That's a BLE Fob - for anyone who misses the pun. In the last few weeks there have been a number of applications arise - that could easily be addressed with an easy to use, generic wireless platform. These have included keyfob or pendant applications - requ ...
Read more

›
I learnt about Arduino 2 years ago.So I started playing around with simple stuff like LEDs,buttons,motors etc.Then I thought wouldn't it be cool to connect to do stuff like displaying the day's weather,stock prices ,train timings on an LCD display.I found that this could be done by sending and receiving data through the internet.So the solution was connecting to intenet. There began my search on how to conn ...
Read more

›
In my previous Instructable I have described how to plug the ESP-01 module into a breadboard. This is just the first step to make a cheap Arduino WiFi shield using the ESP8266 module. With few more electronic components and the WiFiEsp library you can build it for less that 10 USD. Step 1: Components Here are the components you need Arduino board - In this example I'm using an Arduino Uno board but I person ...
Read more

›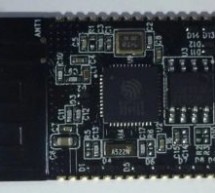 The ESP8266 chip, and the boards based around it, have been the new hot new thing this past year. Overnight it became — almost by stealth — one of the leading platforms for the Internet of Things. This runaway success quickly gathered a community, and it's possible Espressif Systems may repeat that next year with their new ESP32 chip. About a month ago the makers of the ESP8266 started trailing their next p ...
Read more

›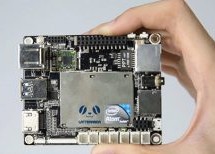 It includes everything a regular PC has and can do anything that a regular PC does, all at a low price of 69 USD. LattePanda runs perfectly on the go. Creating documents with Microsoft Office, playing HD videos and running Windows apps on LattePanda is exactly the same experience as using a regular PC. LattePanda comes pre-installed with a full edition of Windows 10, including powerful tools such as Visual ...
Read more

›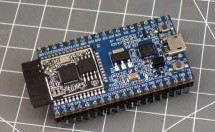 ESP32 is the hottest new wireless chip out there, offering both WiFi and Bluetooth Low Energy radios rolled up with a dual-core 32-bit processor and packed with peripherals of every kind. We got some review sample dev boards, Adafruit and Seeed Studio had them in stock for a while, and AI-Thinker — the company that makes the most popular ESP8266 modules — is starting up full-scale production on October 1st. ...
Read more

›
Hey guys, back with another little project that I've been fiddling with for the past week. With kids around, every parent is thinking how to make their home safer for the little ones and for everybody in general. One of the most dangerous thing in the house can be the stove and since we have a gas-powered one, I always wondered why there are no simple gas detectors that can be used around the stove, just to ...
Read more

›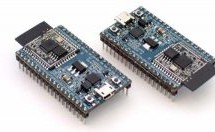 The ESP32 is looking like an amazing chip, not the least for its price point. It combines WiFi and Bluetooth wireless capabilities with two CPU cores and a decent hardware peripheral set. There were modules in the wild for just under seven US dollars before they sold out, and they're not going to get more expensive over time. Given the crazy success that Espressif had with the ESP8266, expectations are high ...
Read more

›
A couple of months ago I picked up cheap WiFi-controlled LED bulbs (one among dozens of very similar devices), after seeing them at a friend's place.  This turned out to be an excuse to play with the ESP8266, which has inspired several hacks. I was overall very happy with these bulbs: decent Android and iOS apps and, compared to fancier solutions (e.g., Philips Hue or Belkin WeMo), they do not require any p ...
Read more

›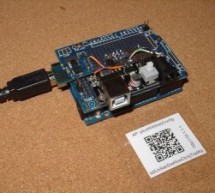 Update: 19th May 2016 Rev 14 of this project revises libraries and code to work with ESP8266.com IDE plug-in V2.2 Update: 17th December 2105 Rev 11 of this project cleans up other attempted connections if it is already connected. Also uses the timeout set by the web config. Rev 10 ignored the timeout setting. Update: 11th November 2015 This is Rev 10 of the this project. Rev 10 uses a non-blocking WiFi libr ...
Read more

›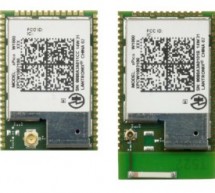 Lantronix xPico WiFi module may be already familiar to you from our articles, for example: xPico WiFi is a dream come true for producers and customers where we also mention the HW compatibility with the xPico module ( wired, serial-to-Ethernet modul). New version - xPico WiFi SMT brings the same functionality as xPico WiFi and as the name saysm it´s intended for a direct soldering by an SMT (reflow) process ...
Read more

›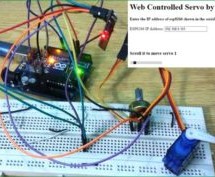 In this post we are going to control a Servo Motor using a web browser with the help of Arduino and Wi-Fi module ESP8266. The ESP8266 will establish a connection between the servo and the web browser through the IP address and then by moving the Slider on the web page, the servo will move accordingly. Even by setting Port Forwarding in your router, you can control the Servo from anywhere in the world over t ...
Read more

›