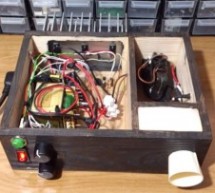 DISCLAIMER: This is an extremely dangerous project, and it should only be attempted by people with experience in electronics, and specifically, High Voltage. If it's your first time seek help for your own safety. Homemade High Voltage supplies are unlikely to meet any international standards, the safety and correct operation is NOT guaranteed at all, and will depend on the skill level of the builder, the ef ...
Read more

›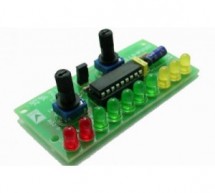 This project is a 12V Lead Acid Battery Voltage Monitor Description 12V Lead Acid Battery Monitor is a simple project which tells you the voltage of your Lead acid battery visually with the help of 10 LED's.  This project is based on the popular LM3914 IC from Texas Instruments. The LM3914 senses the voltage level at the input pin and drives the 10 light emitting diodes based on the voltage detected on inpu ...
Read more

›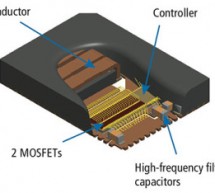 Such is the popularity of DC-to-DC voltage converters ("switching regulators")––due to their high efficiency across wide input- and output-voltage ranges––that chip makers have focused a lot of research dollars on squeezing the essential components of the devices into modules. These modules typically include pulse-width-modulation (PWM) controllers and switching elements in a single, compact package, easing ...
Read more

›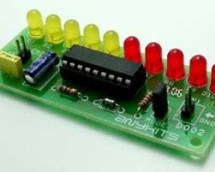 0-10V_Monitor_PIC This project is a 0-10V Voltage Monitor. Description 0-10V Volt monitor project has been designed around LM3914 IC, It is an easy and less expensive project which instantly visualizes voltage level. The project is based on the popular LM3194 IC from Texas instruments. Handy 0-10V DC Voltmeter can be used as a voltage tester. The LM3914 senses the voltage level at the input pin and drives t ...
Read more

›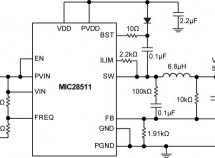 A family of pin-compatible synchronous step-down switching regulators with integrated power switches, the MIC28511/12/13 from Micrel, supplies up to 4 A of output current (MIC28513) and accepts a wide input supply range of 4.6 V to 70 V (MIC28512). The devices have an operating junction temperature range of -40°C to +125°C and come in very small 24-pin, 3×4-mm FCQFN packages. The MIC28511/12/13 regulators a ...
Read more

›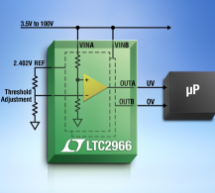 Features Wide Operating Range: 3.5V to 100V Wide Monitoring Range: 1.75V to 98V Quiescent Current: 7μA Adjustable Threshold Range Internal High Value Resistive Dividers ±1.4% (Max) Threshold Accuracy Over Temperature Polarity Selection 100V Rated Outputs Selectable Built-In Hysteresis 20-Lead SW and 16-Lead 3mm × 3mm QFN Packages Description The LTC®2966 is a low current, high voltage dual channel voltage m ...
Read more

›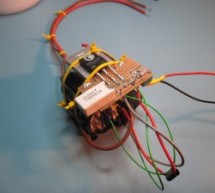 Old CRT monitor or TV is a great source of electronic components that can be used in DYI constructions. One of them is a flyback transformer that can provide 10-30kV output. The input voltage can be in a range from a couple of volts to over a dozen of volts, power consumption is a couple of watts. In my construction input voltage is 9V, power consumption is 5W. A flyback transformer is driven by one or two ...
Read more

›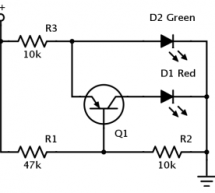 This Design Idea gives two versions of an indicator light that changes from green to red as a battery discharges. There are many circuits that do this sort of thing, but all the ones I have seen are too complex and costly for my taste. This DI shows a method that uses an absolute minimum of low cost parts: a dual-color LED and four other parts. Figure 1 shows the simplest version. With 9V on B+ only the gre ...
Read more

›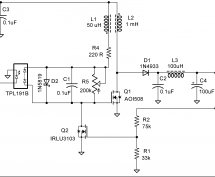 The output will be pulses of voltage that can be filtered using a diode and capacitor. As there is no regulation, the output voltage will vary with the input voltage or load. As this circuit uses a BJT, the supply voltage needs to be at least 0.7V to work, and with enhancement-mode MOSFETs, the supply voltage must usually be even higher. In this Design Idea, a low-threshold MOSFET (Q1) is used with coupled ...
Read more

›
This example shows you how to read an analog input on Pin 0, convert the values from analogRead() into voltage, and print it out to the serial monitor.  Circuit: image developed using Fritzing. For more circuit examples, see the Fritzing project page Connect the three wires from the potentiometer to your Arduino board. The first goes to ground from one of the outer pins of the potentiometer. The second goes ...
Read more

›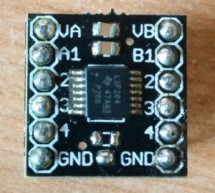 I needed a small, fast and reliable multi-voltage level translator (mainly for connecting ESP8266 boards to the Arduino, got tired of resistor networks pretty quickly) so I built a breakout board for TI's LSF0204(D). Datasheet and info here. The LSF0204 is a nice little chip. It can translate up to 4 signals to and from the following values: 1.0 V ↔ 1.8/2.5/3.3/5 V. 1.2 V ↔ 1.8/2.5/3.3/5 V. 1.8 V ↔ 2.5/3.3/ ...
Read more

›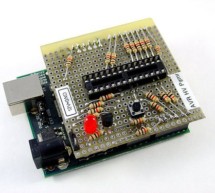 Update 01/02/09: A PCB version of this circuit is in the design stages – some preliminary information is here. Update 03/11/09: Kits based on this design are now for sale! Update 12/14/10: The original AVR HV Rescue Shield kit has been replaced by the new and improved HV Rescue Shield 2.  Visit the HV Rescue Shield 2 product page for information about the new kit!As I mentioned earlier this week, I recently ...
Read more

›