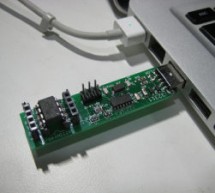 This tutorial shows you how to program an ATtiny45, ATtiny85, ATtiny44 or ATtiny84 microcontroller using the Arduino software. These are small, cheap ($2-3) microcontrollers that are convenient for running simple programs. The ATtiny45 and ATtiny85 have eight legs and are almost identical, except that the ATtiny85 has twice the memory of the ATtiny45 and can therefore hold more complex programs. The ATtiny4 ...
Read more

›
Naturally, the Uno does not natively support keyboard strokes, unlike it's Leonardo brother. Most of Google will tell you you need to do some firmware workarounds and ATMEGA reprogramming just to get it working and the entire ordeal is a mess. If you're like me, you've found that out just after buying one. Here is how to get around all that using a bit of Java coding. The ideal solution would be to purchase ...
Read more

›
The HSM-20G is an analog humidity and temperature sensor that outputs analog voltage respects to relative humidity and temperature. However from this sensor relative humidity is found along with temperature. Relative humidity is the percentage of moistures of airs for a particular temperature [1]. Feature: 1. Storage range: -20°C to 70°C 2. Operating range: 0°C to 50°C Application: HSM-20g is considered as ...
Read more

›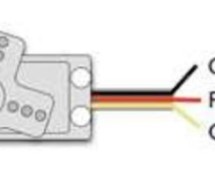 Hey everyone. I hope you will be fine. As you know that last time, we had started Arduino UNO course and given you a brief introduction how to simulate the LED blinking via Arduino UNO and its implementation in proteus ISIS. Now, today we are going to implement Servo Motor Simulation via Arduino UNO in proteus ISIS. What is Servo Motor? With the help of servo motors you can position the motor shaft at a spe ...
Read more

›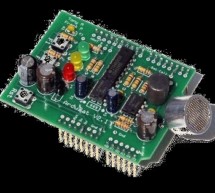 I've built a number of projects that have interfaced the output of the Simple Bat Detector with a microprocessor. The most recent was the BatLogger II. But I hadn't come up with an easy way for others to experiment with this idea ... until now. My friend, Frank, in Germany, had wanted to make a relatively inexpensive bat activity logger ... and he had come on the idea to do it using a Simple Bat Detector co ...
Read more

›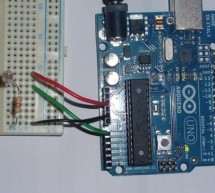 In this Arduino UNO tutorial, we are going to use a Light Dependent Resistor (LDR) to create a simple childrens bedroom nightlight which turns on automatically when it gets dark and turns off when it gets light. An LDR's resistance changes depending upon the amount of light hitting the sensor.  For the LDR we are going to use the resistance reduces as the light falling on the device increases. Used in conju ...
Read more

›
We have written a tutorial for Rotary Encoders using a Microchip microcontroller but now would be a good time to make an Arduino UNO version. With a rotary encoder we have two square wave outputs (A and B) which are 90 degrees out of phase with each other. The number of pulses or steps generated per complete turn varies. The Sparkfun Rotary Encoder has 12 steps but others may have more or less. The diagram ...
Read more

›
Okay, okay, I know you all were wondering what I am up to now. I love synths and so, I built this. There are three things that can catch my attention: Synthesizers, Amplifiers and free. The other day (Actually it was just Thursday) I was cruising around Make's website when I saw the Deal of the Day was the Loud Objects Noise Toy. I had seen it before but had not cared much for it. I the n saw a Vimeo video ...
Read more

›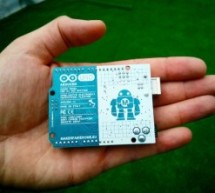 MakerFaire Rome, for the first time gathering makers from all over Europe, is coming up and the clock is ticking while the Call for Makers closes next 2nd of June. That's why we thought to launch a call for collaboration to local hubs, makerspaces and fablab into helping us spreading the word. If you are one of them and you think that makers from your city in Europe would be interested in  joining the event ...
Read more

›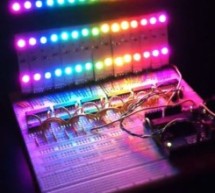 Introducing the RainBoard: A simple RGB LED Rainbow fader using an Arduino Uno and a few simple components. Believe it or not, we will control 45-channels of RGB LEDs at 32 brightness levels using only 3 digital pins from the Arduino! How is this possible you ask? By using two magic concepts: Shift Registers, and Pulse-Width Modulation.  Some of the schematics/images may seem daunting, but if all instructio ...
Read more

›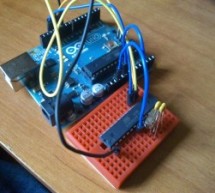 I had one remote controlled project that needed an Arduino running 24/7 but I didn't want to leave my $32 Arduino UNO, so I decided to buy some pieces and created my own Arduino. The most important part was buying the microcontroller. These were my options: ATMega328P-PU with Optiboot ~ $5.50 (Sparkfun) / $5.19 (Digikey) ATMega328P-PU ~ $3.16 (Digikey) ATMega328-PU ~ $2.88 (Digikey) Obviously I bought the c ...
Read more

›
hey guys this is my first arduino project  plz  comment how u feel. Step 1: Things u need As this is easy project for beginner's so parts are also simple Parts: 1- Arduino uno or any other board will work 1-Beardboard 9- jumper wires or wires will also do 8 -leds any color u like i used 3 red, 3 green and 2 blue 8- 1k resistors Step 2: Placing the leds and wiring In this step u have to place the leds on the ...
Read more

›