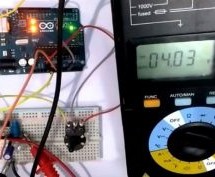 In this project we are going to make a Buck Converter Circuit using Arduino and N-Channel MOSFET with a maximum current capacity of 6 amps. We are going to step down 12v DC to any value between 0 and 10v DC. We can control the output voltage value by rotating the potentiometer. A buck converter is a DC to DC converter, which steps down DC voltage. It is just like a transformer with one difference; whereas t ...
Read more

›
In this project we control direction and speed of a 24v high current motor using Arduino and two relays. No power switches are needed for this circuit, just two push buttons and in Potentiometer to control the direction and speed of DC Motor. One push button will rotate motor clockwise and other will rotate it counter clockwise. One n-channel MOSFET is required to control speed of motor. Relays are used to ...
Read more

›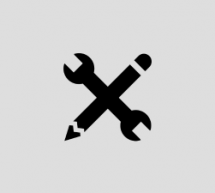 Use the PN532 NFC available on the anduinoWiFi shield to create an RFID keycard building access system. Motivation Keys are so last century, and now that you can easily replicate a physical key just by snagging a photo it might be time to upgrade our locks! This project outlines a framework for you to get started implementing your own unique locking mechanisms. In this project you'll authenticate individual ...
Read more

›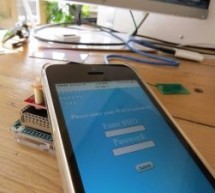 Motivation So I've just spent an "all nighter" working on this new IoT device that's going to change the world. The sun comes up, and I'm off to demo the device and pitch to my friends for some seed capital and soul crushing criticism. I get to their house, turn the device on, it won't connect... quickly I realize the device is still flashed with my home WiFi credentials. Time to quickly edit my code, refla ...
Read more

›
Experimenting with an HF oscillator, I needed to control the varactor diode voltage in precise increments over a 2V-10V range. A buffered potentiometer was the obvious choice, and connecting two pots in series to give coarse/fine control (or using a multiturn pot) would offer improved control over the varactor voltage. However, this approach still didn't allow me to generate uniform increments and decrement ...
Read more

›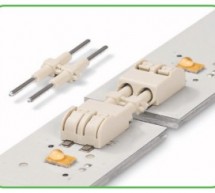 Innovative series Wago 2060 now has two new familiar - smaller and bigger one. We talk about series 2059 and 2061. In result, WAGO 2059, 2060 a 2061 LED terminal blocks series create a comprehensive family of SMT connectors usable for practically any LED applications and in general - for every application, where advantages are low profile of connectors, reliable contact resistant to vibrations (spring clamp ...
Read more

›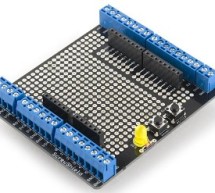 ScrewShield v1.5 description: The ScrewShield extends all pins of the Arduino out to 3.5mm pitch screw terminals. It also has a lot of the utility provided by a regular prototyping shield, ScrewShield v1.5 specification: 1x ScrewShield PCB 1x 5mm Yellow LED 1x 330Ω Resistor 2x 6-pin Stackable Headers 2x 8-pin Stackable Headers 2x Momentary Push Buttons 6x 2-pin 3.5mm Screw Terminals 8x 3-pin 3.5mm Screw Ter ...
Read more

›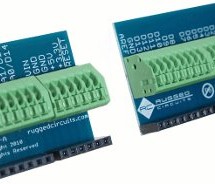 Quick Shield description: The Quick Shield extends the connection pins out to 28 quick-connect terminals that accept 20AWG to 24AWG wire. Unlike screw terminals, these quick-connect terminals require no tools: just push, insert wire, and release. Stacking headers allow another shield to plug in on top and have access to all 28 pins. Use the Quick Shield for easy breadboarding, using shields standalone witho ...
Read more

›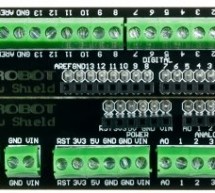 Screw Shield description: Terminal expansion board allows wires to be connected firmly using screw terminals. Screw Shield specification: Screw Shield pinout: For more detail: Screw Shield ...
Read more

›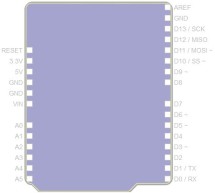 Proto Screw Shield description: Combines the screw shield and prototyping shield. The screw terminals provide a convenient way to easily connect wires to your project. The prototyping area provides space for you to add your own parts, plus a LED (D13) and two buttons (reset and general). Proto Screw Shield specification: Proto Screw Shield pinout: For more detail: Proto Screw Shield ...
Read more

›
So here is how i made my foot pedal used to start Linux terminal using an Arduino. It's made because I am board of pressing the terminal icon with my mouse. P.S. Sorry for my English. I am from Croatia. Tools needed: -Soldering iron and some solder -Wire clippers or any other cutting tool -Screwdriver Parts needed: -Arduino system -Foot switch (I found mine in my workshop) -Wire -10k pull-down resistor or y ...
Read more

›