Most of you have heard the expression 'Hot Air Rises'. Well, it's true. So in your typical house, it's going to be hotter near the ceiling than near the floor. How much hotter? Well, being a Lazy Old Geek, I wanted to know how much. Well, that's easy, I just point my IR thermometer (See picture) up in the corner and down at the floor. Okay, it reads 82 F at the ceiling and 75 F on the floor. All done. But w ...
Read more

›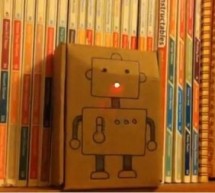 My son and myself made a little arduino robot that records temperature. He wanted me to draw a robot, I wanted to experiment with blinking LEDs relaying data so a plan was hatched. The way the LEDs work is as follows: Green = lowest temperature recorded, Yellow = highest and Red = current temperature with all readings being in °C. Step 2: Wiring Up I realise now how bad the photograph is but as everything i ...
Read more

›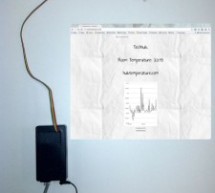 This is how to push high resolution real-time data from Arduino-based temperature sensor to your web page without any server-side coding. Arduino is a great device for collecting, storing and transferring data from various sensors but there are times you need to make your data accessible from any place over the internet, like I did for room temperature in my study. That's when this solution may come handy. ...
Read more

›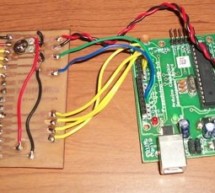 Here is a Simple Temperature Display Circuit using LCD (Liquid Crystal Display). For Heat Sensor we have used IC LM35 (Precision Centigrade Temperature Sensors) whose Output voltage is linearly proportional to the Celsius (Centigrade) temperature. Output of LM35 IC is 10mv/degree centigrade for eg if temperature is 35 degree, then the output of sensor will be 350mv or 0.35V For working with LCD it is necess ...
Read more

›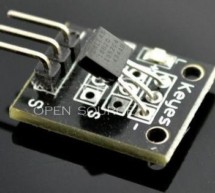 Electronic Brick, Waterproof and other Versions NOTE: There are different-appearing versions but they work the same. This is an electronic thermometer which has high accuracy over a wide range (accurate to ±0.5°C over the range of -10°C to +85°C) (Workable from -55°C to +125°C). You can locate these thermometer chips up to 100M away from your Arduino. Shorter cables can be just 2 wires. NOTE: There must be ...
Read more

›
Temperature and humidity measurement are always a nice addition to hobbyist projects. In my previous post, I've discussed the DHT11 sensor, which is capable of measuring both temperature and humidity. They are digital sensor and provide calibrated outputs with temperature and relative humidity. I've also demonstrated how to interface with Arduino and display it on 1602 LCD. Unlike DHT series, HSM -20G is an ...
Read more

›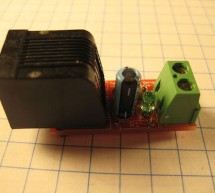 Overview This board allows you to use a thermistor to measure the temperature of something. It is designed to be used to measure things in the range of 100C - 300C, but with the proper calibration and resistors, it can be adapted to any temperature range you need (under 300C). If you need something that can measure temperatures above 300C, you should look into the Thermocouple Sensor. You'll need a solderin ...
Read more

›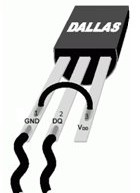 Note: When referring to Arduino below, this works in the same way on the emonTx which is arduino-based. The DS18B20 is a small thermometer with a built in 12bit ADC; it can be easily connected to Arduino digital input. The sensor communicates over a one-wire bus and requires little in the way of additional components. The sensors have a quoted accuracy of +/-0.5 deg C in the range -10 deg C to +85 deg C. Ha ...
Read more

›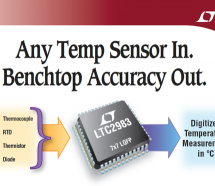 The LTC2983 measures a wide variety of temperature sensors and digitally outputs the result, in °C or °F, with 0.1°C accuracy and 0.001°C resolution. The LTC2983 can measure the temperature of virtually all standard (type B, E, J, K, N, S, R, T) or custom thermocouples, automatically compensate for cold junction temperatures and linearize the results. The device can also measure temperature with standard 2- ...
Read more

›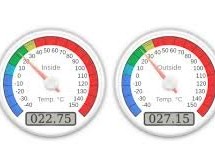 This project consists of two temperatures that are measured by the Arduino using two MCP9700 temperature sensors An Arduino Uno and Ethernet shield are set up as a web server that hosts a web page to display the two temperatures on two gauges. The web page is stored on a SD card that is plugged into the micro SD card socket on the Ethernet shield. A web browser is used to display the two temperature gauges ...
Read more

›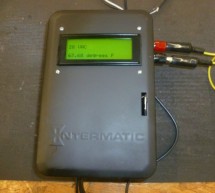 Step 1: The case I dug out an appropriate case from the dumpster, milled out a rectangular hole for the lcd, and drilled holes to mount the LCD and the Arduino. I used brass standoffs and fiber washers to prevent shorts. Then I gave the whole case a quick spray of flat black to cover the scratched and scraped gray that originally covered the case. Step 2: Voltage Divider The first part of the code and elect ...
Read more

›
In this Arduino project, you will build a small shield that measures temperature and will switch on one of three LEDs depending on the current temperature measurement. Each LED can be set to switch on in a predefined temperature range. The PC software for the project is written in the Processing language and displays the current temperature, temperature history on a graph and the status of the three LEDs on ...
Read more

›