Here we have a good example of how a requirement for a simple tool spirals out of control and spawns a project that takes months to complete and ends up dwarfing the project that it was originally expected to facilitate. You see, some time ago I was fiddling around with a project, something to do with data logging, probably, I've actually forgotten what I was up to. Said project would have used an MCU to ac ...
Read more

›
As Engineers/Developers we always rely upon the data collected to design or improve a system. Recording data and analyzing them is a common practice in most of the industries, here we are building Arduino Data Logger Project where we will learn how we can log data at a specific interval of time. We will use an Arduino board to read some data (here temperature, humidity, date and time) and save them on a SD ...
Read more

›
Step 1: Introduction In this Instructable I am going to attempt to show you how to put together a little project to use the Blynk app (optainable at http://www.blynk.cc/) to display the temperature remotely on a iOS or Android device. I came across an posting on my Google+ where somebody required some help with this. It looked interesting, so I decided to have a try myself. This is my first attempt to write ...
Read more

›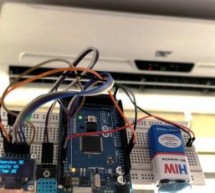 An AC (Air Conditioner) which was once considered to be a luxury item and was only to be found in big hotels, movie halls, restaurants etc... But, now almost everyone has a AC in our home to beat out the summer/winter and those who have it, worry about one common thing. That is their high electricity consumption and chargers due to it.  In this project we are going to make a small Automatic Temperature Cont ...
Read more

›
Quantifying cooling A few months ago +Neil Darlow mentioned that he had replaced his Mendel90 fan with a quiet version and it seemed to give better cooling results. This made me curious because quieter fans of the same dimensions generally spin slower and produce less airflow. So I purchased one to compare but then realised I had no better way of judging its efficacy than holding my finger in the air stream ...
Read more

›
Dresden, Germany - 8 February 2016 - Heliatek R&D teams reached a record conversion efficiency of 13.2% for an OPV multi-junction cell, setting a new world record for the direct conversion of sunlight into electricity using organic photovoltaic cells. The measurement was independently confirmed by Fraunhofer CSP. Thanks to the excellent low light and high temperature behavior of the organic semiconducto ...
Read more

›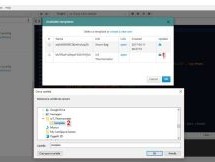 How to develop a simple but powerful IoT thermometer using a Zerynth-powered single-board MCU and the Zerynth App. Story The Zerynth App Zerynth App is a mobile application for Android and iOS that allows fast prototyping of graphical interfaces for your IoT projects. With Zerynth App you can turn any mobile into the controller and display for smart objects and IoT systems! In particular, you can manage and ...
Read more

›
Today I am going to show you how to make An OpenSource Arduino UNO OLED Clock That Also Measures Temperature. This project is an OpenSource and it's open to everyone. It doesn't require any special engineer skills, and will take you less than couple of hours once you have all the parts you need. This clock will not only show you exact time and date but also it will show you the ambient temperature in both F ...
Read more

›
A friend has approached me regarding his solar project. He wants to install a solar panel together with a battery and an inverter in order to have power at his allotment garden. He had looked at a hobbyist project where an arduino was used to build a MPPT (maximum point of power tracking) charge controller. I took a look at the design, liked a lot of what I saw and decided to build something similar. The ba ...
Read more

›
Researchers at TU/e have developed a very tiny wireless temperature sensor that is powered in a very special way: from the radio waves that are part of the sensor's wireless network. This means that the sensor needs not even a single wire, nor a battery that would have to be replaced. The arrival of such sensors is an important development on route towards smart buildings, for instance. But the applications ...
Read more

›
ESP8266 modules are great low cost stand alone controllers with built in Wi-Fi, and I already made a simple Blink instructable with ESP8266 NodeMCU module. The advantage of the ESP8266 over Arduino and other controllers is the builtin Wi-Fi. In this Instructable I will show you how with the help of Visuino you can use two ESP8266 modules to make a remote LCD Display for Temperature and Humidity DHT11 sensor ...
Read more

›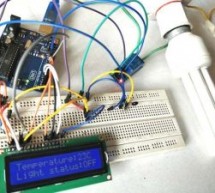 Suppose you are sitting in a room and feeling cold and you want your heater to be automatically turned on, and then off after some time when room temperature is increased, then this project help you to control your home appliances automatically according to the temperature. Here we are controlling Home AC Appliances with Arduino based on the temperature. Here we have used Thermistor to read the temperature. ...
Read more

›