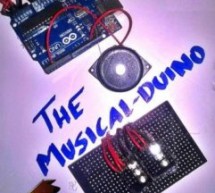 Making cool things with an Arduino is something, but making musical instruments out of an Arduino is something else! So behold, here comes the Musical-duino, an Arduino keyboard. To see what this does, check out the demo video at the bottom of this page. They say that "You can become anyone", so why not become Beethoven or Mozart? The only limit is your imagination. The DIY Arduino keyboard or the Musical-d ...
Read more

›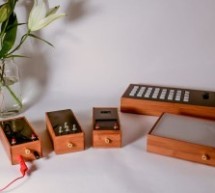 As a part of being an artist in residence at Instructables, I took it upon myself to build of couple of noise machines / music boxes. My interest lies in designing objects that would enable people to explore the world of sound synthesis and for me to get a better understanding on how the different interfaces enables different interactions and sound qualities. It has been an intense experience. Trying to bui ...
Read more

›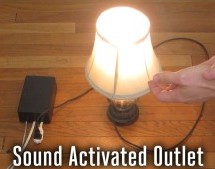 The Clapper was a popular gadget in the 80's and 90's. It let you turn appliances on and off just by clapping. This can be pretty useful, but it has some limitations. First there is the problem of loud noises accidentally turning the lights off. Also, you can't control multiple outlets independently of each other. So I decided to make programmable version of the Clapper using an Arduino microcontroller. The ...
Read more

›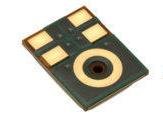 The MEMS (microelectromechanical system) market is starting to motor. It grew at just over 10% last year and is likely to grow even faster this year. This is good news for the 'newest' semiconductor device market. But can it continue to grow at this rate? Market analyst Yole Développement has already warned of price pressures pegging back revenue growth over the next few years. According to Yole, price pres ...
Read more

›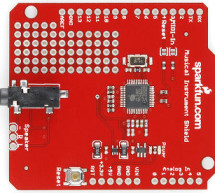 Musical Instrument Shield description: Provides access to the VS1053 MP3/MIDI decoder hardwired in realtime MIDI mode. The VS1053 provides 31 note polyphony in 128 GM1 standard instruments along with 50 percussion instruments. Musical Instrument Shield specification: Schematic Eagle Files Quickstart Guide Example Code Datasheet (VS1053) Illumitune Project (tutorial) (video) Musical Instrument Shield pinout: ...
Read more

›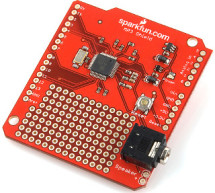 MP3 Shield description: The MP3 Shield wires your Arduino up to a VS1053D MP3 audio decoder IC, providing it with the ability to decode audio files. The VS1053 is also capable of decoding Ogg Vorbis/MP3/AAC/WMA/MIDI audio and encoding IMA ADPCM and user-loadable Ogg Vorbis. The VS1053 receives its input bitstream through a serial input bus (SPI). After the stream has been decoded by the IC, the audio is sen ...
Read more

›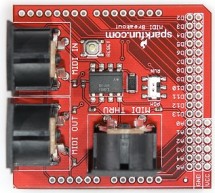 MIDI Breakout Shield description: The MIDI Breakout board gives your Arduino access to the powerful MIDI communication protocol. The MIDI protocol shares many similarities with standard asynchronous serial interfaces, so you can use the UART pins of your microcontroller to send and receive MIDI event messages. The MIDI Breakout provides both MIDI-IN and MIDI-OUT connections, as well as a MIDI-THRU port. The ...
Read more

›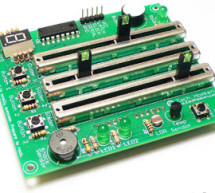 Danger Shield description: The Danger Shield contains a variety of fun and useful electronic circuits that you can use to do fun and useful things with Arduino. It is a fully self-contained shield. You plug it into your Arduino, and you can immediately start using it. No extra things to hook up, no external components. Danger Shield specification: 3 x linear sliders w/ integrated LEDs (each independently ho ...
Read more

›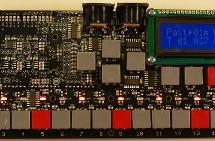 Beat707 Shield description: 32 step machine, (plus 32 double-steps for a total of 64 steps) with 16 step buttons and LEDs, LCD screen and navigation keys. It\'s like the classic Roland TR707 but with some twists, as it actually has 64 x 1/32 or 32 x 1/64 steps. The 2 note-step sequence feature allows you to do bass and/or synth grooves. The unit doesn\'t produce any sound, it\'s all MIDI based, so you can u ...
Read more

›
MidiVox Shield description: MidiVox turns an Arduino board into a programmable MIDI synthesizer. The shield provides an isolated MIDI input jack along with a single-channel, 12-bit, digital audio output. Any MIDI keyboard with a DIN-5 output can be used to control the shield. Assignable knobs/faders on your controller will come in handy for modifying synth parameters as you play. Intended for use as an expe ...
Read more

›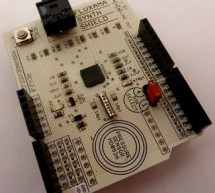 Fluxamasynth Shield description: MIDI synthesizer on a shield: takes standard MIDI codes through a serial protocol. Based on Atmel's ATSAM2195 single-chip MIDI sound system. The Fluxamasynth has a built-in wavetable with 128 general MIDI sounds and an additional set of 128 variations and dozens of percussion sounds. It can play music in 64-voice polyphony without effects or 38 voices with effects. Fluxamasy ...
Read more

›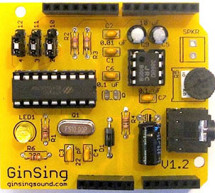 GinSing Shield description: Sound and voice synthesizer based on the Savage Innovations SSGO1 chip, which is a complex waveform synthesizer capable of voice synthesis, polyphonic voicing, and a configurable waveform synthesizer with complex modulation, envelope, mixer control and more. GinSing Shield specification: Synthesizer circuit - Babblebot IC, clock, PWM filter. Amplifier circuit - NJM386 1 watt audi ...
Read more

›