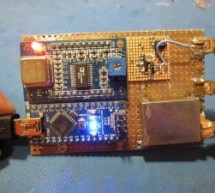 After playing around with the SynthNV signal generator/power detector discussed in the previous post I realized what a useful a tool it is for RF testing. While its a terrific tool for VHF/UHF/Microwave testing, the SynthNV has a couple of serious limitations for amateur use in the HF region - the signal generator has a minimum frequency of 35 MHz, the generated signal has a lot of harmonics and its a fairl ...
Read more

›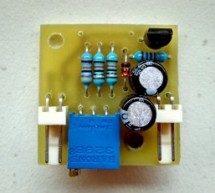 I published this schematic long ago in this article: Adjustable power supply and since then I made some improvements in PCB to make the board as small as possible. The idea is to be easy to attach the whole board to the heat sink which we want to monitor. The board is only 27mm x 27mm. 1. The C3 can be omitted, its purpose was to filter noises picked up by connecting cable between board and sensing transist ...
Read more

›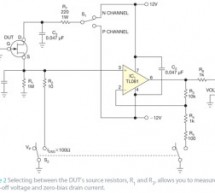 When working with discrete JFETs, designers may need to accommodate a large variation in device parameters for a given transistor type. A square-law equation is usually used as an approximate model for the drain-current characteristic of the JFET: ID=β(VGS−VP)2, where ID is the drain current, VGS is the gate-to-source voltage, β is the transconductance parameter, and VP is the gate pinch-off voltage. With t ...
Read more

›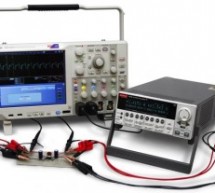 DC-DC converters are widely used components that convert DC power from one voltage to another, producing a regulated output voltage. These devices are used in many electronic products, including laptops, mobile phones, and instrumentation. Like any device, DC-DC converters need to be characterized by manufacturers and by engineers evaluating them for a design. Given the increased pressure to develop product ...
Read more

›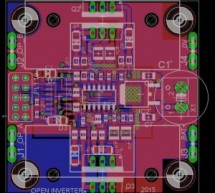 In May 2013, I learned about Ward Cunningham's Txtzyme language - a very simple serial command interpreter which allowed basic control of microcontroller function using a serial interface. I wrote about it here: Txtzyme - A minimal interpretive language and thoughts on simple extensions Tytzyme was about as easy as a "language" could get, it offered digital input and output, analogue input, rudimentary timi ...
Read more

›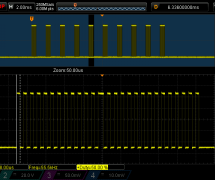 We are often asked on discussion boards, about conflicts between IRremote or IRLib and other Arduino Libraries. In this post, we present a sketch for 'Simple Infrared PWM on Arduino'. This is the first part in a 3 part series of posts. Part 1 shows how to generate the Simple Infrared PWM on Arduino (AKA carrier frequency), using any available IO pin and without conflicting with other libraries. Part 2 will ...
Read more

›
A frequency generator is a very handy device in electronic design, development, testing and trouble shooting. It is such a kind of device which can generate the required frequencies which can be then applied directly to the target device for testing it. There are frequency generators which can generate the required waveform like sine wave, saw tooth wave etc. but for normal applications the square wave gene ...
Read more

›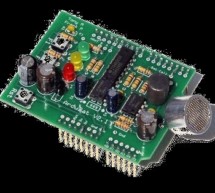 I've built a number of projects that have interfaced the output of the Simple Bat Detector with a microprocessor. The most recent was the BatLogger II. But I hadn't come up with an easy way for others to experiment with this idea ... until now. My friend, Frank, in Germany, had wanted to make a relatively inexpensive bat activity logger ... and he had come on the idea to do it using a Simple Bat Detector co ...
Read more

›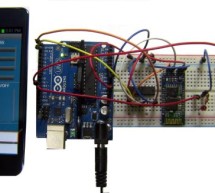 UPDATES  October 30, 2013 - 7PM (GMT+2) The new official name for this app is ArduDroid and it can be installed from Google Play. I changed the name to avoid a naming conflict with another app.   September 15, 2013: I Have won a Nexus 7 tablet for this project part of a competition held by Instructables.com Thanks to everyone who voted. August 18, 2013: I have uploaded the Anrduino 0.11 alpha version with f ...
Read more

›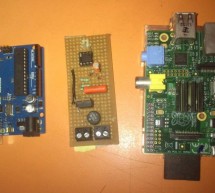 Dimmer With  MOSFET This circuit shows that dimmers intended for use at mains voltage do not always have to contain a triac. Here, a MOSFET (BUZ41A, 500 V/4.5A) in a diode bridge is used to control the voltage across an incandescent bulb with pulse-width modulation (PWM). The power supply voltage for driving the gate is supplied by the voltage across the MOSFET. add on board: raspberry pi diy add-on board S ...
Read more

›
Hi Everyone! I've had a few people ask about creating a simple clap-on/clap-off circuit using Arduino. Well those who are interested are now in luck. The software in this instructable is simple and well commented. The schematic is simple, and the components are easy and inexpensive to acquire! All you'll need are 6x components, and an Arduino UNO. I hope that this helps those of you who need to build this f ...
Read more

›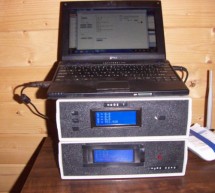 Build a low cost simple wireless mesh using arduinos and long range APC220 radio modules. Wireless mesh networks can handle individual nodes not working and are tolerant to environments such as forests and hills where data may not be able to go directly from one point to another. Step 1: How the mesh works This is a wireless mesh with a range of up to 1km between nodes. There are 16 nodes in each mesh, and ...
Read more

›