This Instructable brought to you by the kind folks a Rachel's Electronics Visit  www.rachelselectronics.com  for cool electronics kits and breadouts! This hobby servo hack will add shaft position feedback by tapping into the servo's own internal potentiometer. The only parts that need are wire and a little bit of solder, making this hack practically free. Common electronics workshop tools are required, so i ...
Read more

›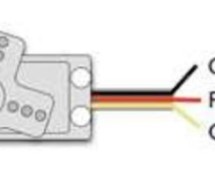 Hey everyone. I hope you will be fine. As you know that last time, we had started Arduino UNO course and given you a brief introduction how to simulate the LED blinking via Arduino UNO and its implementation in proteus ISIS. Now, today we are going to implement Servo Motor Simulation via Arduino UNO in proteus ISIS. What is Servo Motor? With the help of servo motors you can position the motor shaft at a spe ...
Read more

›
This instructable shows you how to make a pump using a servo motor and an Arduino Uno to transfer small amounts of liquids. The pump is a peristaltic pump which consists mainly of a motor, flexible tubing and a circular pump casing. Two rollers attached to a turning rotor press the flexible tube to the circular pump casing wall. As the rotor turns, the part of the tube under compression is pinched closed th ...
Read more

›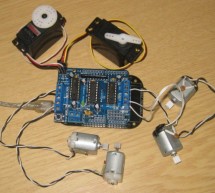 This post starts a small (or larger?) series of tutorials using the Arduino Motor/Stepper/Servo Shield with the FRDM-KL25Z board. That motor shield is probably one of the most versatile on the market, and features 2 servo and 4 motor connectors for DC or stepper motors. That makes it a great shield for any robotic project The series starts with a tutorial how to drive two servo motors. And if this is not wh ...
Read more

›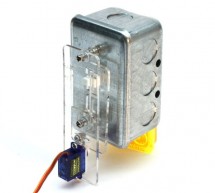 This Instructable is all about one of life's simple actions, flipping a light switch on and off. At oomlout we do it many times a day, so many in fact it came to a point where we asked ourselves "Can't we get an Arduino to do this?". Of course we can, what follows is how we went about doing it. With the help of some acrylic, nuts and bolts and a small hobby servo we have made a great little switcher (we're ...
Read more

›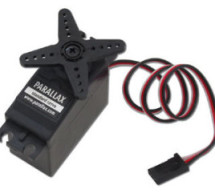 In this instructurable I will expalin and show you how to make a Parallax servo rotate 360º. And againI have search the internet to see tutorials clear enough to make this posible with no luck. Don't get me wrong they are some how good but not clear. This mod will help you to use the mod servo for robots that need a fully 360º rotation servo. Also some of the pictures were taken from other instructurables a ...
Read more

›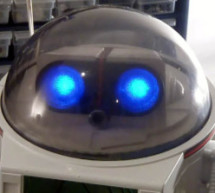 *Check back for more updates on this build :) So, have you heard of the Omnibot? Well! Any kid from the 80's will remember how amazing this robot was. For you young kids, this robot was released in the early 80's by Tomy. The robot was "programmable", in the sense that the actions were recorded to a casette tape. As you operated the robot over its remote control, the casette would record tones for each acti ...
Read more

›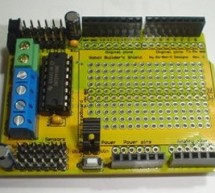 Robot Builder's Shield description: The Robot Builder's Shield makes building robots with Arduino easy. Directly plug up to 6 sensors and up to 6 servos in to dedicated connectors and drive 2 DC motors from the built in H-bridge, 1A/motor. Flip the power switch On and use the J1 jumper to transfer power from the battery to Arduino's Vin pin. Robot Builder's Shield specification: Robot Builder's Shiel ...
Read more

›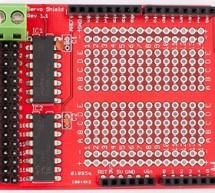 Servo Shield description: Uses two 4017 decade counters to drive up to 16 servos using only 4 pins (digital pins 6 to 9) and as little as one 8-bit timer (Timer 2) in standard mode or two 16/8-bit timers (Timer 1 and Timer 2 for Duemilanove or Timer 3 for Mega) in high accuracy mode. It also includes a 196 point breadboard style prototyping area. Servo Shield specification: Servo Shield pinout: ...
Read more

›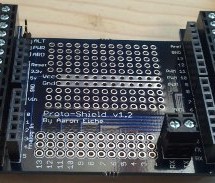 Protoshield description: This Prototyping shield breaks out all pins on the Arduino for prototyping use in an accessible way. All pins are available with screw terminals on either side of the shield, and digital pins D2 to D13 have been made accessible via servo headers. The shield features a power select header and long-tail header plugs so it can sit nicely in an Arduino and provide additional shield comp ...
Read more

›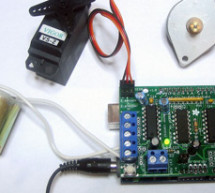 Motor Shield description: Full-featured motor control shield that will be able to power many simple to medium-complexity projects. 2 connections for 5V "hobby" servos connected to the Arduino's high-resolution dedicated timer. Motor Shield specification: 2 connections for 5V 'hobby' servos connected to the Arduino's high-resolution dedicated timer - no jitter! Up to 4 bi-directional DC motors with individua ...
Read more

›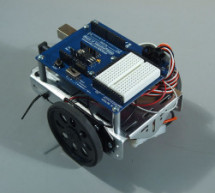 Servo Cable The continuous rotation servos that come with the BOE Shield-Bot have a 3-wire cable for connecting it to the power and controller. The black wire is the ground, the red wire is the power (positive) and the white wire (sometimes yellow, depending on the servo) is the signal wire. The signal wire is used to send the control signal to the servo. All three wires run together into a single, standard ...
Read more

›