Hardware components: Atmel ATTiny85 × 1 SparkFun Tiny AVR Programmer × 1 Software apps and online services: Arduino IDE STORY Introduction The Atmel tinyAVR MCU's (ATtiny) are a series of chips optimized for applications requiring performance and/or power efficiency in a small package. These have internal clocks that runs at 8 MHz. They can also be clocked at 16 MHz and 20MHz using an external clock. ...
Read more

›
I've played with the Intel Galileo a lot lately, so now it's time to build some Intel Galileo projects! In this project I built a very simple weather station that records the temperature and humidity and saves these to a memory card. I'll show you how to read temperature and humidity from a DHT11 sensor with the Intel Galileo. Then how to save these values to an SD-card. If you're new to the Intel Galileo, ...
Read more

›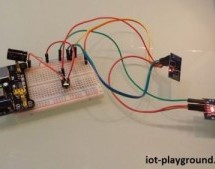 In this tutorial we will show how to build WiFi ESP8266 DS18B20 temperature logger connected to EasyIoT Cloud. All material costs less than 5$ on ebay. EasyIoT Cloud works also on mobile phone or tablet. Native Android app is also available. Also see simplified sensor version (Plug and Play): http://www.instructables.com/id/ESP8266-Temperature-Logger-With-Email-Alarm/ Step 1: Materials ESP8266 module DS18B2 ...
Read more

›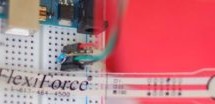 Felxiforce is a force sensor that is very similar to FSRs we just wrote about in principal. They change their resistance when you apply force to them. (The flexi part of the name is because they are flexible) Felxiforces are about twice as expensive as their FSR cousins, but these are much more stable, and are calibrated to a specific weight. You can buy them in 1, 25, or 100lb ratings. This article was wri ...
Read more

›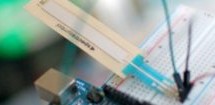 You all know the potentiometer, you turn it, and you can read on your arduino where it was turned to. Well 3M makes a product called the softpot that is a linear touch potentiometer. So instead of turning a knob, you touch it. The really nice thing about these is that they are great for prototypes because you can tell where someone touched it. So if you place a piece of paper with some printed buttons over ...
Read more

›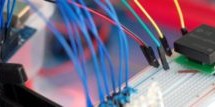 A few weeks ago we showed you how to control your arduino over serial. Well this week are going to do the same thing. Only this time instead of using the serial monitor to send the commands, we will be using the Innovations ID line RFID reader. RFID, or Radio Frequency Identification, is basically a wireless barcode, and in this implementation works by a reader sending out a signal that powers a "tag", the ...
Read more

›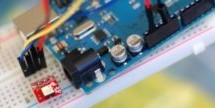 Once in a while something comes out that I think is going to be really awesome, but when you get it, it is just so so. Im sure you all know what I mean… But yeah… This is one of those. The RPI-1031 available from sparkfun is a pretty simple (heck, it is dead simple) sensor for sensing when it is tilted. And it does this really well. But it seriously only does that. If it is not tilted, it freaks out and rep ...
Read more

›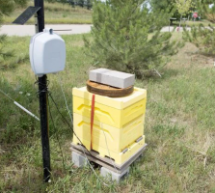 The Digital Beehive uses Wi-Fi to broadcast a beehive's weight, humidity, temperature, and battery voltage every minute to SparkFun's data channel service called Phant. The raw data can be seen here but you can view some prettier graphs of the data here on analog.io (sign-in required). On a visit to Portland, Oregon, last summer my friend mentioned he had always wanted to put a load cell under a beehive to ...
Read more

›
The QRE1113 is a common reflectance sensor often used in robotic line followers. The sensor works by shining an IR LED down and seeing how much of that light bounces back using a phototransistor. Because dark colors will bounce back less of the light, the sensor can be used to tell the difference between white and black areas. So an array of these can be used to help a robot determine where a dark line is o ...
Read more

›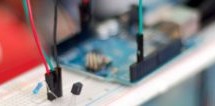 I know… you are probably thinking "Another Thermometer! How many do you need to cover?" – Well… All of them. But really, they all have something different to offer. For instance this guy, the DS18B20, has a unique serial-number sent with it's data, so if you needed to have 50 of these on one bus, you could and still know exactly where the reading came from. And… It's digital serial bus it uses to transmit t ...
Read more

›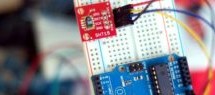 The SHT15 is a digital humidity sensor that outputs a fully calibrated humidity reading. And… because what we are measuring is actually relative humidity, and relative humidity being relative to temperature, the SHT15 has a builtin digital thermometer. This makes things much easier to work with than sensors without a thermometer onboard. You can pick one up from sparkFun here. Hooking it up The SHT15 uses a ...
Read more

›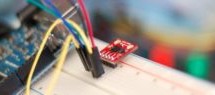 I'm not really sure why, but proximity sensors are some of my favorite things in the sensor world. Maybe because there are so many of them? Who knows. Whatever the reason, the VCNL4000 is another proximity sensor that caught my eye, so I picked one up from Sparkfun on this handy breakout board. The VCNL4000 looks like it is a single piece of silicon, but it really just is an infrared transmitter and receive ...
Read more

›