In this tutorial we will develop a circuit using Force sensor, Arduino Uno and a servo motor. It will be a servo control system where the servo shaft position is determined by the weight present on the force sensor. Before going any further let's talk about about the servo and other components. Servo Motors are used where there is a need for accurate shaft movement or position. These are not proposed for hi ...
Read more

›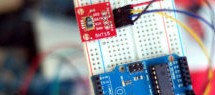 The SHT15 is a digital humidity sensor that outputs a fully calibrated humidity reading. And… because what we are measuring is actually relative humidity, and relative humidity being relative to temperature, the SHT15 has a builtin digital thermometer. This makes things much easier to work with than sensors without a thermometer onboard. You can pick one up from sparkFun here. Hooking it up The SHT15 uses a ...
Read more

›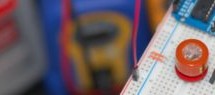 lot has happened since our last article was published and to celebrate the continuance of bildr we'll be playing with the MQ-3 Alcohol Gas Sensor. Coupled with the SparkFun Gas Sensor Breakout Board, connecting the MQ-3 to your Arduino is a breeze. The MQ-3 is a heater-driven alcohol sensor that outputs an analog signal (usually interpreted somewhere between 150 and 1023 depending on how long you let the se ...
Read more

›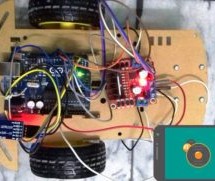 In this article, we are going to Control the Robot Car through the G sensor of our mobile phone and you will be able to move the Robot just by tilting the Phone. We will also use Arduino and RemoteXY app for this G-Sensor Controlled Robot. RemoteXY app is used to create the interface in the Smart Phone for controlling the Robot. We will add the joystick in the interface so that Robot can also be controlled ...
Read more

›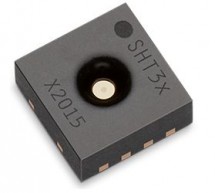 Even the actual series like SHT1x and SHT2x belong to a top in this segment. Forthcoming series SHT3x (SHT30, SHT31 and soon also SHT35) addresses mainly those of you, requiring maximum accuracy even in limit values (humidity below 10% and above 90%), miniature dimensions and ultra low power consumption. So a main difference of a new SHT31 compared to SHT21 is, that a typical +-2% is maintained in a whole r ...
Read more

›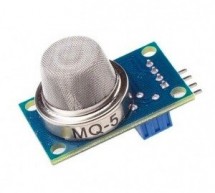 In this guide, we learn how to interface MQ5 Gas sensor (which is a generic Gas Sensor more suited to detect and determine LPG concentrations) with Arduino. In this tutorial, we are using the MQ5 Gas sensor module (which is widely available in market) . This module has two output possibilities – an analog out (A0) and a digital out (D0). The analog out can be used to detect Gas leakage and to measure volume ...
Read more

›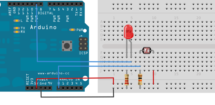 This example demonstrates one techinque for calibrating sensor input. The board takes sensor readings for five seconds during the startup, and tracks the highest and lowest values it gets. These sensor readings during the first five seconds of the sketch execution define the minimum and maximum of expected values for the readings taken during the loop. Circuit Analog sensor (e.g. potentiometer, light sensor ...
Read more

›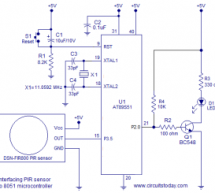 PIR sensors are widely used in motion detecting devices. This article is about interfacing a PIR sensor to 8051 microcontroller. A practical intruder alarm system using PIR sensor and 8051 microcontroller is also included at the end of this article. Before going in to the core of the article, let's have a look at the PIR sensor and its working. PIR sensor. PIR sensor is the abbreviation of Passive Infrared ...
Read more

›
This project is about a simple humidity sensor based on 8051 microcontroller. Humidity sensor is also called hygrometer. This circuit can sense relative humidity (RH)  from 20% to 95% at an accuracy of 5%. The humidity information is displayed on a 16×2 LCD display. A relay is also provided which is set to be active when the humidity crosses a certain trip point. The circuit is mains operated and it is very ...
Read more

›
The latest addition to STMicroelectronics' portfolio of environmental sensors, the UVIS25 provides a direct digital output of UVI (ultraviolet index)—the international measurement of the strength of ultraviolet radiation, primarily from the sun, at a given place and time. Aimed at wearable devices, smart-phone, and tablet applications, the UVIS25 is sensitive to UV waves in the 200-nm to 400-nm range. This ...
Read more

›
Some time ago I came across a new chip from TI, the HDC1000. It's a temperature and humidity sensor with I2C interface and requires little to no additional components. It comes in an 8BGA package: we can all agree it's pretty small. Some of the peculiar characteristics of this chip are that it has a DRDYn pin which goes low any time there is a new reading from the chip (so you can precisely time your reques ...
Read more

›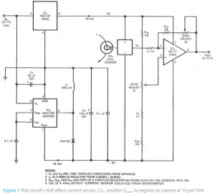 The Fig 1 circuit uses a Hall-effect sensor, consisting of an IC that resides in a small gap in a flux-collector toroid, to measure dc current in the range of 0 to 40A. You wrap the current-carrying wire through the toroid; the Hall voltage VH is then linearly proportional to the current (I). The current drain from VB is less than 30 mA. o monitor an automobile alternator's output current, for example, conn ...
Read more

›