Welcome to another project in which we will build a small Robot which can walk and dance. The project aims in teaching you how to make small hobby robots using Arduino and how to program your Servo motors for such applications. At the end of the project you will be able to make this walking and dancing robot that takes command from an Android Mobile Phone to perform some pre-defined actions. You can also us ...
Read more

›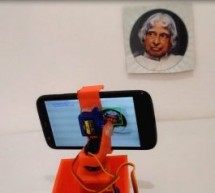 Ever wanted to build a Face Tracking Robotic Arm or Robot by simply using Arduino and not any other programming like OpenCV, visual basics C# etc? Then read along, in this project we are going to implement face detection by blending in the power of Arduino and Android. In this project, the mobile camera will move along with your face with the help of servos. The advantage of using the Android Mobile Phone h ...
Read more

›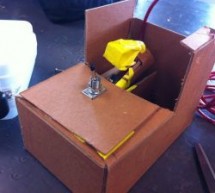 A machine that turns off the knob that you've just switched on- a ruthless battle between human and robot. Story Fascinated by this humorous anthropomorphic idea on instructables that left me philosophizing deeply about the essence of art, I decided to make this a project after witnessing many ruthless battles between human and robot on youtube. How does it work? The Arduino "listens" to the state of the sw ...
Read more

›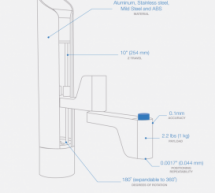 Meet Makerarm As makers, we have ideas all the time––to improve things, to make our lives better. But to make our ideas happen, we need access to tons of machines, materials, and tools that are too expensive. That's why we created Makerarm: a complete digital fabrication system packed into an affordable robotic arm that makes just about anything, anywhere. "Makerarm is a robotic 3D printer, laser cutter, dr ...
Read more

›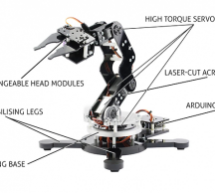 About this project This is a Robot Arm with 5-axis range of motion allowing movements similar to assembly line robots. It was designed to offer the highest quality while remaining one of the most affordable robotic arms on the market. Three years ago, we created MandleBot, a 5-axis aluminum robotic arm currently being used in schools, robotics clubs, summer camps and even factories. We have enjoyed sharing ...
Read more

›
A line follower robot using 8051 microcontroller is already published here and this time the same thing is done using  arduino. This line follower robot is basically designed to follow a black line on a white surface. Any way the same project can be used to follow the opposite configuration with appropriate changes in the software. The entire hardware of this simple line follower robot using arduino can be ...
Read more

›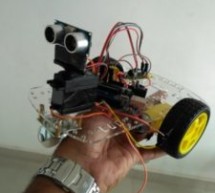 This project is designed to build a robot that automatically detects the obstacle on its path and guides itself whenever an obstacle comes ahead of it. This robotic vehicle is built, using Arduino UNO board. An ultrasonic sensor is used to detect any obstacle ahead of it. A motor driver IC and 2 DC motors are used for controlling the movement of the robot. A servo motor is also used in this project. The ult ...
Read more

›
This remote controlled car can be moved around using practically any kind of remote such as TV,AC etc. It makes use of the fact that the remote emits IR(infrared). This property is made use of by using an IR receiver,which is a very cheap sensor. In this instructable you will learn how to Interface IR receiver to Arduino. Interface 2 motors to Arduino. Combine the above 2 setups. Note:This remote controlled ...
Read more

›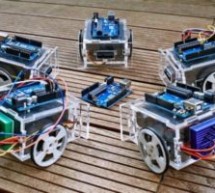 The aim is to build cheapest possible Arduino-robot Step 1: Components Arduino UNO R3 x1 USB cable x1 Mini solderless breadboard x1 IR sensor x1 Continuous rotation servo x2 Battery holder x1 AA battery x4 Bunch of color wires Step 2: Getting Started With Arduino IDE First of all we need to install Arduino IDE. The Getting Started Guide from the official Arduino website will tell you everything about it. On ...
Read more

›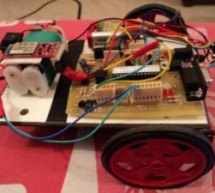 Ever wanted to make an Android controlled robot or car? Control your RC car with a smartphone? Or wanted a tutorial about connected devices and getting started with it? Now you can do that with this simple DIY hack that even provides you with a free Android application, thus it doesn't require you to have any experience in Android application programming. Download the free application to your phone and star ...
Read more

›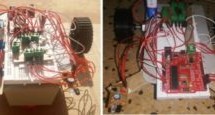 One of the simplest projects you can make for your first time using an Arduino is an obstacle avoiding robot. If you are a beginner to Arduino and want to learn more about it, this Arduino robot tutorial will teach you the basics while you build a cool robot. This project will give you a clear idea on how to interface DC motors, IR sensors, and motor drivers with an Arduino. You can take advantage of the kn ...
Read more

›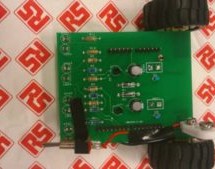 This line tracking robot car was built base on the prototype mentioned in the previous knowledge item. You can find the details for the prototype: http://www.rs-online.com/designspark/electronics/eng/knowledge-item/arduino-line-tracking-robot-car-prototype Bills of Materials: PCB Geared Motor OSRAM Opto Semiconductors Photodiode (RS stock number: 654-8902) Nichia LED (RS stock number: 713-3996) RS 10 ...
Read more

›