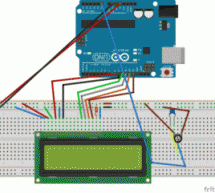 Robots are playing an important role in automation across all the sectors like construction, military, medical, manufacturing, etc. After making some basic robots like line follower robot, computer controlled robot, etc, we have developed this accelerometer based gesture controlled robot by using arduino uno. In this project we have used hand motion to drive the robot. For this purpose we have used accelero ...
Read more

›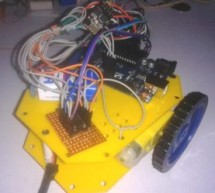 There are many types of Robots, from the simple ones like a Toy car to the advanced ones like industrial Robots. We have already covered many types of Robots using different technologies, have a look at them: Line Follower Robot using 8051 Microcontroller Line Follower Robot using Arduino DTMF Controlled Robot using Arduino And now we are adding one more Robot in our 'Robotics Projects' section, this time w ...
Read more

›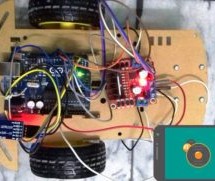 In this article, we are going to Control the Robot Car through the G sensor of our mobile phone and you will be able to move the Robot just by tilting the Phone. We will also use Arduino and RemoteXY app for this G-Sensor Controlled Robot. RemoteXY app is used to create the interface in the Smart Phone for controlling the Robot. We will add the joystick in the interface so that Robot can also be controlled ...
Read more

›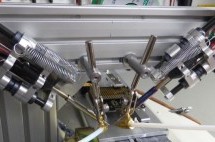 The DIY soldering robot which we have been building in our spare time over the past few months is now working and we have been able to solder some test Raspberry Pi expansion board headers with the machine. Before starting on this robot we looked at the various commercial soldering systems that are available.  Wave soldering machines would have been impractical as the connector is on the top side of the boa ...
Read more

›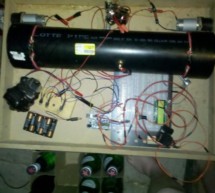 For my project I created a robot with an attached water cannon. My mentor and I built it in a budget of around $300 (not including the necessary equipment), and it functions quite well. For the motors we used drill motors, powered by the 18 volt drill batteries. To control it all we used an arduino microcomputer. Step 1: Make Parts List/Gather Materials It is crucial that before you start a project, you kno ...
Read more

›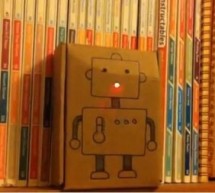 My son and myself made a little arduino robot that records temperature. He wanted me to draw a robot, I wanted to experiment with blinking LEDs relaying data so a plan was hatched. The way the LEDs work is as follows: Green = lowest temperature recorded, Yellow = highest and Red = current temperature with all readings being in °C. Step 2: Wiring Up I realise now how bad the photograph is but as everything i ...
Read more

›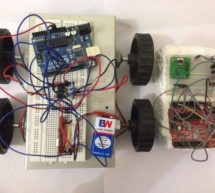 This gesture controlled robot uses Arduino,ADXL335 accelerometer and RF transmitter-receiver pair. We will divide the entire robot into 3 parts the transmitter,the receiver and the robot. The different gestures that have been mapped to the direction of the bot are- Hand parallel to the ground-stationary Hand tilted forward-forward Hand tilted backward-backward Hand tilted right-right Hand tilted left-left I ...
Read more

›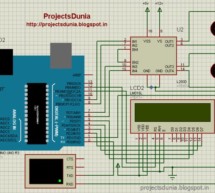 Do you ever tried to control your robot using your PC or laptop? Controlling a robot using PC or laptop is often being a fun for the student or hobbyist. Thus during this article you will be tend to learn how to control your robot using your PC or laptop. Here it is assumed that you know How To Send Serial Data From Arduino To Laptop or PC and How To Receive and Send Serial Data Using Arduino Board. Thus le ...
Read more

›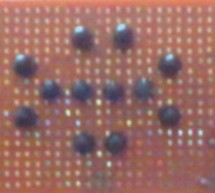 In this tutorial I am going to post the step-by-step procedure to make a simple Object Tracking Bot. The main aim of this Bot is to follow the objects which are shown to it in 3D space i.e., x, y and z – axis (horizontal, vertical and forward & backward). This bot behaves just like a little doggy. This bot tracks the objects with 2 DOF (Degree Of Freedom). The two motors provide the Horizontal, Forward ...
Read more

›
Another Robot, another App(lication) of Arduino. The user [shreks7] built up an Android App for controlling the robot wirelessly and stream live video off an android phone placed on the robot. The robot has an inbuilt wireless router and two brush-less DC motors and runs on a power source of 26-30V(depends on the requirement) power supply. The robot streams live video back to the app and can be used for nav ...
Read more

›
To all other teens (I'm 16)  who have begun to pick up an intrest in robotics and electronics the following project will give you a great user-system to get started with. This is not for complete beginers, but after only 6 months of teaching myself to code and develop robotics I have developed T.A.B.U. What did I make? T.A.B.U. is a crab like robot that runs on the arduino uno micrcontroller. T.A.B.U. stand ...
Read more

›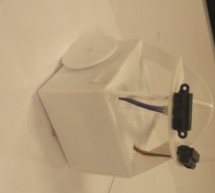 Introduction Ghosty is an autonomous little robot who is adventurous and loves to explore his surroundings. However, unlike a normal ghost, he doesn't like to scare people. Instead they actually scare him! In our most current version of Ghosty, his vision line is based on the data of two proximity sensor data reads. The difference between the data of the two proximity sensors determine whether the motors th ...
Read more

›