In this tutorial we are going to design a system to read the ID of RFID cards. RFID stands for Radio Frequency Identification. Each card has a unique ID embedded in it. These systems have many applications, like in offices, shopping malls and in many other places where only the person with authorization card is allowed to enter in the room. RFID is used in shopping malls to stop a theft from happening, here ...
Read more

›
Surya Mattu is a creative technologist who loves to make things. He's based in NYC and working at ITP, a two-year graduate program exploring the imaginative use of communications technologies. Today he's sharing with us how feasible it could be to build an RFID-controlled entry for students using Arduino Yún. Read  other guest posts on Arduino Yún. I work at ITP as the student floor-staff programmer. At the ...
Read more

›
I just received my RC522 RFID reader and made this simple Arduino access control system that uses the reader, a buzzer for the alarm and a relay shield for the security system. The relay can be used to open a door lock and if you need a louder alarm then you can replace the small buzzer with a high power siren. I will not talk about the RFID reader because you can find a lot of information about it on the w ...
Read more

›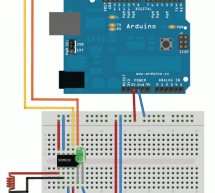 If you ever wanted to integrate RFID functionality into your project, this small tutorial might help you accomplish that. I used the RDM630 module from seeedstudio in its UART version. It comes on a small board with presoldered connectors which fits perfectly on a breadboard. You only need to connect the antenna to the two pin socket. You also can connect a LED to indicate if the antenna picks up a signal. ...
Read more

›
Finally! It's been about 3 months since my last arduino tutorial – I've been keeping busy as usual. I've been working on this one for some time. I got the parts months ago, made an outline a few weeks ago, prototyped the circuits and wrote the code last week, and did the filming over the last few days. [box type="note" color=" #202020 " bg="#ffbb00 " font="verdana" fontsize="14" radius="20 " border="#000" f ...
Read more

›
Its quiet fun to work with RFID based projects! In the previous article, we saw how to interface RFID with Arduino. Interfacing is the first step to create any useful project. So why don't we create an RFID based Access Control System or an RFID based Door Lock using Arduino? The system I have designed here is a simple version of the project. This project can be enhanced with a lot of features (which I will ...
Read more

›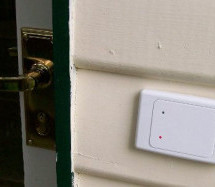 RFID technology is used for a wide variety of applications including access control, package identification, warehouse stock control, point of sale scanning, retail anti-theft systems, toll-road passes, surgical instrument inventory, and even identifying individual sheets of paper placed on a desk. RFID tags are embedded in name badges, shipping labels, library books, product tags and boxes, installed in ai ...
Read more

›
We have taken this project down, due to vendor's request. Please wait till we get approval again... ...
Read more

›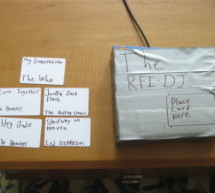 The RFI-DJ is a USB device for playing MP3 files from your computer. You have a set of RFID cards, each one with a song name written on it. You choose a card and place it on the RFI-DJ, and your computer will play that song. Its magic! Actually, it's not magic. It uses an Arduino and an ID-12 RFID scanner, and a python script running on your computer. The device is really fun to use, and it makes a great af ...
Read more

›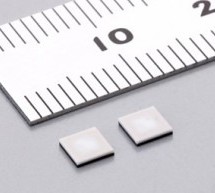 KYOTO, Japan—Murata Manufacturing Co., Ltd. (TOKYO: 6981) (ISIN: JP3914400001) is going to launch mass production of one of the world's smallest HF-band RFID*1 tags (3.2 x 3.2 x 0.7mm) . Murata has applied its proprietary multi-layer circuit board technology and high-frequency module technology, with which the successful miniaturization of an RFID tag to one-tenth the size of an RFID tag composed of plane s ...
Read more

›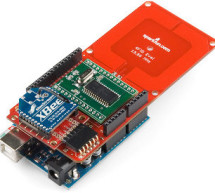 RFID Evaluation Shield - 13.56MHz description: Evaluation platform for the SM130 RFID module. Includes an XBee header, a PCB trace antenna, and a small prototyping area. This board can also be used as an antenna to the SM130 RFID module. RFID Evaluation Shield - 13.56MHz specification: Schematic Eagle Files Datasheet (SM130) Example Code Additional Downloads RFID Evaluation Shield - 13.56MHz pinout: Note: P ...
Read more

›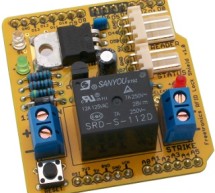 RFID Lock Shield description: This shield allows your Arduino to control a door lock using an electric strike plate and one of a number of commonly-available RFID modules, and is based on the circuit described in the "RFID Access Control System" project in the book "Practical Arduino". Supported modules include: ID12 ID20 RDM630 RDM880 HF MultiTag RFID Lock Shield specification: On-board 9V regulator to pow ...
Read more

›