ESP8266 modules are great low cost stand alone controllers with built in Wi-Fi, and I already made a simple Blink instructable with ESP8266 NodeMCU module. The advantage of the ESP8266 over Arduino and other controllers is the builtin Wi-Fi. In this Instructable I will show you how with the help of Visuino you can use two ESP8266 modules to make a remote LCD Display for Temperature and Humidity DHT11 sensor ...
Read more

›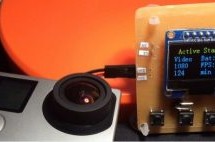 In this tutorial, you will read about all the steps, how to get to your own cheap and powerfull GoPro remote. YOUTUBE VIDEO WILL FOLLOW SOON! Preparation PCB creation (printing / sawing / etching / drilling) Soldering Programming Having fun Support me by following, thx! Preparation Do you have  all these parts at home? one sided PCB plate for etching safety glasses and gloves 50g sodium persulphate (N06CG) ...
Read more

›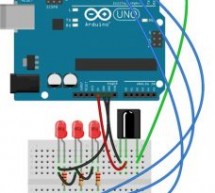 By using arduino and IR Receiver TSOP 1738 (in our project, you can use any ir receiver available) we can decode any infrared remote code into hex or some other format. Before constructing the circuit check datasheet of IR receiver having in your hand, hence you can connect proper bias pins and output pin. Step 1: Wiring Components To read the IR rays from remote control by arduino board we need external li ...
Read more

›
The infrared (IR) communication technology, which existed long before WiFi and Bluetooth, is still a key component in implementing major components of a typical home automation system. For example, IR technology is still used in cordless headphones, for intrusion detection in home security systems, and in handheld remotes for controlling home entertainment systems (TV, DVD, soundbox, etc), air-conditioning ...
Read more

›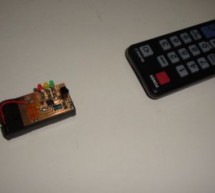 I have several times. My favorite technique was to take my mobile phone and with the camera pointed at the infrared emitter look for a flashing little purple light. The mobile phone technique is an way for testing the remote but still i decided to make a small circuit just to test the remotes. Ler mais: http://ruijc.webnode.com/products/testador-de-comandos-ir-remote-tester/ O circuito não necessita de muit ...
Read more

›
I began this project with the objective of cheaply turning my RC helicopter into something of a UAV or at least to fit some sensors to reduce collisions and other "mis-haps." Now unfortunately at the beginning of the project i miscalculated my little helicopter's lift capabilities and so with the equipment fitted it has insufficient power to get more than a couple of inches of the ground, but all of the sys ...
Read more

›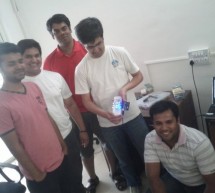 This was my first time attending the Internet of Things Pune Group. It was such a fun learning experience! At today's meetup, Dhiraj and Nishant started out by introducing the InduinoX and Arduino Uno boards along with the Processing IDE that is used to write the code. After playing around with couple of sensors on the InduinoX we thought of doing a micro project together and finally settled on doing a Tic ...
Read more

›
I came across Plama2002's "Emergency Party Button" build a while back and wanted something similar for my bar. I also had an old USAF B-8 stick grip from an A-10A that I picked up in my previous life. I figured instead of just being a conversation piece, I could put it to good use as a remote control for my AV system. What I came up with is a master control box that: - Controls my SAT TV, music server and i ...
Read more

›
Nothing puts the fun back into coding like watching your very own creations come to life in the physical world. Luckily, with the current glut of high-tech toys and electronic gadgets on the market, it's never been easier to experience the thrill of designing your own hardware by modifying what's already available. A great way to get into the hobby is to wander the isles of your local toy store or browse th ...
Read more

›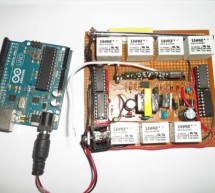 Vision The aim of our project is to be able to control a electrical switching process using a remote.The idea is to come up with an alternative to the conventional electric switch boards, using a wireless control mechanism, in an economic way.In other words, an Electric Switch Board is to be designed in which the switching is controlled by a remote.These kind of switchboards could replace the old ones and u ...
Read more

›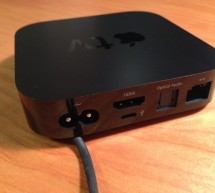 TL;DR - I wanted all of my AV components to turn on and change inputs as soon as I started Airplaying music to my Apple TV from my iPhone, so I popped open the Apple TV, wired up a photocell sensor to an Arduino Uno, wired up some Infrared LEDs, wrote some code, and made it happen. Here it is in action. The Problem When I want to listen to music on my AV system, I hit Airplay on my iPhone/Pad (in itunes/pan ...
Read more

›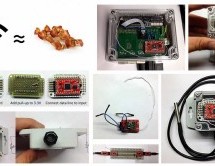 Introduction What every new system design has in common these days is wireless. Like bacon, it just makes everything better. Put a sensor wherever, read it from somewhere else. Put the power and control where you need it. For the CuPID/Pi, it is no different. We want to put our remote sense and control modules out into the wild and read and aggregate them as it makes sense. Our basic system layout is as bel ...
Read more

›