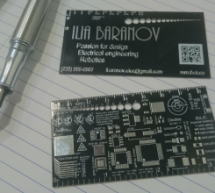 Many of you may have seen the Adafruit PCB ruler (also used by the awesome Voltera). The design was actually adapted from my own design back in University! To improve on the original idea, I have created a reference business card. Here is a computer render of the design: I wanted to show every common component I could think of, and how they relate. Often when zoomed all the way into a digital design, you ca ...
Read more

›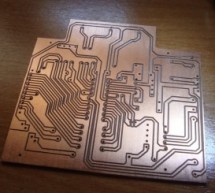 Primeiro imprimia o desenho da placa numa folha de acetato. Essa folha era colocada por cima de uma placa foto sensível e colocada sob luz UV durante uns minutos. De seguida essa placa era submersa numa solução com soda caustica para retirar a pelicila foto sensivel que ficou "danificada" com a luz UV. A placa era depois submersa numa solução com ácido pre-coloreto de ferro. Após uma lavagem para retirar os ...
Read more

›
This is a brief review of the capabilities and ease of use of three of the most interesting, innovative and downright disruptive web-based EDA tools: EasyEDA Upverter Autodesk 123D Circuits (formerly Circuits.io) The same simple astable multivibrator circuit is entered into each tool and the design process followed through simulation (where offered), to PCB layout and Gerber download. For all of the product ...
Read more

›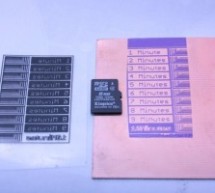 What do PCB production and fake fingernails have in common? They both use UV light sources of high intensity and, as luck would have it, those light sources have exactly the same wavelength. Only the ones for PCB production are usually quite costly and the ones for fake fingernails are a bit more competitively priced. This instructable is about how to use such a device to build a low cost light source, suit ...
Read more

›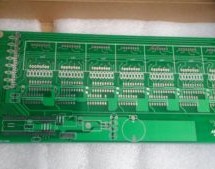 Every electronic related student or professionals spend money to enhance the experience by developing a project or to develop a masterpiece in electronics world. But as an engineer I observed there a many issues in of price, quality, time to get board on time and more over the completion of our requirement functionalities. I was very anxious that it was very hard for me to be able to get a board with low pr ...
Read more

›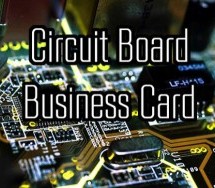 In this instructable I am going to show you how to make your own printed circuit board business card. I feel that these business cards will really help you stand out from the crowd and make a great impression. It might even add one more skill to your resume. Everyone that I have given these cards out to has been really impressed and thought it was a great idea. I have regular business cards as well and I on ...
Read more

›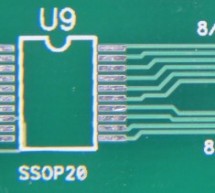 After my initial PCB success with Maker Studio, I uploaded the design files to three more board houses. I had planned to try four or five more, but I started to get the impression that many of the China-based sources used the same fab house, so I stopped at three. Elecrow's basic board fab service supplies 5 or 10 PCBs for $11.90, with a basic international shipping cost of around $7 for 5 boards. Although ...
Read more

›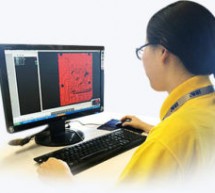 Online Automatic Quotation and Quote by Sales People ALLPCB.com offers automatic online quotation after you enter some of the key parameters instantly on the webpage. If your PCBs include one or more price-sensitive factors, our sales representative will be involved to offer quotation to you by email. We will respond within hours. Please check your email for quotation. Most Optimal Manufacturer for Your PCB ...
Read more

›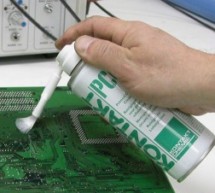 Manual intervention to a PCB is usually always visible. With modern "No-clean" fluxes it´s not that obvious as in the past. But still it doesn´t make resulting look of a PCB better. However, probably more important is the fact, that soldering residues are a potential risk, especially in humid environment - as they may cause a corrosion and leakage currents. A PCB can be cleaned by various solvents (often al ...
Read more

›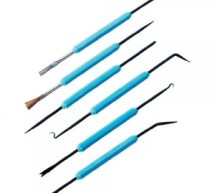 Even a simple, well-designed tool can help significantly – we´ll introduce to you some of them … Sometimes, only a little bit is necessary to make our work more happy – a good ergonomic chair, workbench in a suitable height, good lighting … and last but not least also a good screwdriver, magnifying lens, tweezers, or "something" what can help at extraction of a component from a PCB or at cleaning of a suspi ...
Read more

›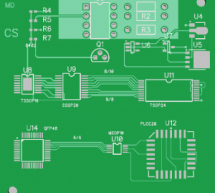 Well, the "Test PCB" project is finally underway. In case you don't remember my original blog, the idea is to send a PCB design out to a half-dozen or so low-cost PCB prototype shops, then review their service and quality. I've created a 6 × 6cm double-sided design for this project. I would have made it larger, but at least one fab's prices (I'm looking at you, OSH Park) rise steeply with board size, and I ...
Read more

›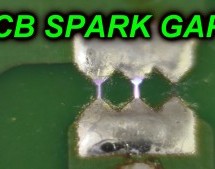 In this tutorial Dave explains what a PCB spark gap is and how it can be a useful zero cost addition to your PCB layout to help prevent ESD damage. He shows how to easily design them into your board and calculate the approximate voltage rating. And of course has some fun applying 5kV to some gaps to show how them at work. For more detail: EEVblog #678 – What is a PCB Spark Gap? ...
Read more

›