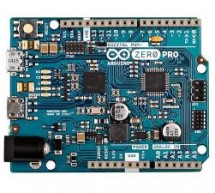 Run a powerful open source Operating System on Arduino Zero to blink an LED on the board and open up a whole world of control capabilities! Story Version: Version: 0.9.0 (latest) We decided to write an open-source, hardware-agnostic OS for commercial IoT devices that provided low level configuration options to deal with power, memory, and performance constraints across various types of micro-controllers and ...
Read more

›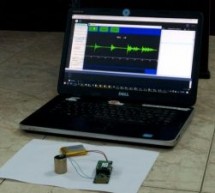 Seismic activity or "Vibrations of the earth" is measured using ProtoCentral's OpenPressure 24-bit DAQ System. Introduction A geophone is a magnetic device used to measure the Earth's normal vibrations (some abnormal during events such as earthquakes). These movements are also present when there is a small explosion (commonly used for mining and exploration purposes). The principle of a geophone is similar ...
Read more

›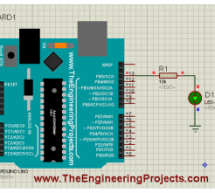 Hello friends, I hope all are fine and having fun with your projects. Today, I am going to share a very Simple Arduino LED Example in Proteus ISIS. I have designed a very basic example in Proteus in which I am going to blink single LED first using Arduino and then I am going to blink multiple LEDs in Proteus. When you start working on Arduino then Arduino LED example is the first example which you must try ...
Read more

›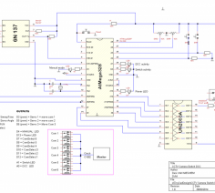 This project allows you to build you own  CCTV switchbox, that you can use to connect up to 6 cameras to a single screen. The camera signal  (CVBS over CInch or any other) is switched to the output using SPDT  or even  SPST relays.How it works ? - by default the controller will cycle through all 6 channels  at a speed which is adjustable by a potentiometer.   This controls the time which each of the cameras ...
Read more

›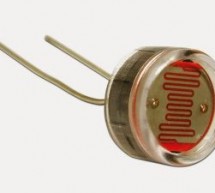 Hello guys, i want to sharing about my simulation project. This is about microcontroller with LDR sensor and LED. I will create this automatic lighting project with Arduino and Proteus 8. You must remember that this is just a simulation project. If you want to realize it , it is much better. It's so simple and easy , you just need this components below 1. Light Dependent Resistor (LDR) Light Dependent Resis ...
Read more

›
Features Dual Input Buck-Boost with Integrated PowerPath™ Manager Ultralow Start-Up Voltages: 850mV Start with No Backup Source, 300mV with a Backup Source Compatible with Primary or Rechargeable Backup Batteries Digitally Selectable VOUT and VSTORE Maximum Power Point Control Ultralow Quiescent Current: 1.6μA Regulated Output with VIN or VSTORE Above, Below or Equal to the Output Optional Backup Battery Tr ...
Read more

›
DC Output Solid State Relay 10Amps 60V DC (Optically Isolated Input) This project has been designed around TLP250/352 which is Opto-Coupler IGBT/MOSFET Gate Driver from Toshiba and Mosfet IRFP260 from IR, This relay consists of optically isolated gate driver and low impedance Mosfet. The combination of low resistance and high load current handling capabilities make this Relay suitable for a variety of switc ...
Read more

›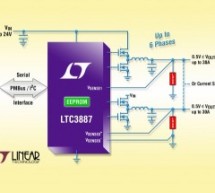 Features Order Custom Programmed Parts PMBus/I2C Compliant Serial Interface – Telemetry Read Back includes VIN, IIN, VOUT, IOUT, Temperature, Duty Cycle and Faults – Programmable Voltage, Current Limit, Digital Soft-Start/Stop, Sequencing, Margining, OV/UV and Frequency Synchronization (250kHz to 1MHz) ±0.5% Output Voltage Accuracy Over Temperature Integrated 16-Bit ADC VOUT Range: 0.5V to 5.5V (VOUT0, VOUT ...
Read more

›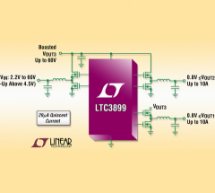 Features Dual Buck Plus Single Boost Synchronous Controllers Wide Bias Input Voltage Range: 4.5V to 60V Outputs Remain in Regulation Through Cold Crank Down to a 2.2V Input Supply Voltage Buck and Boost Output Voltages Up to 60V Adjustable Gate Drive Level 5V to 10V (OPTI-DRIVE) No External Bootstrap Diodes Required Low Operating IQ: 29μA (One Channel On) 100% Duty Cycle for Boost Synchronous MOSFET Phase-L ...
Read more

›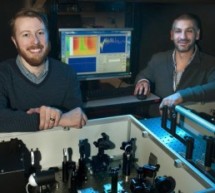 PORTLAND, Ore. -- Scientists have demonstrated a doubling of the number of electrons produced by carbon-based photovoltaic polymer potentially doubling the efficiency of any solar cell. The process called "singlet fission" produces "identical twin" electrons from a single photon, instead of the normal one, dramatically boosting the theoretical maximum output of solar cells. Instead of loosing energy to heat ...
Read more

›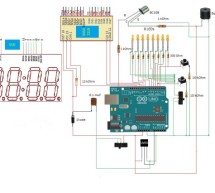 This example shows technique for calibrating sensor input and shows the sensor outputs by controlling LEDs and SSD, also shows how to monitor the state of a switch. Hardware Required 8 LEDS 2 push button switches 2 sliding switches 4-SSD with MAX7221/7219 LM35 Speaker Circuit In this circuit according to the above diagram 8 LEDs were connected to the Arduino digital pins 2 to 9. Pin 2 is the LSB and pin 9 i ...
Read more

›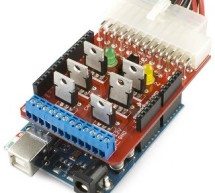 PowerDriver Shield description: This shield allows you to use a computer power supply (or other power source) to use your Arduino to switch high current. With RFP30N06LE MOSFETS, you can easily control a lot of current directly from your Arduino. The board provides 6 PWM outputs via screw terminals. Check the datasheet for the MOSFET for full specifications on how much current this board can handle. PowerDr ...
Read more

›