Rotary encoders with centre-push buttons are cool input hardware for projects, especially if you want to be able to scroll through menus and select options. Hopefully this Instructable will give you the confidence to try a basic menu system out and combine it with a rotary encoder to give a professional feel to your next project! Why menus and rotary encoders need code I wanted to have a menu in an upcoming ...
Read more

›
Finally, PULP, goes multicore!  We are happy to launch our flagship RISC-V-based parallel-ultra low power open source system. Simply put, OPENPULP,  today's new kid in town, is the most advanced open-source release we have done so far, and a quantum leap ahead in terms of performance, efficiency and completeness. OPENPULP is an MCU on steroids: an ultra-low power "host" core coupled with a powerful compute ...
Read more

›
Have you worked with ready-made 8x8 LED matrix as displays? They come in various sizes and are quite interesting to work with. A large readily available size is around 60mm x 60mm. However, if you are looking for a much larger ready-made LED matrix, you may be out of luck. For this project, we will be building a single color large LED matrix display which is made up of a few large 8x8 LED matrix modules dai ...
Read more

›
I've been thinking about building stuff with FPGA's for a while, and usually get turned away because FPGA's are considerably harder to implement than microcontrollers since they have no on-chip memory. It is necessary to re-program the gates every time they power up, which requires an external flash memory chip. There aren't great references online for the DIY community, so I figured I'd post how to get thi ...
Read more

›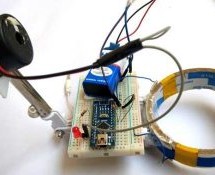 Metal Detector is a security device which is used for detecting metals which can be harmful, at various places like Airports, shopping malls, cinemas etc. Previously we have made a very simple Metal detector without a microcontroller, now we are building the Metal Detector using Arduino. In this project, we are going to use a coil and capacitor which will be responsible for the detection of metals. Here we ...
Read more

›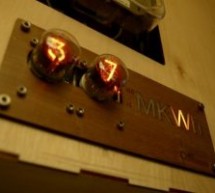 Having recently bought a house, project time has been a bit thin on the ground. As a standard terrace house, the consumer unit and electricity meter were in the entrance hallway, exposed and looking a bit naff. I liked the look of the meter so I quickly created a box that allowed the meter to poke through and leave access to the fuses. The box covering did the job but felt a bit cumbersome with all that spa ...
Read more

›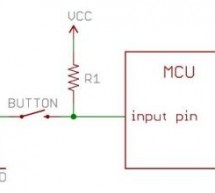 Pull-up resistors are very common when using microcontrollers (MCUs) or any digital logic device. This tutorial will explain when and where to use pull-up resistors, then we will do a simple calculation to show why pull-ups are important. Suggested Reading Concepts that you should be familiar with before proceeding: What is a circuit? Resistors Voltage, Current, Resistance Digital Logic Input/Output What is ...
Read more

›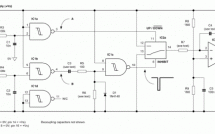 Experimenting with an HF oscillator, I needed to control the varactor diode voltage in precise increments over a 2V-10V range. A buffered potentiometer was the obvious choice, and connecting two pots in series to give coarse/fine control (or using a multiturn pot) would offer improved control over the varactor voltage. However, this approach still didn't allow me to generate uniform increments and decrement ...
Read more

›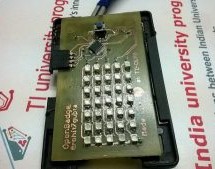 Badges are amazing things. Better when you make your own. I was about to attend the 1st MakerFest at NID, Ahmedabad and thought of taking something unique to the event. Badge was a great option and suited the maker theme of the event. So, sitting down with a pen and paper i drew what it would look like and came up something that could be retro-fitted to a usual boring office badge and would have a LED array ...
Read more

›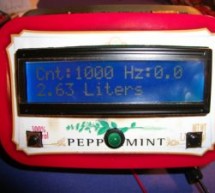 Overview This project was done for a Friend Of a Friend. He needs to monitor water flow rate and quantity for his solar heating projects. He is mainly interested in this two inch sensor but also sent along a small plastic hose bib type similar to the Adafruit 828. Both of these sensors are turbine types, water flow spins a plastic wheel which magnetically triggers a pulse output proportional to the speed at ...
Read more

›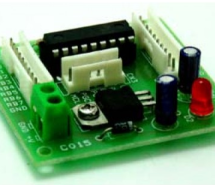 photo This is a 18 PIN (16F628A) microcontroller development board Description This project is a versatile, configurable, and cost effective development board available for the 16F628A or other 18 PIN Microcontroller from Microchip. The board has simplest form with all the Port pins terminating in a Relimate connector (Header Connector) for easy connection to the outside world. Some of the key benefits of t ...
Read more

›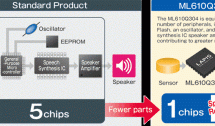 LAPIS Semiconductor, a ROHM Group Company, has recently announced the development of a low power microcontroller that integrates an 8bit low power MCU core, speech synthesis circuit, high efficiency Class D speaker amp, non-volatile memory, and oscillator circuit on a single chip, making audio playback possible by simply connecting to a speaker. The ML610Q304 also provides hardware-based audio playback oper ...
Read more

›