This LED DIMMER is an Arduino Uno based PWM (Pulse Width Modulation) circuit developed to get variable voltage over constant voltage. The method of PWM is explained below. Before we get start building a 1 Watt LED Dimmer circuit, first consider a simple circuit as shown in figure below. Now if the switch in the figure is closed continuously over a period of time then the bulb will continuously ON during tha ...
Read more

›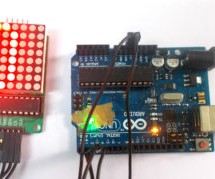 In this project we are going to design an 8x8 LED matrix display, for that we are going to interface an 8x8 LED matrix module with Arduino Uno. An 8x8 LED matrix contains 64 LEDs (Light Emitting Diodes) which are arranged in the form of a matrix, hence the name LED matrix. These matrixes can be made by circuiting 64 LEDs, however that process is time consuming. Now a day they are available in compact forms ...
Read more

›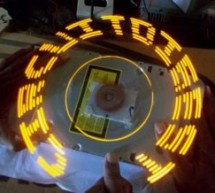 You have seen Propellers in Aircrafts or in marine ships, if not in real then in movies for sure. In this session we are going to design a Propeller Display with Arduino, LEDs and a DC motor. In this Propeller Display, text will appear to be rotating in propeller fashion in a circular shape. The propeller display is in a way like LED Matrix. It contains 8 LEDs (Light Emitting Diodes) which are arranged in t ...
Read more

›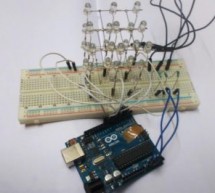 In this project we are going to design a 3x3x3 LED CUBE and connect it to Arduino UNO to get different patterns. For a beginner we will start with a simple pattern. A typical 3*3*3 LED cube connected to UNO is shown in the image above, the cube consists of 27 Light Emitting Diodes, these 27 LEDs are arranged in rows and columns forming a cube. There are many types of cubes that can be designed. The simplest ...
Read more

›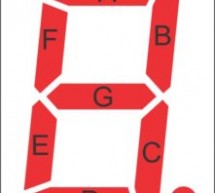 In this article, we are publishing a tutorial on how to interface seven segment LED display to Arduino. Seven segment displays are used in many embedded system and industrial applications where the range of outputs to be shown is known beforehand. Basic 1 digit seven segment display can show numbers from 0-9 and a few characters. 7 segment displays are of different types; especially they differ in the numbe ...
Read more

›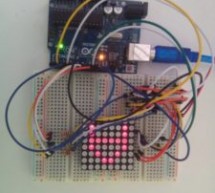 LED matrix displays can be used to display almost anything. Most modern LED sign boards uses various types of matrix boards with controllers. In this tutorial we are going to interface a single color 8×8 LED matrix with Arduino and display a few characters in it. 8×8 matrix consists of 64 dots or pixels. There is a LED for each pixel and these LEDs are connected to total of 16 pins. You can identify the pin ...
Read more

›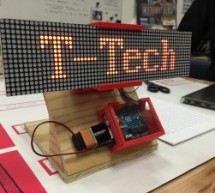 The purpose of this small scale LED marquee is to display messages to our classroom in a more modern and centralized way. In the classroom, this construction would save white board space and is convenient because it can store a large amount of information. It is also fairly simple to program and has a mount, making it easy to place anywhere within the classroom setting. The first step of this project is to ...
Read more

›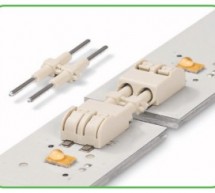 Innovative series Wago 2060 now has two new familiar - smaller and bigger one. We talk about series 2059 and 2061. In result, WAGO 2059, 2060 a 2061 LED terminal blocks series create a comprehensive family of SMT connectors usable for practically any LED applications and in general - for every application, where advantages are low profile of connectors, reliable contact resistant to vibrations (spring clamp ...
Read more

›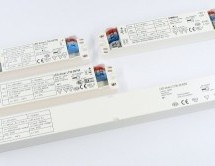 Power supplies for LED lighting (so called drivers) are available from many producers, in a various qualitative level. Why to decide just for the LT series from German company Friwo? Here are few reasons: • precise design, safe operation and a long lifetime • voltage and current regulation in one device • high efficiency and a possibility of dimming in a range of 0-100% directly via a CTRL pin • modules are ...
Read more

›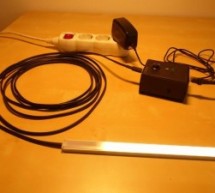 This Instructable shows you how to build a clap activated LED strip. The whole project is based on the Adafruit's Secret Knock Activated Drawer Lock, where the user can record a secret knock pattern which will open the lock inside the drawer. I thought that I could use this to siwtch an LED strip on and off with a handclap pattern. So let's begin! Step 1: Components I used the following components to build ...
Read more

›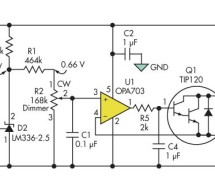 When the built-in incandescent light source of my venerable Olympus microscope failed after many years of use, I decided to design a reliable modern replacement. A 1-W white LED (SEOUL X42182, 350 mA max, Vf = 3.25 V) was the obvious choice to provide high brightness and full-spectrum light without the heat of incandescent or xenon arc lamps. The microscope lamp brightness needs to be adjustable, however, t ...
Read more

›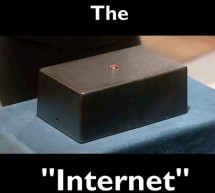 You've bought your first Arduino or you're planning to get this great little device? Obi Wan would say: "That's good. You have taken your first step into a larger world." Same thing for me! Congratulations! You'll see, as soon as you master the basics, you'll have so much fun with this little device. There are so many tutorials and books outside, so why another? Maybe you think learning should be funny or a ...
Read more

›