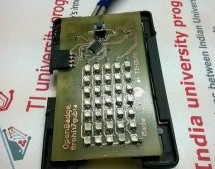 Badges are amazing things. Better when you make your own. I was about to attend the 1st MakerFest at NID, Ahmedabad and thought of taking something unique to the event. Badge was a great option and suited the maker theme of the event. So, sitting down with a pen and paper i drew what it would look like and came up something that could be retro-fitted to a usual boring office badge and would have a LED array ...
Read more

›
Although Intersil's ISL29501 time-of-flight (ToF) signal processing IC doesn't have anything to do with the lighting applications I normally cover, I felt compelled to bring it to your attention because it's one of the most innovative LED applications I've seen this year. The device requires little more than an external emitter (LED or laser) and a photodiode to implement a complete object detection and dis ...
Read more

›
Bare bones: The ATtiny85 on its Own The ATtiny is a small, inexpensive chip that can replace the Arduino in a project you have prototyped. This helps make the project smaller and more permanent, as well as freeing up the Arduino for more fun! The chip comes in a few different types – ones with more flash memory, lower power, and so forth. The ATtiny is great if you want to program a bunch of chips in a row, ...
Read more

›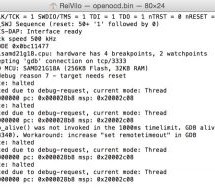 Arduino M0 Pro The Arduino M0 Pro —initially called Zero Pro— board is a major revision of the Arduino line as it is the first Arduino board to feature a debugger. The board is designed around the 32-bit ARM Cortex-M0+ SAMD21 from Atmel and built in Italy. The EDBG chip from Atmel provides the debugging capabilities. The SAMD21 MCU features 256 kB of Flash and 32 kB of RAM and runs at 48 MHz. This is a huge ...
Read more

›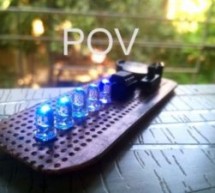 Persistence of vision is an optical illusion, it works on a simple phenomenon how our day to day television works. MY first pov was six months before with arduino uno and with motor. However it is best to have a small and portable device that can be carried anywhere and image can be seen without any external motors or fan. This small portable pov version uses attiny 85 ic, smaller variant of arduino uno tha ...
Read more

›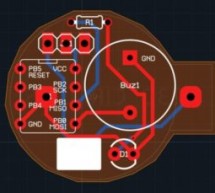 Small enough to slip in a mint tin, yet loud enough to be heard across a house at only a few dollars per unit. A nice combination for a pretty good prank! Let's dive in! Step One: The Circuit You can purchase the printed circuit board from OSH Park using the link in the parts section of this build. You by no means need to use an ATtiny or my own printed circuit board. This circuit would take a grand total o ...
Read more

›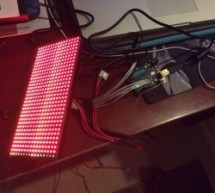 - Arduino Uno ($25) - 32 x 16 LED Matrix ($20) - Breadboard ($5) - Jumper Cables ($5) - USB A to B Cable ($3) - Computer - 5V 2Amp Power Supply ($10) - A basic understanding of coding in C In order to create this project, many physical materials are necessary, a lot of which will not be found lying around at home. In order to do this project, you should go out to computer stores or look online for these pro ...
Read more

›
In past tutorials, we have covered temperature, color, time, direction, but never distance or proximity. I think I strayed away from this because most of the lower cost proximity sensors are pretty drop-dead-simple to use and thought it might not be that useful. But the time has come, I'm writing about some distance/proximity sensors. While using them is technically simple, I have 3 pretty different sensors ...
Read more

›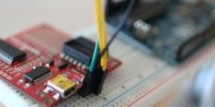 The following code and library are compatible with arduino software 1.0+ ONLY. You can download the newest version of the arduino software here. When you start to talk about biometrics in electronics, heart-rate is usually the first thing to come up. And why not? I think it is often the thing we are most aware of changing when we get excited, nervous, are being active, or very calm. There are several ways o ...
Read more

›
The objective of this post is to explain how to fade a LED with the ESP32, using the LED PWM functionalities. Introduction The objective of this post is to explain how to fade a LED with the ESP32, using the LED PWM functionalities of the microcontroller. I will be using DFRobot's FireBeetle ESP32 board to perform the tests. Since the board as a built in LED, no external hardware will be needed. Note that a ...
Read more

›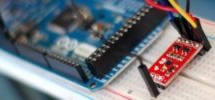 A year ago we had an article called Sensing color with the ADJD-S371. Well the ADJD-S371 is long gone, and its replacement is the ADJD-S311 (breakout board available from sparkfun). It is basically the same all around, so without shame, I will be copying a lot of that article, because… Why reinvent the wheel? A few things you should know about the ADJD-S311 before we dive in too deep: I have never been able ...
Read more

›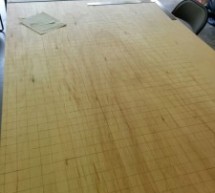 The 2014 NC Maker Faire was a huge turning point for Maniacal Labs. It was there that the idea for the AllPixel and what is now BiblioPixel got their start. It's also where we showed off our first custom-built LED display, the 24×24 LPD8806 matrix. At nearly 24 inches square, and 1 pixel per inch, it was certainly impressive. But we left the Maker Faire with a desire to go bigger. Not just more pixels… but ...
Read more

›