Beekeeping (or apiculture, from Latin: apis "bee") is the maintenance of honey bee colonies, commonly in hives, by humans. Things used in this project Story Beekeeping (or apiculture, from Latin: apis "bee") is the maintenance of honey bee colonies, commonly in hives, by humans. A beekeeper (or apiarist) keeps bees in order to collect their honey and other products that the hive produces (including beeswax, ...
Read more

›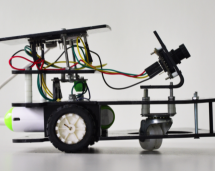 4Duino Intelligent Buggy project demonstrate how does uCAM-II works. This project also utilized two 4duino communicating using Server-Client architecture over TCP. It also uses a buggy car which carry the 4duino server and uCAM-II. By using built-in ESP8266, 4duino client sends a request to 4duino server to move the buggy and capture photo via wireless communication. Server-Client architecture is a network ...
Read more

›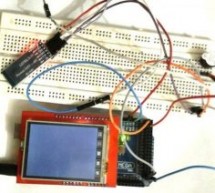 There are many types of security systems used all over the world and Digital Code Lock is one of them. We have already covered many digital locks with simple 16x2 LCD using Arduino, Raspberry Pi, 8051 etc. Here we are going to build a Smart Phone Controlled Digital Lock using TFT LCD and Arduino Mega. This lock can be controlled wirelessly via Bluetooth, using your Android phone, within the range of normal ...
Read more

›
I recently bought a 500ppm LCR meter from Elektor because I didn't have anything for measuring inductors or the ESR (equivalent series resistance) of capacitors, both of which are important for modern electronics, particularly switch mode regulators that have become ubiquitous. It is also more accurate than any of my multimeters and has wider measurement ranges. For example it can measure resistance from 0. ...
Read more

›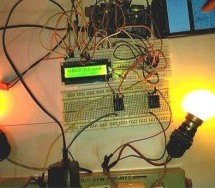 Automation is the essence of today's world. Automation can make our life easy and secure. There are many ways to obtain automation. Automation can be achieved by Wi-Fi, IR, GSM, Bluetooth and many other technologies. Previously we have covered many types of Home automations using different technologies like: DTMF Based Home Automation GSM Based Home Automation using Arduino PC Controlled Home Automation usi ...
Read more

›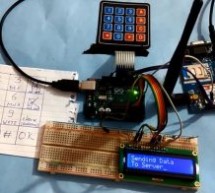 Today we are here with an interesting project in which we will Send Data to the SparkFun server using Arduino and GPRS. This is an IoT based project in which we will use GPRS, present on the GSM Module SIM900A board, to send some data to the web service on the internet. In this project, we will simply enter some text using 4x4 Alphanumeric keypad and send it to SparkFun website using Arduino and GPRS, from ...
Read more

›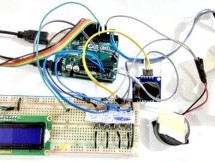 Attendance systems are commonly used systems to mark the presence in offices and schools. From  manually marking the attendance in attendance registers to using high-tech applications and biometric systems, these systems have improved significantly. In our previous projects, we have covered few other electronic attendance system projects using RFID and AVR microcontroller, 8051 and raspberry Pi. In this pro ...
Read more

›
Many AA or AAA battery chargers charge batteries in pairs, but plenty of devices use 1 or 3 batteries, meaning that some of your batteries get overcharged and some get undercharged. NiCd and NiMH batteries also benefit from an occasional full discharge, which most normal battery chargers won't do. If you're anything like me you'll end up with a lot of rechargeable batteries, none of which end up being charg ...
Read more

›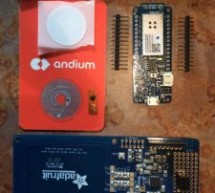 You just say what the thing does and then you add '-er'." Replenisher keeps your fridge, office...stocked! Just scan! "I'm going on break! Story TL;DR; This project utilizes the AmazonDRS Arduino library to initiate frictionless purchases on Amazon by scanning NFC tags. Looking for some help getting started with AmazonDRS Dash Replenishment for Arduino and still need to get your Amazon accounts setup, autho ...
Read more

›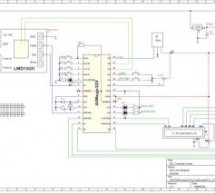 I just wanted a simle DCC central wich I can use to test new DCC locomotives n ad potentially with a "program" mode so it can "break in" new locomotives for me by running them for specific periods of time in both directions.   The result is an Arduino  based DCC central.    It is based on some stuff I picked up from the  "interweb" and either slimmed it down or added new features.   It uses an ATMel 328  mi ...
Read more

›
Arduino shields are boards that will expand the functionalities of your Arduino. You just need to plug them over the top of the Arduino board. There are countless types of shields to do countless tasks. Here's a collection of 25 Arduino Shields. RECOMMENDED: Read our Home Automation using ESP8266 Course I've also wrote a list of 21 modules that you can buy for your Arduino for less than $2. 1. Ethernet Shie ...
Read more

›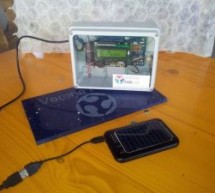 We are a group of makers who like to spend nights and weekends tinkering with tecnology here at Verona FabLab (Verona is a town in the North of Italy) and with this instructable we want to describe the project we've realized for Intel Maker contest. Our project is a portable device powered by an Intel Edison and equipped with a GPS receiver and a Geiger Tube, a sensor able to detect radioactivity. Our devic ...
Read more

›