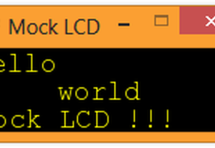 So recently I got a Raspberry pi and a 16x2 character LCD screen , I thought , lets make a simple game that can be played on the lcd. my first instinct was to code directly for the lcd on the pi , but as I started coding I realized that the clutter of having the lcd connected wasn't really necessary while i am programming the game's logic . I decided to make a python module that gives me the lcd output on m ...
Read more

›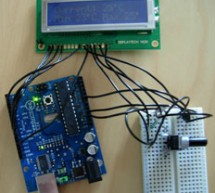 As a simple first Arduino experiment I interfaced a two line LCD (a Displaytech 162B) and an LM35DZ to make a simple Min/Max thermometer. Step 1 - Interfacing the Temperature Sensor This is really very simple. The LM35DZ has three pins, +5V, ground and a variable voltage output to indicate the temperature. I plugged it into breadboard and wired the output straight to the Arduino's analogue input 0. To test ...
Read more

›
Today, we are going to Interface 2.4 inch TFT LCD Shield with Arduino. By using this color TFT LCD shield we can show characters, strings, blocks, images etc on the color TFT LCD. And we can use this TFT Shield in many applications like:  Security System, Home Automation, Games etc. Interfacing TFT LCD with Arduino is very easy. We only need to have an Arduino Board & a 2.4 inch TFT Shield in hardware p ...
Read more

›
In LESSON 18 you learned how to use an ultrasonic sensor to measure distance, and in LESSON 19 you learned how to connect an LCD to the arduino. In this lesson we will combine what you have learned to create a circuit for measuring distance, and displaying results on an LCD display. - See more at: http://www.toptechboy.com/arduino/lesson-20-arduino-lcd-project-for-measuring-distance-with-ultrasonic-sensor/# ...
Read more

›
To establish a good communication between human world and machine world, display units play an important role. And so they are an important part of embedded systems. Display units - big or small, work on the same basic principle. Besides complex display units like graphic displays and 3D dispays, one must know working with simple displays like 16x1 and 16x2 units. The 16x1 display unit will have 16 characte ...
Read more

›
Welcome to my FIRST instructable, i will show you how to connect a 16x2 lcd display to an arduino, follow these simple step by step instructions and you will have it done in no time :) Tools Needed : Soldering Iron Wire Strippers Pliers Soldering Iron Flux ( Liquid Or Solid ) Soldering Iron Cleaner Tape Dispenser ( Makes Life So Much Easier ) Small Side Cutters Permanent Marker Pen Step 2: Solder Hea ...
Read more

›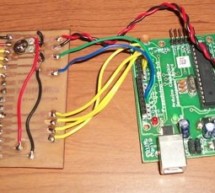 Here is a Simple Temperature Display Circuit using LCD (Liquid Crystal Display). For Heat Sensor we have used IC LM35 (Precision Centigrade Temperature Sensors) whose Output voltage is linearly proportional to the Celsius (Centigrade) temperature. Output of LM35 IC is 10mv/degree centigrade for eg if temperature is 35 degree, then the output of sensor will be 350mv or 0.35V For working with LCD it is necess ...
Read more

›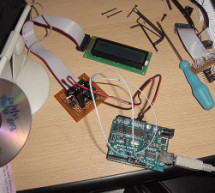 The original idea was to create a library that simplify the use of IC 74HC595 between Arduino and other hardware. In this Instructable I will share this to you using as example the control of a 16x2 LCD. The example will show on the LCD the seconds that has passed since Arduino was restarted. I hope it will be useful to you. Step 1: Place the Library under Arduino Folder I've named the library "ShiftOut". I ...
Read more

›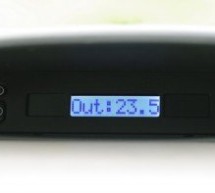 Here is a project I made a couple of years ago for my father's car. The original dashboard's info-panel which displayed current time, date and temperature was working only partly – and that only after a good cleaning and connector fastening. In other words – it wasn't really usable, so I made an Arduino replacement. The new panel features: Big 8-character LCD display with auto-on adjustable white backlight ...
Read more

›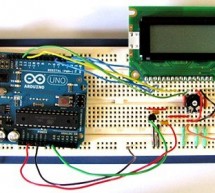 In this tutorial, a temperature sensor (MCP9700 linear active thermistor IC) and LCD are connected to the Arduino. The Arduino reads the temperature from the MCP9700 on analog pin A0 and displays the temperature on the LCD. This video shows the circuit operating. When touched with a finger, the temperature sensor IC will measure an increasing temperature which is displayed on the LCD. Also see the Arduino s ...
Read more

›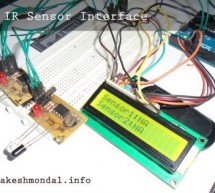 Interface single and Dual IR Infrared sensor with Arduino and LCD Introduction- Multiple Sensor Interface to Arduino In this another tutorial on sensors  for beginners, we are going to interface single and multiple Infrared IR sensors with Arduino Uno development board, working simultaneously and have the status displayed either on an ( 4X16 LCD ) LCD module (jhd162a) or an LED. We are going to cover three ...
Read more

›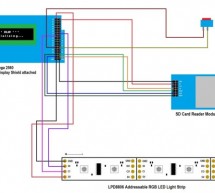 I have gathered the information from the HL1606 Digital Light Wand Blog and brought it all over to this new page so that there would be a page dedicated to the LPD8806 Digital Light Wand created by IS0-MICK. Mick took my original design and turned it into a very easy to use and versatile tool for long sessions of light painting away from the tethers of a computer by incorporating an SD Card and LCD Display ...
Read more

›