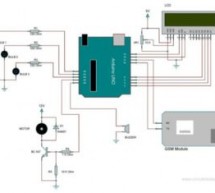 In this  article, we are publishing a highly useful home application – GSM based home automation using Arduino. The project consists of a 16×2 LCD module for displaying the status of the home appliances. The status (turn ON or turn OFF) of the connected devices can be changed by sending an SMS from your mobile phone. Upon receiving SMS commands through GSM module, arduino will change the status (turn ON/OFF ...
Read more

›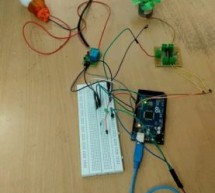 Ever thought of controlling your home using voice. If you are the one who fascinated it as I do, this project might help you do it for real. Voice powered products are already taking over the market and this voice controlled home project will enable you you to build one for your own.   We have developed a prototype of this "Voice controlled home automation" project and we are going to share the steps to bui ...
Read more

›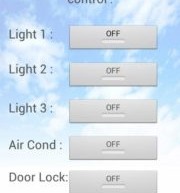 Ever wanted to make your home automated? Wanted to control the lights, fan, and other appliances from your smartphone? Or wanted a tutorial about connected devices and getting started with them? Our DIY Android Home Automation project will show you how to make your home automated using an Android smartphone. This requires no experience with Android programming at all, and a free application is included for ...
Read more

›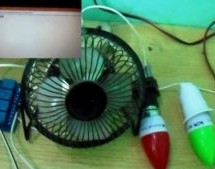 In this project we are going to make a home automation system using ESP8266 WiFi module and Arduino Uno. Using this we will be able to control lights, electric fan and other home appliances through a web browser using your PC or mobile. These AC mains appliances will be connected to relays which are controlled by the Arduino. ESP8266 and Arduino together acts as a Web Server and we will send control command ...
Read more

›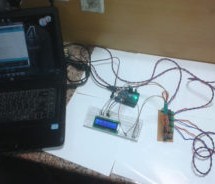 This project explains designing a home automation system which is controlled by a computer to switch On and switch Off various electrical and electronics devices. For demonstration we have used 3 zero watt bulbs which indicates LIGHT, FAN and TV. It uses Arduino Uno board as a controller and a 5V relay to connect light bulbs with the circuit. There could be various types of communications to control devices ...
Read more

›
Mobile phone is a revolutionary invention of the century. It was primarily designed for making and receiving calls & text messages, but it has become the whole world after the Smart phone comes into the picture. In this project we are building a home automation system, where one can control the home appliances, using the simple GSM based phone, just by sending SMS through his phone. In this project, no ...
Read more

›
We all are familiar with the word 'Automation', where the human interaction is minimal and things can be controlled automatically or remotely. Home automation is very popular and demanding concept in the field of Electronics, and we are also making our best efforts to make this concept easily understandable and manageable as Electronics Projects. We have previously developed several types of Home Automation ...
Read more

›
n present time home office appliance controlling is common thing.  Today for controlling home/offices appliances, machineries in companies/industries uses different types of automation systems like DTMF controlled, GSM controlled and many others. So here this project is made for interfacing MATLAB (Graphic User Interfacing) and Home/office/industries automation using Arduino and MATLAB. Here MATLAB is inter ...
Read more

›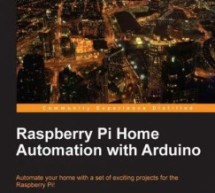 Book Description Low-cost and high-performing, with a massively diverse range of uses and applications, the Raspberry Pi is set to revolutionize the way we think about computing and programming. By combining the Raspberry Pi with an Arduino board you'll be able to revolutionize the way you interact with your home and become part of a rapidly growing group of hobbyists and enthusiasts. This essential referen ...
Read more

›
This instructable shows the principles involved in making devices to control home automation over the internet. We're going to construct a device (or several of them), that talk to each other over the internet to control lights, motors for curtains/blinds, power sockets etc. In contrast to devices controlled from a web browser or phone, these are designed to be simple, Arduino based devices that are capable ...
Read more

›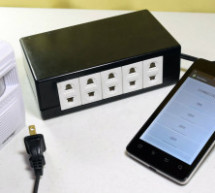 Here's a little show and tell of my Android controlled home automation box. It's a small extension box that's controlled by an Android smartphone. You can turn the individual outlets on by tapping a button from the app or use the speech recognition app, found from my previous tutorial. I've teamed up with my friends and built a custom app for out home automation prototype project. My former classmate/ fello ...
Read more

›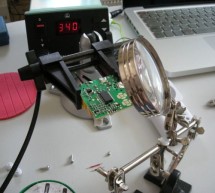 Being able to control everything from your pocket has long been a dream shared by many. Previously we've had universal remotes that can both control our TVs and radios, then we had wireless wall sockets. Both great things, but how likely is it that you're going to be carrying around those remotes with you everywhere you go? These days almost everyone has a smartphone in their pocket, so why not use that? So ...
Read more

›