Hey folks! After making an Arduino smartwatch just last week, I received many complaints,or tips, to use a RTC (real-time clock) module. That's because the Arduino timer is not very precise, it can lose a couple a minutes along a full work day. Luckly, I had one of those modules at my home, I decided to give it a try. However, I faced some challenges along the way, as I can show you here. This is my weekend ...
Read more

›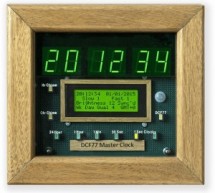 Arduino Master Wall Clock. Time displayed on large 1" (26mm) 7 segment displays with secondary 4x20 LCD information display. The clock can be used stand alone or provides the following pulses to drive slave clocks 1 sec alternating, 30 sec, 1 min , 1 hour, 24 hr, 15 min chime of quarter hours, hourly chime of hours. An Arduino 328 Microprocessor is used to decode and display time & date from the DCF77 " ...
Read more

›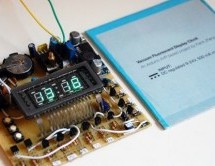 Do you (still) remember the display of your old CD player, HiFi system or car radio? Have you ever noticed the displays used at your local supermarket that shows you the scanned item and the price of it? These displays have a characteristic beautiful bright blue-green colored glow in common: These are so called vacuum fluorescent displays (VFDs) with outstanding brightness that look pin sharp. Used to repla ...
Read more

›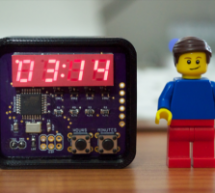 While I waited for the Mini 7-Segment Clock v3 PCBs to arrive, I got to work on designing an enclosure. First, I exported the PCB from EAGLE to SketchUp. I then assembled a complete 3D model with all the necessary components. With the 3D model complete, I could then design an enclosure to house the PCB and know exactly what it's going to look like before printing it. I even incorporated a little cable strai ...
Read more

›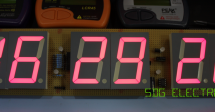 I recently found six 2.3″ red 7 segment displays in my collection which I purchased from Rapid Electronics when they were clearing out non-RoHS stock. Since I have no clock at my work bench I decided to construct one from some prototyping pad board, a Microchip PIC18F26K20 microcontroller and a Dallas DS32KHZ temperature compensated 32.768kHz crystal. The displays I used are SA23-12SRWA, which don't appear ...
Read more

›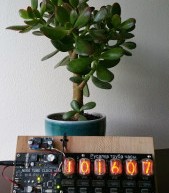 If you've poked around the internets where electronics hobbyists collect, it is likely that you are acutely aware of our incontrovertible affinity for building timekeeping clocks.  It is similarly unlikely that you have been able to evade the plenitude of nixie tube based projects.  There is a reason for this. Nixie tubes are cool.  They have great aesthetic appeal with their difficult-to-photograph, warm o ...
Read more

›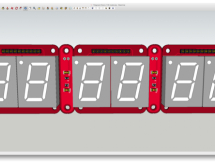 I was extremely satisfied (and proud) of the way that the enclosure turned out for the rework of my 7490 Clock. The electronics on the other hand, is another story. Since it was one of the first things I ever built, I decided to put it in an enclosure of its own and consider it too as a finished product. The problem was that the prototype never ran properly. It worked, just not as well as it should. Needles ...
Read more

›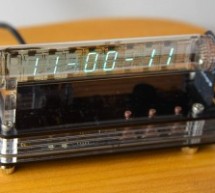 We showed a demo of this clock at Maker Faire Tokyo 2014 and it is now available in our online shop! VFD Modular Clock IV-18 SMT edition is a special solder-free kit version of the original VFD Modular Clock . The kit comes with all electronics pre-soldered, but you still assemble the enclosure yourself. Features: IV-18 8-digit Russian VFD Display Tube Open source mbed based firmware LPC1347 ARM Cortex-M3 6 ...
Read more

›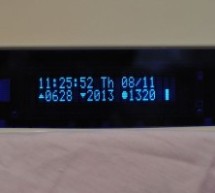 This is a clock designed to keep accurate time (independent of atomic or GPS), display local sunrise, sunset and solar noon, and also adjust itself for daylight savings time. I wanted the clock to be easy to use and be flexible. The setting functions are menu-driven, you set each parameter one digit at a time (with live data validation) and you can abandon changes if you want. You can have 12 or 24-hour tim ...
Read more

›
This is a very odd kind of clock, which can easily be made with simple supplies. To begin the explanation, I would like to say that I have always wanted time to be metric. 5 o'clock would be mid-day, 7:5 would be three quarters (6:00 pm), and so on. This prototype tells deci-days, centi-days, and milli-days, in that order. For those that are unfamiliar, ten deci-days are in a day, ten centi-days are in a de ...
Read more

›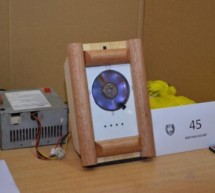 This is a fun project that can be done easily and also cheaply. In this instructable we will explain step by step how to make this beautiful POV clock. Used material: Arduino Uno, RTC modul, ULN 2003, IR diode and IR transistor (used like a sensor, more details in next steps) 4 pushbuttons (for controling the clock) TSOP4838 (allows us to control the clock with remote controler) Temperature sensor (DS18B20) ...
Read more

›
This is a relatively simple clock to build, in terms of the hardware required and in terms of hooking up all the wires. The complexity lies in the software, which I've conveniently included as part of this instructable :) This instructable illustrates a few things: * Keeping relatively accurate time on an Arduino without using a real time clock (RTC) * Using a basic clock display - the type you see on most ...
Read more

›