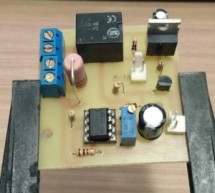 Hello, everyone! This instructable is about a universal short circuit protection that I've designed to use in bench power supplies. I've designed it to fit in most power supplies circuits. In order to this circuit fit in your bench power supply, you will need to do some calculations, but don't worry, I'll explain everything on the next steps. The circuit is really easy to understand. A resistor of low value ...
Read more

›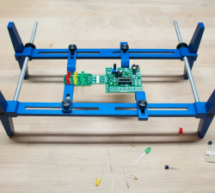 How many times have you had to set your soldering iron down because you couldn't hold the solder and component, while trying to keep the circuit board from moving around? PCB Rax is an easy to use, versatile circuit board holder for repair, prototyping, and assembly that can hold nearly any shape of circuit board. Sure there are other circuit board holders on the market, but they don't hold odd shaped board ...
Read more

›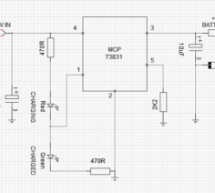 Here is a tried and tested sample circuit of a Li-Ion battery charger that can be used to charge any 3.7V Li-Ion battery using a 5VDC (USB, Solar Panel…) power supply. At the heart of the circuit is one microchip MCP73831, available in SOT-23-5 package. MCP73831 is a highly advanced linear charge management controller for use in space-limited, cost-sensitive applications. This IC employs a constant current/ ...
Read more

›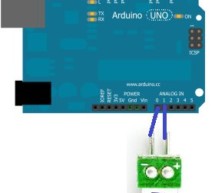 In this project, we will go over how to build a vibration detector circuit.This is a circuit which can detect and measure flex, touch, vibration, and shock.The sensor we will use to detect these movements is a piezo vibration sensor from Measuremenet Specialists (MEAS). The sensors are a thin strip of piezoelectric material with a rivet in the end acting as a weight. When there is a vibration, the weight mo ...
Read more

›
In this post I will describe the hardware and the software part of a project involving the use of BLDC (Brushless DC) motor salvaged from a broken XBox 360. This is a second installment in the series of posts related to Arduino and brushless DC motors. Please see the first part for a bit of info on the theory behind the commutation sequence. Once you understand the commutation sequence for the particular de ...
Read more

›
This simple tri-colour LED flasher circuit is great for beginners. The three pin tri-colour LED is controller by an Arduino Uno and changed between three colours. This video shows the Arduino running a sketch that controls the tri-colour LED. Circuit Diagram for the Arduino Tri-colour LED Controller The circuit is very simple, using only three components. The tri-colour LED is a three pin common cathode typ ...
Read more

›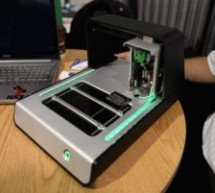 Typically when electrical engineers wants to make a new circuit board, they need to send their design files to a manufacturer and wait for it to be produced and mailed back. Hardware startup Voltera aims to expedite this process by putting it in on your desk with its V-One consumer circuit board printer. Winners of the $50,000 TechCrunch "Hardware Battlefield" at CES 2015, the Haxlr8r alumnus Canadian team ...
Read more

›
This article and circuit diagram show how to connect a buzzer to an Arduino when the buzzer operates at a different voltage to the Arduino. The buzzer may operate at 9V, 12V or some other voltage. Arduinos such as the Arduino Uno operate from 5V. All the voltages referred to here are d.c. voltages (direct current). The same circuit used here can also be used to operate a 5V buzzer when the buzzer draws more ...
Read more

›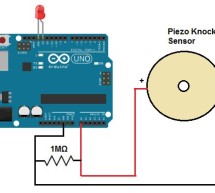 In this article, we go over how to build a piezo knock sensor circuit. A knock sensor is a sensor which produces a voltage in response to some type of physical stress such as a knock or vibration. This is why it's called a knock sensor; it detects knocks. This sensor can be useful when you want a circuit to be able to respond to knocks that a user makes against them to turn on or off some load. For example, ...
Read more

›
Hi Everyone! I've had a few people ask about creating a simple clap-on/clap-off circuit using Arduino. Well those who are interested are now in luck. The software in this instructable is simple and well commented. The schematic is simple, and the components are easy and inexpensive to acquire! All you'll need are 6x components, and an Arduino UNO. I hope that this helps those of you who need to build this f ...
Read more

›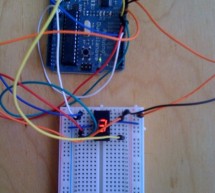 I've had an Arduino Duemilanove now for a couple of weeks. If you're not familiar with the Arduino, it is "an open-source electronics prototyping platform based on flexible, easy-to-use hardware and software". It has a small microcontroller, a USB port to connect to your computer for programming, a power socket for providing power when the USB cable isn't connected, and various digital and analog input and ...
Read more

›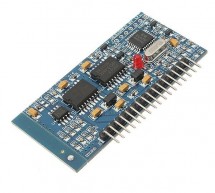 The post explains how to build a simple sinewave inverter circuit using PWM feed from an Arduino Uno board, the article also discusses a sinewave 3 phase inverter using the same input from an Arduino. The idea was requested by Mr. Raju Visshwanath The Design As per the request the first diagram below shows a single phase PWM sine wave inverter using an Arduino feed for the PWMs. The design looks pretty simp ...
Read more

›