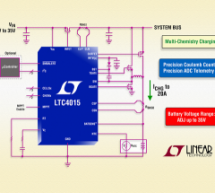 Features Multichemistry Li-Ion/Polymer, LiFePO4, or Lead- Acid Battery Charger with Termination High Efficiency Synchronous Buck Battery Charger Digital Telemetry System Monitors VBAT, IBAT, RBAT,NTC Ratio (Battery Temperature), VIN, IIN, VSYSTEM, Die Temperature Coulomb Counter and Integrated 14-Bit ADC Wide Charging Input Voltage Range: 4.5V to 35V Wide Battery Voltage Range: Up to 35V Input Undervoltage ...
Read more

›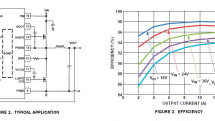 Key Features Wide input voltage range: 4.5V to 60V Wide output voltage range: 0.6V to 54V Light-load efficiency enhancement Low ripple diode emulation mode with pulse skipping Programmable soft-start Supports prebiased output with SR soft-start Programmable frequency: 100kHz to 2MHz External sync PGOOD indicator Forced PWM Adaptive shoot-through protection No external current sense resistor Use lower MOSFET ...
Read more

›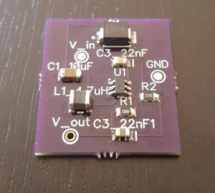 Alright! So hello everyone! Long time user, follower, commenter but first time iblest here! So for my first instructable I thought I'd share a recent simple project I made; a Buck Converter. Buck Converters are great! I use them all over the place in many of my nerdy, techy, geeky hobbiest projects. They also can commonly be referred to by other names, a DC-DC converter or a switching regulator. Essentially ...
Read more

›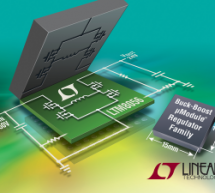 Features Complete Buck-Boost Switch Mode Power Supply Wide Input Voltage Range: 5V to 58V 12V/1.7A Output from 6VIN 12V/3.4A Output from 12VIN 12V/5.4A Output from 24VIN Up to 96% Efficient Adjustable Input and Output Average Current Limits Input and Output Current Monitors Parallelable for Increased Output Current Wide Output Voltage Range: 1.2V to 48V Selectable Switching Frequency: 100kHz to 800kHz Synch ...
Read more

›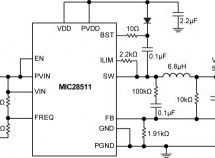 A family of pin-compatible synchronous step-down switching regulators with integrated power switches, the MIC28511/12/13 from Micrel, supplies up to 4 A of output current (MIC28513) and accepts a wide input supply range of 4.6 V to 70 V (MIC28512). The devices have an operating junction temperature range of -40°C to +125°C and come in very small 24-pin, 3×4-mm FCQFN packages. The MIC28511/12/13 regulators a ...
Read more

›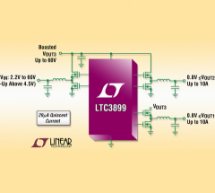 Features Dual Buck Plus Single Boost Synchronous Controllers Wide Bias Input Voltage Range: 4.5V to 60V Outputs Remain in Regulation Through Cold Crank Down to a 2.2V Input Supply Voltage Buck and Boost Output Voltages Up to 60V Adjustable Gate Drive Level 5V to 10V (OPTI-DRIVE) No External Bootstrap Diodes Required Low Operating IQ: 29μA (One Channel On) 100% Duty Cycle for Boost Synchronous MOSFET Phase-L ...
Read more

›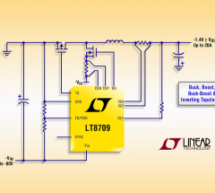 A synchronous PWM controller for negative-to-negative or negative-to-positive DC/DC conversion, the LT8709 from Linear Technology is easily configured for buck, boost, buck-boost, and inverting topologies to accommodate a wide range of power-supply designs. The device's synchronous operation means that the output diode is replaced with a high-efficiency P-channel MOSFET, increasing efficiency and allowing f ...
Read more

›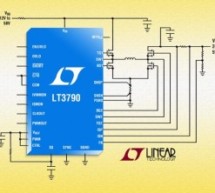 Features 4-Switch Single Inductor Architecture Allows VIN Above, Below or Equal to VOUT Synchronous Switching: Up to 98.5% Efficiency Wide VIN Range: 4.7V to 60V 2% Output Voltage Accuracy: 1.2V ≤ VOUT < 60V 6% Output Current Accuracy: 0V ≤ VOUT < 60V Input and Output Current Regulation with Current Monitor Outputs No Top FET Refresh in Buck or Boost VOUT Disconnected from VIN During Shutdown C/10 Cha ...
Read more

›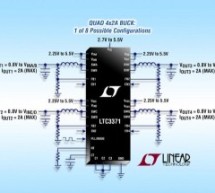 Features 8 × 1A Buck Power Stages Configurable as 2, 3 or 4 Output Channels 8 Unique Output Configurations (1A to 4A Per Channel) Independent VIN Supplies for Each DC/DC (2.25V to 5.5V) Low Total No Load Supply Current: 15μA In Shutdown (All Channels Off) 68μA One Channel Active in Burst Mode® Operation 18μA Per Additional Channel Precision Enable Pin Thresholds for Autonomous Sequencing 1MHz to 3MHz RT Pro ...
Read more

›