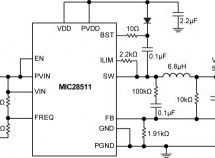 A family of pin-compatible synchronous step-down switching regulators with integrated power switches, the MIC28511/12/13 from Micrel, supplies up to 4 A of output current (MIC28513) and accepts a wide input supply range of 4.6 V to 70 V (MIC28512). The devices have an operating junction temperature range of -40°C to +125°C and come in very small 24-pin, 3×4-mm FCQFN packages. The MIC28511/12/13 regulators a ...
Read more

›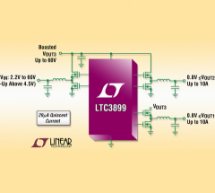 Features Dual Buck Plus Single Boost Synchronous Controllers Wide Bias Input Voltage Range: 4.5V to 60V Outputs Remain in Regulation Through Cold Crank Down to a 2.2V Input Supply Voltage Buck and Boost Output Voltages Up to 60V Adjustable Gate Drive Level 5V to 10V (OPTI-DRIVE) No External Bootstrap Diodes Required Low Operating IQ: 29μA (One Channel On) 100% Duty Cycle for Boost Synchronous MOSFET Phase-L ...
Read more

›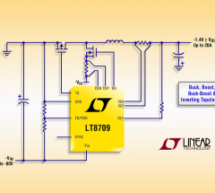 A synchronous PWM controller for negative-to-negative or negative-to-positive DC/DC conversion, the LT8709 from Linear Technology is easily configured for buck, boost, buck-boost, and inverting topologies to accommodate a wide range of power-supply designs. The device's synchronous operation means that the output diode is replaced with a high-efficiency P-channel MOSFET, increasing efficiency and allowing f ...
Read more

›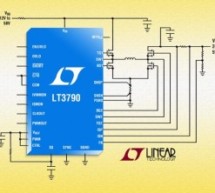 Features 4-Switch Single Inductor Architecture Allows VIN Above, Below or Equal to VOUT Synchronous Switching: Up to 98.5% Efficiency Wide VIN Range: 4.7V to 60V 2% Output Voltage Accuracy: 1.2V ≤ VOUT < 60V 6% Output Current Accuracy: 0V ≤ VOUT < 60V Input and Output Current Regulation with Current Monitor Outputs No Top FET Refresh in Buck or Boost VOUT Disconnected from VIN During Shutdown C/10 Cha ...
Read more

›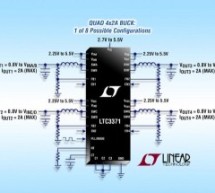 Features 8 × 1A Buck Power Stages Configurable as 2, 3 or 4 Output Channels 8 Unique Output Configurations (1A to 4A Per Channel) Independent VIN Supplies for Each DC/DC (2.25V to 5.5V) Low Total No Load Supply Current: 15μA In Shutdown (All Channels Off) 68μA One Channel Active in Burst Mode® Operation 18μA Per Additional Channel Precision Enable Pin Thresholds for Autonomous Sequencing 1MHz to 3MHz RT Pro ...
Read more

›