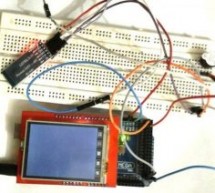 There are many types of security systems used all over the world and Digital Code Lock is one of them. We have already covered many digital locks with simple 16x2 LCD using Arduino, Raspberry Pi, 8051 etc. Here we are going to build a Smart Phone Controlled Digital Lock using TFT LCD and Arduino Mega. This lock can be controlled wirelessly via Bluetooth, using your Android phone, within the range of normal ...
Read more

›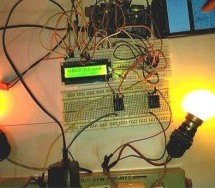 Automation is the essence of today's world. Automation can make our life easy and secure. There are many ways to obtain automation. Automation can be achieved by Wi-Fi, IR, GSM, Bluetooth and many other technologies. Previously we have covered many types of Home automations using different technologies like: DTMF Based Home Automation GSM Based Home Automation using Arduino PC Controlled Home Automation usi ...
Read more

›
This is a very interesting project in which we are going to learn how to implement virtual reality using Arduino and Processing. For most of us, the movie Iron man by Jon Favreau has always been an inspiration to build new things that will make our life easy and more fun. I have personally admired the Techs that are shown in the movie and have always wanted to build something similar to that. So, in this pr ...
Read more

›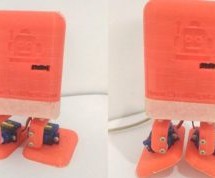 Welcome to another project in which we will build a small Robot which can walk and dance. The project aims in teaching you how to make small hobby robots using Arduino and how to program your Servo motors for such applications. At the end of the project you will be able to make this walking and dancing robot that takes command from an Android Mobile Phone to perform some pre-defined actions. You can also us ...
Read more

›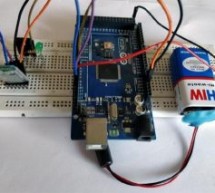 In today's modern world, where ever we go we have lots of electronic devices around us. But, out of all, there is only one device that we personally have in our pockets all the time. Yes, it is our mobile phones. Now Mobile phones have become more than a device used for communication, they are our cameras, they are our maps, they are our shopping karts and what not? With this capability in our hands, it is ...
Read more

›
MAGIC PIXEL Magic Pixel is a universal and handy Bluetooth LED display, which we've been developing with focus on ease of use and effectivity. It can be used for displaying advertisement, information or just for fun. Magic Pixel is an ideal solution where effective and dynamic visualization of information is required. With its thin profile and matte black front panel Magic Pixel looks unsuspicious, but its ...
Read more

›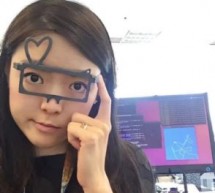 Story Instead of using an app, what if you could send a signal to eye-contact someone you are interested in talking to, in a social setting, even from afar? I'm not proposing a different way to start a date. I'm exploring a new usage of Bluetooth in the field of human interactions. When I found out that Intel Curie modules can be assigned to act as central and peripheral BLE devices, I immediately wanted to ...
Read more

›
So I'm guessing that I'm like a large amount of people on this site that are low key hoarders, keeping anything they could turn into a project or salvage for parts and this is an example of that. I have this old Mad Catz Steering wheel for the Xbox 360 and now that I have an Xbox one I don't really have any use for it anymore so decided to use it to control a toy car through Bluetooth. I would've liked to c ...
Read more

›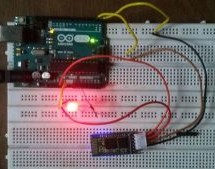 DIY Arduino based lockers can be found plenty in the internet where keypad was used to feed lock input. But this Bluetooth enabled Door locker uses Bluetooth as a medium to connect with the locker and your smart phone to feed input credentials. This locker allows you to lock/unlock your locker without physical touch when you are within the range of Bluetooth communication. Arduino is the heart of this locke ...
Read more

›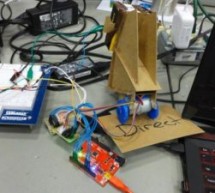 Hardware components: SparkFun RedBoard × 1 DC Stepper Motor 28-BY-J-48 × 1 MB 1010 LV-Max-Sonar EZ1 × 1 WunderBar × 1 Story A Sparkfun Red-Board utilizes a LV-Max Sonar component to judge distances between the user and the robot, powering the DC stepper motor to move forward, reverse or change direction. Each motor requires around 5V to operate. In the future, a feature using the TellMeWhen Relayr app and t ...
Read more

›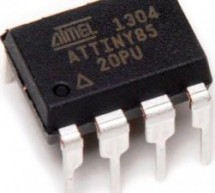 Hardware components: Capacitor 10 µF × 1 Atmel ATTiny85 × 1 Arduino UNO & Genuino UNO × 1 LED (generic) × 1 Jumper wires (generic) × 1 HC-05 × 1 Software apps and online services: Arduino IDE MIT App Inventor 2 STORY Here I have used HC -05 bluetooth module which can be purchased from ebay at a very low cost.eto Attiny85/84 .In this tutorial I won't be going in detail about how to upload the sket ...
Read more

›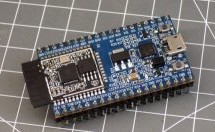 ESP32 is the hottest new wireless chip out there, offering both WiFi and Bluetooth Low Energy radios rolled up with a dual-core 32-bit processor and packed with peripherals of every kind. We got some review sample dev boards, Adafruit and Seeed Studio had them in stock for a while, and AI-Thinker — the company that makes the most popular ESP8266 modules — is starting up full-scale production on October 1st. ...
Read more

›