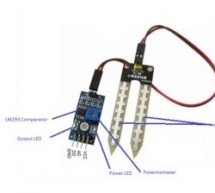 In this article, we are going to interface a Soil moisture sensor FC-28 with Arduino. This sensor measures the volumetric content of water inside the soil and gives us the moisture level as output. The sensor is equipped with both analog and digital output, so it can be used in both analog and digital mode. In this article, we are going to interface the sensor in both modes. So let's begin our tutorial on i ...
Read more

›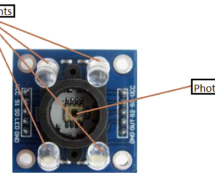 In this article, we are going to read the colors using the TCS230 color sensor (RGB Sensor) and Arduino Uno. The TCS 230 color sensor senses the color light by using the photodiodes. The sensor converts the readings from the photodiode into a square wave by using the light to frequency converter. The frequency of these waves is directly proportional to the light intensity. Then the Arduino reads these squar ...
Read more

›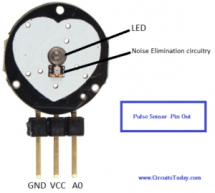 In this article, we are going to interface a Pulse Sensor with Arduino. The pulse sensor we are going to use is a plug and play heart rate sensor. This sensor is quite easy to use and operate. Place your finger on top of the sensor and it will sense the heartbeat by measuring the change in light from the expansion of capillary blood vessels. Pin Out – Pulse Sensor The pulse sensor has three pins which are a ...
Read more

›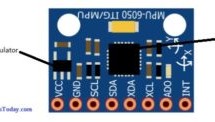 In this article, we are going to interface the GY-521 accelerometer with Arduino. The GY-521 has an InvenSense MPU6050 chip which contains a 3-axis accelerometer and a 3-axis gyro meter. This makes it a 6 DOF IMU (6 degrees of freedom inertial measurement unit). The chip also includes a 16-bit analog to digital converter on each channel and a DMP (Digital Motion Processor) unit. The DMP unit is responsible ...
Read more

›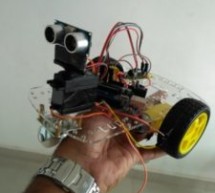 This project is designed to build a robot that automatically detects the obstacle on its path and guides itself whenever an obstacle comes ahead of it. This robotic vehicle is built, using Arduino UNO board. An ultrasonic sensor is used to detect any obstacle ahead of it. A motor driver IC and 2 DC motors are used for controlling the movement of the robot. A servo motor is also used in this project. The ult ...
Read more

›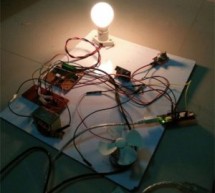 IOT has become huge trend in the last couple of years. With growing needs in connected devices many companies have shifted the attention to iot market. Today we are going to share a simple project which we have built –  IOT based  home automation and security systems using Arduino MKR1000. Hope you will like this project. HARDWARE COMPONENTS USED: Arduino MKR 1000 PIR Sensor Gas sensor Relay circuit Bulb AC ...
Read more

›
Voting systems are one of the finest examples of Embedded devices and applications. The complexity and robustness of a voting system depends on the number of voters involved. Here you could see a simple Arduino based voting system that would be a great fit for small-scale elections such as in schools or colleges. This system was designed to ensure security and the coolest thing is the whole voting process c ...
Read more

›
Arduino is a great hardware platform when comes to prototyping and building cool stuffs. Using this i have designed and developed a simple Arduino Weather machine which measures three important parameters Temperature, Light intensity and Humidity and predict the weather condition according to the measured parameters. This following article will walk you through the operation, working and code of this projec ...
Read more

›
DIY Arduino based lockers can be found plenty in the internet where keypad was used to feed lock input. But this Bluetooth enabled Door locker uses Bluetooth as a medium to connect with the locker and your smart phone to feed input credentials. This locker allows you to lock/unlock your locker without physical touch when you are within the range of Bluetooth communication. DESIGN: Arduino is the heart of th ...
Read more

›
Christmas is just around the corner and its time to start planning things to lighten up this festive season. Today you are about to see building of Remote controlled lights with adjustable lighting effects using Arduino. The coolest thing about this project is controlling the effects of LED lighting using a typical household Remote and Arduino. This eliminates the primitive way of using pot to control LED e ...
Read more

›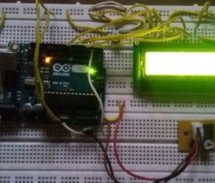 People  or Visitor counters are pretty famous embedded application that was widely used in places like theaters, malls, Transport stations and so. High end counters uses sophisticated hardware to do the process of counting. Today we are about to see building of simple Visitor counter project using Arduino which uses IR as a tool for sensing people. This project can also be used to count objects as well prov ...
Read more

›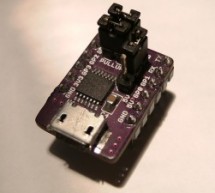 This is a library for interfacing with the HID features of the MCP2221 USB to UART and I2C/SMBus serial converter from Microchip. The converter includes 4 GPIO pins, 3x 10-bit ADCs, 1x 5-bit DAC and more. Microchip does provide a library for interfacing with the chip, however it is supplied as proprietary DLLs. This project aims to be an open-source and multi-platform alternative. This library also makes us ...
Read more

›