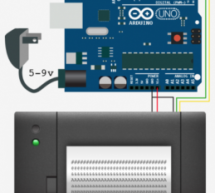 The following code and library are compatible with arduino software 1.0+ ONLY. You can download the newest version of the arduino software here. Outputting data can be extremely useful, and typically when we look at doing this, it is either to the Arduino's serial terminal, or to some sort of display. But what about making physical copies of the data? So a few months back, SparkFun started selling a thermal ...
Read more

›
Recently somebody asked for tutorial on Infrared Flame Sensor. It took a while due to severe work overload, but finally I succeeded to make it. The Infrared flame sensors use infrared light to detect flame. While experimenting with my one I discovered that in direct daylight they don't work very well due to the infrared component in the daylight. In shadow or at night my one worked quite well. The module th ...
Read more

›
A line follower robot using 8051 microcontroller is already published here and this time the same thing is done using  arduino. This line follower robot is basically designed to follow a black line on a white surface. Any way the same project can be used to follow the opposite configuration with appropriate changes in the software. The entire hardware of this simple line follower robot using arduino can be ...
Read more

›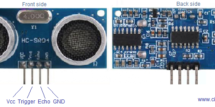 Ultrasonic range finder using 8051 mictrocontroller has been already published by me in this website. This time it is an ultrasonic range finder using arduino. HC-SR04 ultrasonic range finder module is used as the sensor here. The display consists of a three digit multiplexed seven segment display. This range finder can measure up to 200 cm and has an accuracy of 1cm. There is an option for displaying the d ...
Read more

›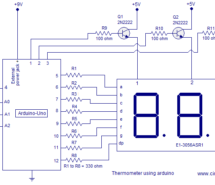 This article is about a simple three digit digital thermometer using arduino. Range of this thermometer is from 0°C to 99.9°C. There is also a provision for displaying the temperature in °F scale. Three terminal analog temperature sensor LM35 is used as the sensor here. LM35 can measure temperatures between -55°C to +155°C. The supply voltage range is from 4V to 30V DC and the current drain is 60uA. The LM3 ...
Read more

›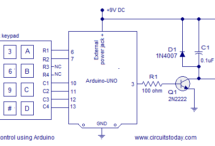 PWM or pulse width modulation is a very common method used for controlling the power across devices like motor, light etc. In PWM method the power across the load  is controlled by varying the duty cycle of the drive signal. More the duty cycle more power is delivered across the load and less the duty cycle, less power is delivered across the load. A hex keypad is used for controlling the speed. The speed c ...
Read more

›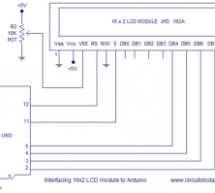 A Liquid Crystal Display commonly abbreviated as LCD is basically a display unit built using Liquid Crystal technology. When we build real life/real world electronics based projects, we need a medium/device to display output values and messages. The most basic form of electronic display available is 7 Segment display – which has its own limitations. The next best available option is Liquid Crystal Displays ...
Read more

›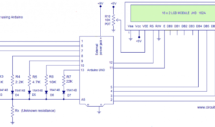 Auto ranging ohmmeter using arduino. This article is about a simple auto ranging ohmmeter using arduino. The measured resistance is displayed using a 16×2 LCD display. The circuit is sufficiently accurate and uses minimum number of external components possible. Before going into the details of this project, lets have a look at the basic resistance measurement method. Resistance measurement. The figure above ...
Read more

›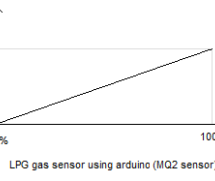 LPG sensor using arduino with alarm and cutoff. A simple LPG sensor using arduino is shown in this article. This circuit indicates the amount of LPG in the air. The circuit  sounds an alarm and trips a relay  when the concentration is above a predetermined level. MQ2 is the gas sensor used in this project. MQ2 is an SnO2 based gas sensor which can sense gases like methane, propane, butane, alcohol, smoke, h ...
Read more

›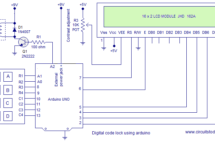 We have published a digital code lock using arduino some weeks before. This one is a little different. The earlier version was based on a defined password, where the user can not change it. Moreover there was no LCD display interfaced with the project to output lock status. This project is a much improved version of the same digital code lock which comes with a user defined password and LCD display. The use ...
Read more

›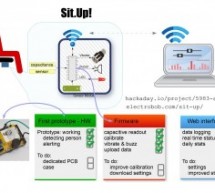 Sitting for long periods has become more common in today's jobs causing serious health issues. Unfortunately the plethora of activity trackers fail to address the issue: being rather active while sitting does not provide a good picture of the amount of time spent sitting. Sit.Up is a simple device that attaches to the chair and alerts the user by vibration if sitting for too long while also tracking the sit ...
Read more

›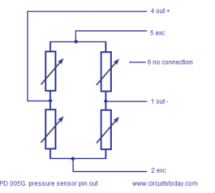 This article is about interfacing  pressure sensor to arduino. The pressure sensor used here is SPD005G from Smartec . SPD (Smart Pressure Device) is a series of silicon based pressure sensors suitable for industrial as well as house hold applications. These sensors are generally available in plastic inline or dual inline packaging. SPD sensors are generally available in two operation modes namely gauge typ ...
Read more

›