For a number of years, my colleague Andrew has had an old IBM mainframe CPU kept in storage, waiting to be transformed into something new. Hailing from a long-lost era of computing (the system in which this module was used was the 4381, first announced in 1983) – this is a far cry from what we might think of as a CPU today. It weighs approximately 20-30kg, and measures around 700mm x 650mm x 130mm! With suc ...
Read more

›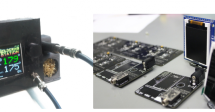 At the fpv-community.de Forum I read about a DIY Weller station designed by Martin Kumm. Basically an Arduino shield to drive a Weller soldering tip. As there is not much to it, the board simply contains an precision OpAmp, a power MOSFET, 2 buttons for adjusting the temperature and a display to show the current values. This design looks like a good starting point for my own advanced project. As I have late ...
Read more

›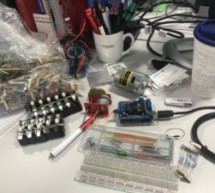 I've been meaning to put some content on here for a while and recently I got around to getting an Uno and motor shield. Given I also have access to a 3d printer and have a shedload of microswitches, semis and other goodies knocking around - Robocar is an obvious choice! I've had a few Arduino's in the past but have always used them as an ISP to write to AVR instead of just embracing the Arduino eco-system. ...
Read more

›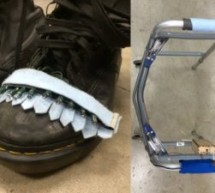 ld Sole interrupts normal youthful days to force young people to interact with their environment in a different way. If the young shoe-wearer takes significantly more steps than the elderly individual with the walker, the shoes light up and vibrate uncomfortably, reminding the young person that somebody on the other end of the old sole is not able to keep up. Limiting the speed of the shoes to the speed of ...
Read more

›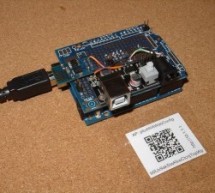 Update: 19th May 2016 Rev 14 of this project revises libraries and code to work with ESP8266.com IDE plug-in V2.2 Update: 17th December 2105 Rev 11 of this project cleans up other attempted connections if it is already connected. Also uses the timeout set by the web config. Rev 10 ignored the timeout setting. Update: 11th November 2015 This is Rev 10 of the this project. Rev 10 uses a non-blocking WiFi libr ...
Read more

›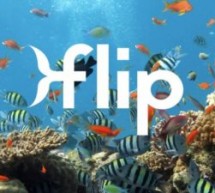 Flip Intro There is something kind of magical about swimming when you are a child. Do you remember growing up and watching your shadow as you swam in the pool, trying to mimic a perfect dolphin kick and imagining you were a mermaid rather than human?  We all shared these sorts of memories and a few of us decided to create something that enhanced the sense of wonder kids' get when they play and swim under wa ...
Read more

›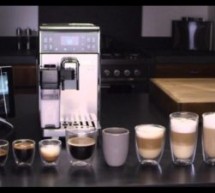 Quite a lot of coffee is consumed at work but real statistics are missing. For the coffee machines with a can it can be interesting to have a visualization with coffee left in can, water in machine, time left until machine is finished, estimated time until can is empty. This would probably require a modified coffee can so is not very straightforward (pressure pad on the bottom of the can, fluid meter,…). Fo ...
Read more

›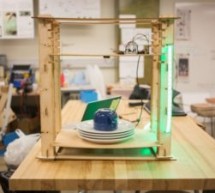 Project Description DishShamer solves the age-old problem of getting your roommates to wash their dishes.  The kitchen is a communal space.  When one individual fails to keep this shared environment clean, there can be two outcomes: conflict and socially awkward confrontations, or placing unfair cleaning burdens on the responsible roommates.  By tracking who checks out and returns dishes, maintaining a lead ...
Read more

›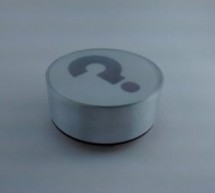 Chatty Coasters are interactive coasters that listen for silences and insert provocative conversation starters into them. Chatty Coasters are interactive drink holders that listen for silences in conversation and insert provocative questions into them. In order to encourage healthy, thought-provoking conversation in kitchens, Chatty Coaster waits for drinkers to rest their cup on it and breaks prolonged sil ...
Read more

›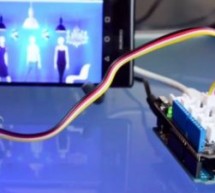 Smart Shop Window A SmartLiving Experiment where using a QR code to control a light in a shop window. For this experiment we use a Grove LED (representing the shop's light) and a Smart phone to access the control switch. It's an ideal starter project to become familiar with the Arduino, Grove and using your a User Interface for web and mobile to control things. Difficulty level: 2/5 Schematic Scan Qr Code W ...
Read more

›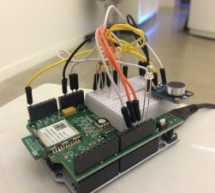 When my colleague @thegibertchan first set up his homemade "Clapper" in our office, I knew immediately that I had to learn how it was made. The way it works is simple. A small microphone listens to two claps (within four seconds of each other) and it triggers a switch to turn on or off. Gilbert even simplified the code so it uses the built-in LED in the our SmartThings Arduino Shield. I will try to explain ...
Read more

›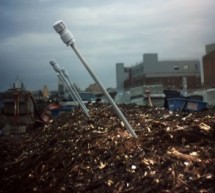 Introduction This is a tutorial on building a Compost Temperature monitoring system. It details how to build a web connected wireless sensor network and shows one possible way it could be constructed. A Medium level of knowledge and skills are required. Basic knowledge of soldering and breadboarding will be very useful. I will assume that you know enough Arduino code to understand what a Function is, how a ...
Read more

›