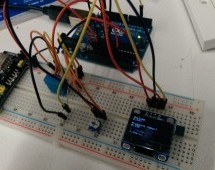 Initial testing. Ignore the humidity sensor, that was for something else. The vacuum gauge outputs 0-10VDC. This had to be changed to a 0-5VDC range using a potential divider so it was compatible with the Arduino. Initial build used a 10k pot in place of a vacuum gauge to make it simpler. The OLED screen simply plugs in over the arduino which made for a nice compact board. A custom pcb would've looked nicer ...
Read more

›
Talking to Arduino over a serial interface is pretty trivial in Python. On Unix-like systems you can read and write to the serial device as if it were a file, but there is also a wrapper library called pySerial that works well across all operating systems. After installing pySerial, reading data from Arduino is straightforward: >>> import serial >>> ser = serial.Serial('/dev/tty.usbserial' ...
Read more

›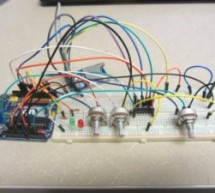 I was working on a project were I needed a cheap and efficient way to log the changing resistance of a sensor while simultaneously logging the temperature. This project is similar in many respects to the other data loggers on my site. Three prototypes have been built with the third one being a PCB. I have found this design to work extremely well for my needs. The resistance measurement princip ...
Read more

›
We are often asked on discussion boards, about conflicts between IRremote or IRLib and other Arduino Libraries. In this post, we present a sketch for 'Simple Infrared PWM on Arduino'. This is the first part in a 3 part series of posts. Part 1 shows how to generate the Simple Infrared PWM on Arduino (AKA carrier frequency), using any available IO pin and without conflicting with other libraries. Part 2 will ...
Read more

›
In November 2014, we displayed our first completed project as a club, the Staircase Piano. The idea for the project was given to us by Professor Barry Brown before the club was even formed. Throughout the semester we worked towards putting the piano together for a final presentation before the end of the Fall 2014 semester. We started out the project only using an Arduino for both the sensor readout and the ...
Read more

›
The PIC16F628A based heart rate meter is one of the most popular projects published on Embedded Lab. In this article, I am going to show how to replicate the same project using a simpler platform like Arduino. The Arduino heart rate meter will use Arduino Uno, Easy Pulse Plugin, and 4-digit SPI seven segment LED display module. It computes the heart beat rate by processing the analog pulse signal output fro ...
Read more

›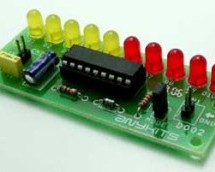 0-10V_Monitor_PIC This project is a 0-10V Voltage Monitor. Description 0-10V Volt monitor project has been designed around LM3914 IC, It is an easy and less expensive project which instantly visualizes voltage level. The project is based on the popular LM3194 IC from Texas instruments. Handy 0-10V DC Voltmeter can be used as a voltage tester. The LM3914 senses the voltage level at the input pin and drives t ...
Read more

›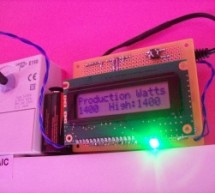 I have just recently had solar pv installed, mainly to future proof my energy costs, I do not expect it to be like drilling for oil in my back garden, however the return looks to be encouraging. The install gives you another single unit meter, from this you will see the total amount the panels produce, but that is about it. I wanted to know how much the production was as it was happening, I discovered the l ...
Read more

›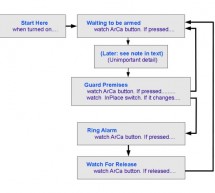 I wrote this one hot week in July 2010. I've been leaving my front door ajar, to get some air through the house. Probably not a very good idea. So I thought I'd hook up an Arduino to ensure that no one takes advantage of the door being unlocked. This essay isn't meant, primarily, to tell you how to make a "fantastically useful" device. While the device is useful, and could be used for several things, the ma ...
Read more

›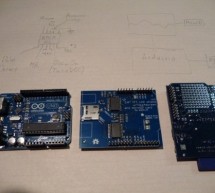 Introduction: Like many out there, I enjoy a good exercise session, whether it be indoors or outdoors. As part of that I purchased a Polar branded heart rate monitor, which came with a "Wearlink" chest strap and RS300Xsd receiver watch. The watch is able to do quite a bit of analysis on its own, in terms of recording heart rate averages, target zones and the like, but without the additional FlowLink device ...
Read more

›
Up until now, we have talked about working with a lot of low-power devices. Sensors, LEDs, ICs, and the like are all capable of being powered directly from your Arduino, but as many awesome 5 and 3.3v components as there are, eventually you will find yourself holding a 12v solenoid, motor, or light and wondering "How the heck am I supposed to control this from my Arduino?" Well today we are going to talk ab ...
Read more

›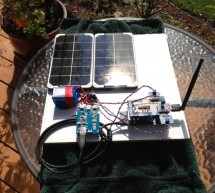 Ever wanted to build your own Solar Powered Raspberry Pi or Arduino system?   SunAir and SunAirPlus are 3rd Generation Solar Charging and Sun Tracking Boards designed by Dr. John C. Shovic at SwitchDoc Labs. You can use this board to power your projects and add a servo or stepper motor to allow it to track the sun using photoresistors to generate even more power! It incorporates a number of outstanding feat ...
Read more

›