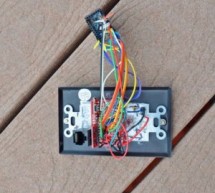 Story We use our barbecue grill and our deck frequently. After once leaving the grill on all night, I wanted an easy way to check to make sure the grill is off before going to bed. This is especially important since our grill is tapped into our natural gas line and will stay on forever if we don't shut if off. We also like to leave our deck door open when it's nice out but it bugs me when I notice the door ...
Read more

›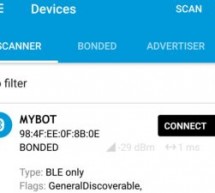 At the Hackster Hardware Meetup Seattle, we had a bunch of BLE Bot 9000 robots. The problem was that all of the bots exposed the same services and names, so you can't choose the robot you want to control. The solution to controlling your bot is to give it a unique name, so that when you scan for devices you only connect to your device. This tutorial covers how to change the name of your BLE Bot 9000, and ho ...
Read more

›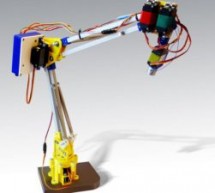 This is first version of my low cost 3d printed robot arm. It is based on Ikea Tertial lamp. I choose it because it has very good kinematic with using springs to unload servos. So you can use different number of springs to achive diffrent lifting power. Techinacal specification: 5 DOF. Full lenght: 690mm Lifting power with 4 standart spring: 0.5kg (distance between base and attaching point: 500mm) You can f ...
Read more

›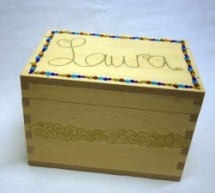 Preface My daughter asked me to build her a treasure chest that she could use to store her most valuable things. Obviously she demanded it to have some kind of a locking mechanism so only she could open the box. First thought was to use a keypad but then her grandfather bought her a diary with a secret code. So I had to come up with something else. On Adafruit's tutorials I came across the Secret Knock Acti ...
Read more

›
Story We love our workshop, but it has one downside (or maybe upside) - a large flight of stairs to the gallery. We constantly need to move parts and components between one floor and the other, so we've been plotting different ideas: drones, dogs, carrier pigeons and what not, and then it hit us! A lift! Since we recently added HC-05 Bluetooth Module to circuito.io, we decided to try it out in this project. ...
Read more

›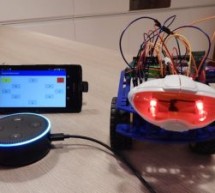 Story Voice-controlled Robot Voice-controlled robot is both hardware and cloud solution in one piece. The main components are: 1. Alexa Skill - to interpret voice commands and translate them to Google Cloud Messaging messages - deployed to Heroku cloud 2. Android application - to receive messages from Google Cloud Messaging and send them over bluetooth to Arduino - deployed to your Android phone 3. Arduino ...
Read more

›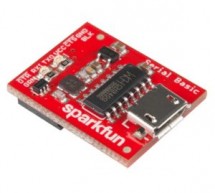 Introduction The Serial Basic is an easy to use USB to Serial adapter based on the CH340G IC from WCH. It works with 5V and 3.3V systems and should auto install on most operating systems without the need for additional drivers. It's a great lower cost option to the extremely popular FTDI Basic. The Serial Basic uses the CH340G IC to quickly and easily convert serial signals to USB. It works great with all o ...
Read more

›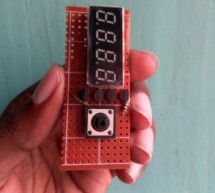 Introduction: Drinking enough water is very important for our health. Drinking more water can lead to clearer skin, better overall health, improved productivity and brain function, increased energy levels, and even weight loss. In our busy lives, it is really hard to remember to drink enough water. And most of the time we forget to drink enough water whether we are in the home, office or on-the-go. Around 7 ...
Read more

›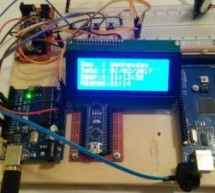 Story After designing the "Clock Set Date Time" and hearing the suggestion of ArduPic , I thought it would be a good idea and also useful, add a "wake-up alarm." A small change to the code and adding a few components: Here's "the Alarm Clock". Compared to the previous project, I added a buzzer Piezzo, a diode LED, a resistor of 220 ohms, a button and as said before, I listened to the suggestion of "ArduPic" ...
Read more

›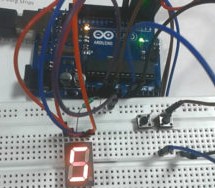 We all are familiar with dice and often played LUDO or SANP SIDI (Snake & Ladders) game by using dice. Dice is a squire type solid box which contains 6 different numbers on all of its sides. We throw dice on a surface to get a random number while playing the games. In this project we have tried to replicate it with a digital dice using arduino uno board. In place of throwing the dice, here we need to pr ...
Read more

›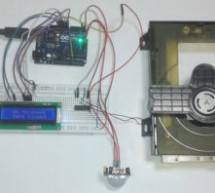 You must have seen automatic door openers in shopping malls and other commercial buildings. They open the door when someone comes near the entrance and close it after sometime. A number of technologies are available to make such kinds of systems like PIR sensors, Radar sensors,  Laser sensors, Infrared sensors, etc. In this arduino based project, we have tried to replicate the same system by using a PIR sen ...
Read more

›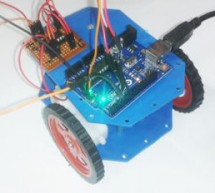 After designing this line follower robot using arduino uno, I have developed this computer controlled robot. It can be controlled via the computer and we can use specific keyboard keys to move it. It runs over serial communication which we have already discussed in our previous project - PC Controlled Home Automation. Components Required Arduino UNO DC Motor Laptop Motor Driver L293D 9 Volt Battery Battery ...
Read more

›