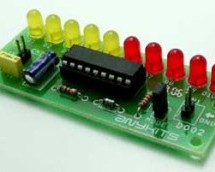 0-10V_Monitor_PIC This project is a 0-10V Voltage Monitor. Description 0-10V Volt monitor project has been designed around LM3914 IC, It is an easy and less expensive project which instantly visualizes voltage level. The project is based on the popular LM3194 IC from Texas instruments. Handy 0-10V DC Voltmeter can be used as a voltage tester. The LM3914 senses the voltage level at the input pin and drives t ...
Read more

›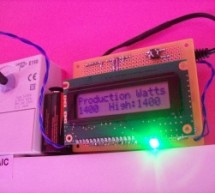 I have just recently had solar pv installed, mainly to future proof my energy costs, I do not expect it to be like drilling for oil in my back garden, however the return looks to be encouraging. The install gives you another single unit meter, from this you will see the total amount the panels produce, but that is about it. I wanted to know how much the production was as it was happening, I discovered the l ...
Read more

›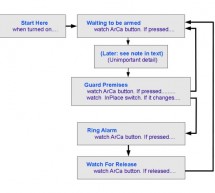 I wrote this one hot week in July 2010. I've been leaving my front door ajar, to get some air through the house. Probably not a very good idea. So I thought I'd hook up an Arduino to ensure that no one takes advantage of the door being unlocked. This essay isn't meant, primarily, to tell you how to make a "fantastically useful" device. While the device is useful, and could be used for several things, the ma ...
Read more

›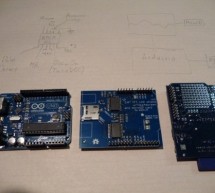 Introduction: Like many out there, I enjoy a good exercise session, whether it be indoors or outdoors. As part of that I purchased a Polar branded heart rate monitor, which came with a "Wearlink" chest strap and RS300Xsd receiver watch. The watch is able to do quite a bit of analysis on its own, in terms of recording heart rate averages, target zones and the like, but without the additional FlowLink device ...
Read more

›
Up until now, we have talked about working with a lot of low-power devices. Sensors, LEDs, ICs, and the like are all capable of being powered directly from your Arduino, but as many awesome 5 and 3.3v components as there are, eventually you will find yourself holding a 12v solenoid, motor, or light and wondering "How the heck am I supposed to control this from my Arduino?" Well today we are going to talk ab ...
Read more

›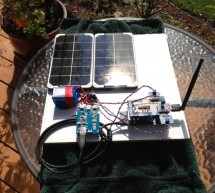 Ever wanted to build your own Solar Powered Raspberry Pi or Arduino system?   SunAir and SunAirPlus are 3rd Generation Solar Charging and Sun Tracking Boards designed by Dr. John C. Shovic at SwitchDoc Labs. You can use this board to power your projects and add a servo or stepper motor to allow it to track the sun using photoresistors to generate even more power! It incorporates a number of outstanding feat ...
Read more

›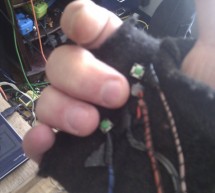 Connecting an Arduino microcontroller to Pd is no big problem: You can just put Firmata on your Arduino and use the Pduino library for communication on the Pd side. But sometimes Firmata is not the answer to every problem: You may want to turn on the built-in pull-up resistors for digital input pins, you may want to do some calculation on the Arduino before sending a message, or you may want to send a messa ...
Read more

›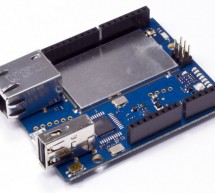 [Updated Sep 30] — Arduino announced the first open source Arduino hacker board with built-in WiFi, and also the first to run Linux. The $69 Arduino Yun integrates the functions of an Arduino Leonardo, featuring an Atmel ATmega32U4 microcontroller and 14 GPIO pins, with an Atheros AR9331 WiFi SOC running OpenWRT embedded Linux on a 400MHz MIPS processor. Arduino, the Italian-based project that designs the o ...
Read more

›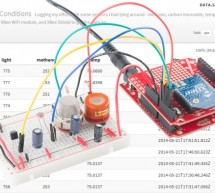 Introduction Are you looking to get your data gathering project hooked into the "Internet-of-Things"? Then check out data.sparkfun.com! It makes posting data to the web as easy as constructing a URL and POSTing it to a server. I wanted to create a quick project to test out SparkFun's data logging service. Combining an Arduino, XBee WiFi module, and a variety of gas, temperature, and light sensors I built an ...
Read more

›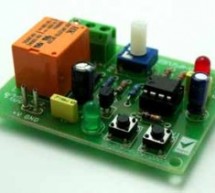 Description This project is a timer project and build around popular 555 Timer IC, It can be used for all application required a delay of up to 100 Seconds. Onboard board preset to adjust the required timer duration in range of   of 1 to 100 Seconds, Tact switch SW1 to reset the timer and SW2 to start the timer. LED D3 works as power indicator and LED D2 to indicate timer operation. Load can be connected to ...
Read more

›
Some time ago I came across a new chip from TI, the HDC1000. It's a temperature and humidity sensor with I2C interface and requires little to no additional components. It comes in an 8BGA package: we can all agree it's pretty small. Some of the peculiar characteristics of this chip are that it has a DRDYn pin which goes low any time there is a new reading from the chip (so you can precisely time your reques ...
Read more

›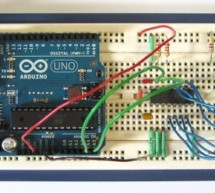 This tutorial shows how to interface eight LEDs to an Arduino using only two Arduino pins. This is made possible by using a PCF8574 I/O expander IC. A "Knight Rider" display is shown on the LEDs. Prerequisites Complete tutorial 4 – Arduino Knight Rider. Be able to use DIP IC packages, e.g. from tutorial 17. Components In addition to an Arduino Uno board, USB cable, wire links and a breadboard, you will need ...
Read more

›