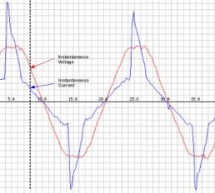 This example shows you how to read an analog input on Pin 0, convert the values from analogRead() into voltage, and print it out to the serial monitor.  Circuit: image developed using Fritzing. For more circuit examples, see the Fritzing project page Connect the three wires from the potentiometer to your Arduino board. The first goes to ground from one of the outer pins of the potentiometer. The second goes ...
Read more

›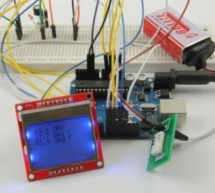 Temperature and humidity measurement are always a nice addition to hobbyist projects. In my previous post, I've discussed the DHT11 sensor, which is capable of measuring both temperature and humidity. They are digital sensor and provide calibrated outputs with temperature and relative humidity. I've also demonstrated how to interface with Arduino and display it on 1602 LCD. Unlike DHT series, HSM -20G is an ...
Read more

›
Happy Tuesday, everyone! I tend to get excited about products that enable beginners to be really creative, and today's product highlight is one I think is worth getting excited about! [video width="380" height="285" id="_63Mq6QMxxM&" type="youtube"] A few things that I really like about the shield: The shield is an add-on board that was designed to be used with the chipKIT Uno32, the uC32, or the Max 32 ...
Read more

›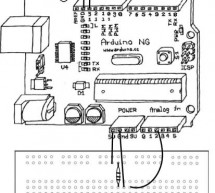 This program will allow adjust the speed of a blinking LED with analog input. Follow this patch to connect a potentiometer to your Arduino board. Then put an the long lead of an LED in pin 13 of your digital in/out, and the short lead in Ground. /* * AnalogInput * by DojoDave <http://www.0j0.org> * Turns on and off a light emitting diode(LED) connected to digital * pin 13. The amount of time the LED w ...
Read more

›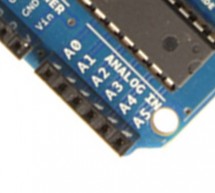 Analog to digital conversion module of ARDUINO UNO has 6 input ports. The number of the port varies with your ARDUINO model but the coding remains the same. The analog reading in the analog inputs are converted into corresponding 10bit(0-1023). ARDUINO developers have made such an option that you can print anything and see it on the Serial monitor. This example demonstrates analog input usage by reading an ...
Read more

›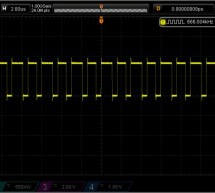 Today I'm going to present some of more advanced capabilities of ADC built in ATSAM3X8E – the heart of Arduino Due. I like the Arduino platform. It makes using complex microcontrollers much simpler and faster. Lets take for example the analog-to-digital converter. To configure it even on Atmega328 (Arduino Uno/Duemilanove) you must understand and set correct values in 4 registers. And it can be much more in ...
Read more

›
Overview In this lab, you'll learn how to connect a variable resistor to a microcontroller and read it as an analog input. You'll be able to read changing conditions from the physical world and convert them to changing variables in a program. (:toc Table of Contents:) Parts For this lab you will need to have the following parts: Prepare the breadboard Conect power and ground on the breadboard to power and g ...
Read more

›
Have you ever struggled with audio settings in control panel in middle of a VoIP call? Or, wondered if the other guy can hear you properly? I have. My work requires great deal of remote conference calls using PC. The first thing I wonder always when starting is if my audio settings -- mic volume, input selection, mute/unmute, speaker volume -- are in order. Typically, they are not and it takes a while to fi ...
Read more

›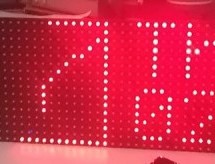 For some strange reason I have a fascination with various types of electronic clocks (which explains this article). Therefore this project will be the start of an irregular series of clock projects whose goal will be easy to follow and produce interesting results. Our "Clock One" will use a Freetronics Dot Matrix Display board as reviewed previously. Here is an example of an operating Clock One: As you can ...
Read more

›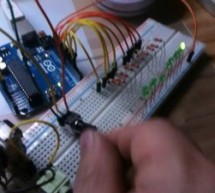 This week is all about analog inputs for the arduino. I'll show you how you can use a voltage divider circuit (see episode 3) and a variable resistor to make an analog sensor. [box type="note" color=" #202020 " bg="#ffbb00 " font="verdana" fontsize="14" radius="20 " border="#000" float="right" head="Attributes"]Thanks to Jeremy , for this articles[/box] We'll also use a Sharp IR distance sensor as an analog ...
Read more

›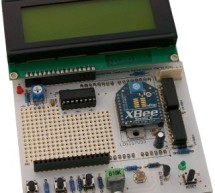 Pebble Shield description: A multi-purpose shield designed for classroom use and for quick prototyping of a wide variety of projects. Provides a significant prototyping area for custom projects, and a number of optional sub-systems that can be included or excluded as required: Pebble Shield specification: 20x4 LCD. XBee module. Button inputs. Analog inputs. Temperature sensor (DS18B20 on 1-wire bus) Light s ...
Read more

›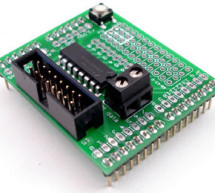 Stribe Multiplexer Shield description: Based on the 4051 analog switch, this Shield lets you read up to 13 analog channels, and provides the connections for the Stribe1 ribbon cable and data line (screw terminal). Comes as a kit. Stribe Multiplexer Shield specification: SKU ci0290 Manufacturer Part Number No RoHS Compliant Yes Flammable No Small Shipping Item No Stribe Multiplexer Shield pinout: For ...
Read more

›