In this project I'll display the temperature in a 4 digit 7 segment display (common anode). The sensor is the cheapest you can find so actually the temperature changes pretty easily which makes the display to show always different temperatures. But the idea is to apply this code to other projects with 7 segment displays that I might do later. if you want to learn a bit more of 7 segment displays you can rea ...
Read more

›
With this device you diminish the use of water in your house or work. Instead of waiting to see vapor in the shower to get in, this device help you to know when the water its at the temperature you want and you can instantly enter to the shower. In this way you don't waste the water by not knowing when its ready. This device shows the temperature of the water with a led bar (made from 10 leds). The leds get ...
Read more

›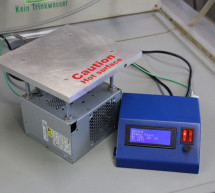 Heating things up is one of the most performed tasks in a lab. Quite a lot of times it is not enough to simply hold something at a certain temperature, but the rate at which something is heated and for how long is just as important. Especially when you try to develop catalysts for chemical processes, the temperature program and exact temperature control is crucial and you probably do not want to stay in the ...
Read more

›
This project will show you how you can create your own programmable thermostat with temperature probe, an LED readout and ability to remote control outlets. The core of this project is actually a driver for a 4 digit seven segment display. There are lots uses for such a device. You can purchase something called a PID controller for about $120. The parts for this cost me about $66. If you can scrounge some o ...
Read more

›
One of the projects in Practical Arduino is the "Online Thermometer", which combines an Ethernet shield with a number of DS18B20 1-wire temperature sensors to allow you to read multiple temperatures and make the values accessible using a web browser. In that project I chose a specific model of Ethernet shield that was available at the time from Seeed Studio, mainly because the Seeed guys were clever enough ...
Read more

›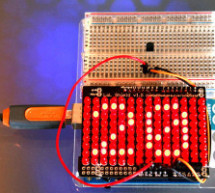 This is a project for Arduino to make a Thermometer with Digital Display, aimed at beginners. Arduino measures the voltage on a TMP36 Temperature sensor, converts the Voltage to Degrees Celcius and Displays the value on an LOL shield display. Objectives: * Learn how to use the TMP36 * Learn how to perform numeric and string conversions in Arduino-C  (sketch) * Learn how to display numbers on the LOL shield ...
Read more

›
Have you ever had the desire to see what can not be seen? I never had the ability to see in thermal infrared, and it is rather cool to be able to see in the thermal infrared part of the electromagnetic spectrum. Unfortunately, most thermal (FLIR) cameras are very expensive. In 2011 cameras frequently cost several thousand dollars. This project was created to develop a cheaper solution at a fraction of the c ...
Read more

›
Scopeclock is an easy to use hardware to make your X-Y capable analog oscilloscope more useful .Using this simple to use hardware you can convert your analog oscilloscope into a scope clock.This project was me and my friend kshitij gupta at CEDT nsit under the guidance of Prof. Dhananjay V.Gadre. Scope clock has two modes of operation • Analog clock Mode –   This is the default mode of operation . When the ...
Read more

›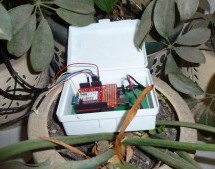 Hello guys, i make this instructable for the people that  liked the electronics and the botanic, with this you have the data about  the temperatura and the humidity of your orchard and register this in a data base MySQL. For this proyect you need some knowledge of programing in PHP and MySQL, we will make three archive .php, but this I'll explain in the following steps. Step 1: You need this For this projec ...
Read more

›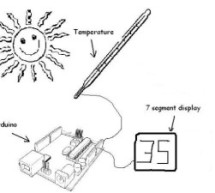 Using a dual 7-segment display, a DS18B20 temperature sensor and a couple of shift registers I figured that I could build a digital thermometer. Step 1: Temperature Sensor The sensor I'm using is the DS18B20, it's a 3pin sensor that just requires a single input pin from the arduino. Multiple sensors can be hooked together, however I'm just using one for this project. As with a lot of different sensors there ...
Read more

›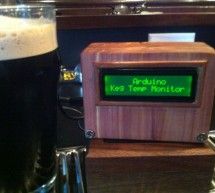 I was looking for a project that combined my three favorite things - working in my shop, building cool stuff for my bar and of course, drinking beer. After a couple of weeks in the old country drinking "the Guinness", I decided my I'd put a keg of "Moothers' milk" in my kegerator and prolong my vacation until the next visit...which led me down this path. Despite conventional wisdom, the Guinness is usually ...
Read more

›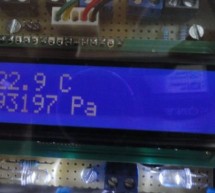 This Instructable shows you how to build a micro-controller based weather monitoring device. Built on the Arduino Uno board it can easily be extended and modified should you have additional sensors at hand. Main requirements: - Measure temperature (accuracy +/- 0,5 degree Kelvin) - Measure barometric air pressure (+/- 0,1 Pascal) - Display measured values on a LCD on demand by pressing a button Main compone ...
Read more

›